Internet does not only connect people but it is also a medium to showcase their passion and use it for making a living. A majority of these people are YouTube content creators on YouTubers . People record themselves doing what they love and broadcast it to people and earn a living off it. However, for more people to like your content you need quality; both video and audio. For video, there are tons of cameras out there to choose for YouTube. And for audio people use external microphones to get the best sound quality. One of these is SmartMike+.
SmartMike+ is a compact wireless microphone with real time transmission and synchronization. It is the world's first mic that transmits wirelessly multi-channel audio and synchronizes both audio and video in real time. SmartMike+ supports ultra low-latency that results in having a maximum range of 15 meters. It can record anything that is in that range. It also records a full band stereo audio. The audio is recorded at a frequency of 44.1kHz which is more than six times the frequency of a standard mono microphone.
Two different SmartMike+ can be used simultaneously to record audio too. Two devices can be connected to the SmartMike+ app via Bluetooth and it will switch to its TWS (True Wireless Stereo) mode for recording in stereo. It helps when there is more than one person talking at one time. For example, you can connect two SmartMike+ devices and use one for recording your singing and another one for the guitar sound.
SmartMike+ allows real time mixing of background music with your voice while recording. While using two SmartMike+ devices you can mix up to 7 audio channels from 7 different sources. It includes ; an external mic via its 3.5 mm AUX; the built-in mic on your smartphone; the stereo background music streamed via A2DP by any third-party streaming app and the internal mics of 2-4 SmartMike+ devices that you can connect. On iOS you can connect 4 mics at a time while just 2 on Android. It also features a multi-level noise reduction algorithm.
It is easy to connect SmartMike+ to any video or audio recording device i.e. DSLR/ GoPro/ vlogging laptop / PC or speakers. So one can use it with any third-party app on a smartphone like Tiktok, Facebook Live, YouTube Live, etc to record audio while recording a live video. All you need is a 3.5 mm 4-pole male-to-male AUX cable.
Another great feature of SmartMike+ is auto speech recognition. It can recognize up to 100 different languages and auto generate transcripts and subtitles for the audio.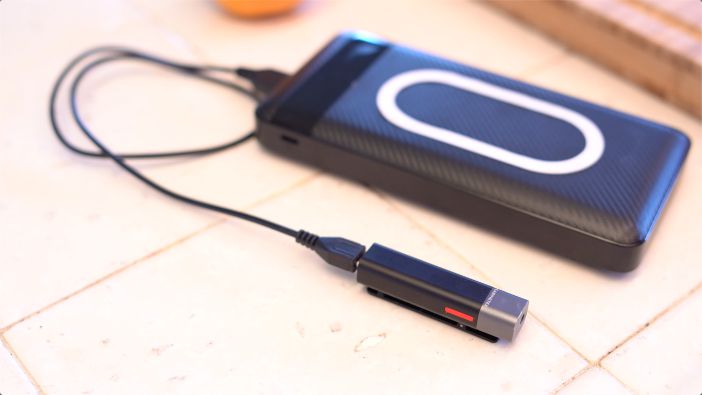 It weighs only 14 grams and is just as small as a pen drive. Inside it has a 110 mAh battery which provides up to 5 hours of recording time. On outside it has a dedicated button to Start/End the recording. The button also has feature to switch front or back camera of your smartphone without having to touch the smartphone.
SmartMike+ has a compact and minimal design and fulfills all the expectations of great recording device. Love it or hate it, Tiktok is turning into a phenomena and a device like this would surely come handy by its users.
SmartMike+ Vs Sony ECM-AW4 Vs Sennheiser EW112P G4 Vs RODELink Newsshooter Kit Vs MikMe Pocket Vs AirPod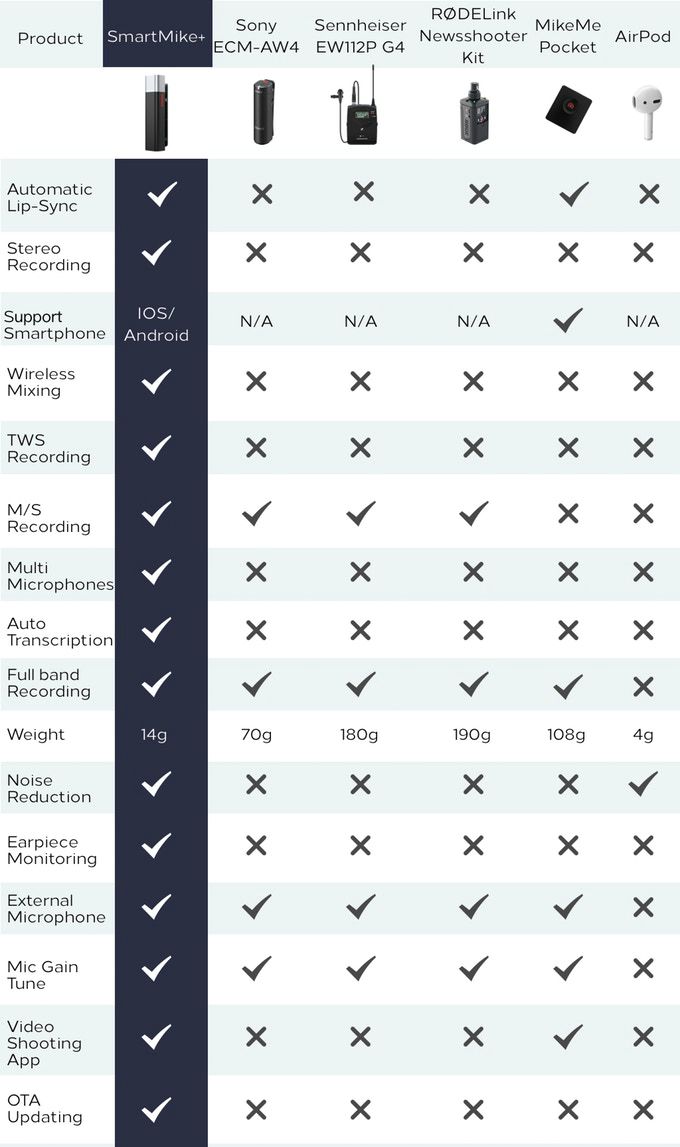 Source – Kickstarter