Mikme is a compact wireless audio recorder and clip-on microphone designed to give out a professional audio recording. It can capture an audio of quality up to 24-bit rate and 96Khz. Milkme has a dynamic audio range of 145 dB and an audio frequency bandwidth from 25 to 22,000 Hz. Many popular names like VICE, BBC, Red Bull etc have used it for audio recording purposes. That pretty much confirms the professional factor of Mikme's sound.
Looking from outside it is a tiny black metal box. But the main attraction is the heart and soul of Mikme, a 1-inch gold-plated condenser which is responsible for all the recording. A spider suspension houses condenser that eliminates extra noise during recording.
Mikme is simple and easy to use. There is a big button on the top that you need to click to start or stop recording on the go. For saving the audio recordings, Mikme has a 16 GB internal storage. The storage makes Mikme a perfect device for recording long duration audio. Imagine if you are recording something, power goes off and you lose all your recordings. That can be frustrating and you can lose some important files. But Mikme's internal storage eliminates that risk. Milkme saves a copy of audio recording in real-time. Thus, you never run risk of losing any audio.
Although Mikme already has a professional microphone, it also has a mini XLR connector which enables you to connect any external microphone to it. It can also work with all of the third party audio recording apps across various platforms.
Another add on that comes handy is the Mikme app that multiplies Mikme's versatility. Just connect your smartphone to the Mikme and use it for various purposes. You can use it as a remote to start/stop recording or change audio levels. You can also edit your audios within the app i.e. mixing tracks or trimming audios. There is an option to directly export the audios to your mobile device. The audio exported to mobile will be reduced to 44.1 kHz but that still is CD quality audio.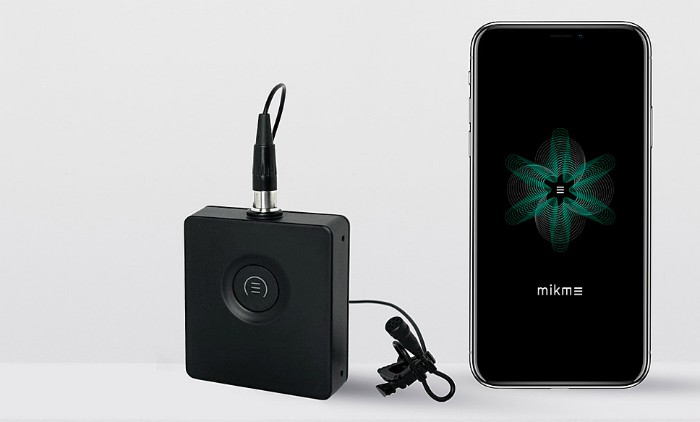 You can also record video up to [email protected] from the Mikme app that is synced with the audio it is recording. One can live stream videos on Youtube or Facebook too. The Mikme App is only available for iOS yet but Android and Windows version is coming out soon.
You can control multiple Mikme devices using one smartphone. This can come handy in professional interviews.
On the back, it has buttons for power and Bluetooth, a micro-USB charging port, a headphone jack for monitoring your recordings, and two buttons to control headphone volume. Inside, it has a rechargeable 920 mAh LiPo battery. It can last up to 2.5-3 hours on standalone recording easily.
Mikme is highly professional and versatile device. Over that it's compact and portable. If you are a Youtuber or Vloggers wanting a professional sound in your videos, Mikme is a must buy.
Source – Kickstarter