If you go around asking any young person what their dream job would be, you shouldn't be surprised to learn that a significant number of them would say that they want to vlog on YouTube or
Twitch. And who can blame them? Who doesn't want to stream videos about their activities for a living?
So, if you're one of these people, you have to know first that it takes a few things to become a competent vlogger. One of the most important is using a suitable laptop for vlogging for the task.
Most laptops weren't always efficient to deliver on such a tasking job. The ones that were were expensive and took too much space that undermined their mobility. That's why desktop computers were more suitable.
But that's not the case anymore. Today, we have exactly the kind of laptops that can help any aspiring vlogger in materializing their passion. And here, we've rounded up the best of the best when it comes to these laptops, and we're going to go into further detail concerning them.
What is Vlogging?
Sounds just like blogging, doesn't it? Well, what do you know?! It actually stands for video blogging! Yeah, it's that easy.
You can find all kinds of vloggers these days on social media, YouTube and Twitch. From the most obvious ones that record gaming-themed videos to others who might be sharing journalism-related content or just those web personalities who open their camera and talk about anything.
Do you know what all the popular vloggers have in common? Reliable equipment. And that, of course, includes laptop. Sure, desktop computers can do the job. But with what laptops can offer today, you'll want to benefit from the mobility.
Is a Laptop Really Needed for Vlogging?
Even after getting all the way down to this point, some of you may not even know why would a laptop be so important for this kind of activity.
A lot of YouTubers like to stay light on their feet and take their audience to different and new places with each new vlog. You can see how that can be problematic for someone who only has access to a desktop system in a small confined room. It just doesn't lend itself to mobile vlogging.
Also, some people may believe that laptops aren't as important as they used to be because of the rise of smartphones and tablets. While it's true that these devices have come a long way, they still have as much to go to reach the potential of a powerful laptop.
And it's a pretty obvious why. Top notch vlogging requires the capability of rendering videos ranging from 720p to up to 4K. That is miles beyond just editing a simple picture on a smartphone.
On the other hand, laptops, while less mobile compared to phones, are designed to take on this kind of demanding tasks. The power generated by a laptop's GPU is on a whole other level when compared to that of a phone. Besides that, there's also the affordability and the constant WiFi availability. Thanks to a laptop, you can accomplish your vlogging goals whenever and wherever you feel like it.
With all of that being said, it's time to actually know which laptops are the ones that offer the needed power to step up the vlogging quality.
Minimum Specs for Vlogging Laptop
At the most affordable level, this is what a laptop needs to have to be a good candidate for the vlogging task:
No less than 128GB SSD, and no less than 1TB for standard HDD storage
Minimum 8GB of RAM
No less than AMD A10 processor, Intel 620, or a 6th generation Intel i5
An HD or a better resolution for the screen
Best Laptops for Vlogging – Top Picks in 2018
| Name | RAM | Storage | |
| --- | --- | --- | --- |
| MacBook Pro 15″ – The Best Laptop for Pro Vlogger | 16 GB | 512 GB SSD | |
| Acer Predator Helios 300 – A Beast in Your Backpack | 16 GB | 256 GB SSD | |
| Lenovo YOGA 710 15″ – Best Laptop for Aspiring Vloggers | 8 GB | 256 GB SSD | |
| Dell Business Flagship 15.6″ – Best Laptop for Serious Vloggers | 16 GB | 512 GB / 1 TB SSD | |
| Acer Switch Alpha 12 – Best Versatile Vlogging Laptop | 8 GB | 256 GB SSD | |
| Dell i5568 – The best 2-in-1 Vlogging laptop | 8 GB | 256 GB SSD | |
| Dell Inspiron I5559 – For Windows Enthusiasts on a Budget | 16 GB | 1 TB | |
| MacBook Air 13.3″ – For Mac Enthusiasts on a Budget | 8 GB | 128 GB SSD | |
1. MacBook Pro 15″ – The Best Laptop for Pro Vlogger
This is Apple; we don't have to reassure you about the quality here because the quality speaks for itself. Whether it's a MacBook, iPad or an iPhone, the products always deliver with their capabilities, and that's without a doubt also valid for the MacBook.
As we've mentioned before, for a vlogger, portability is the key. The MacBook gives that term a whole new meaning. Being as light as 4.02 lbs (1.83 kg), this device can run in some extreme conditions for the fun-seeking vloggers. Do you need to use it at a temperature of -24°C? No problem! Are you going to jump off of a plane? This thing will work at 10,000 feet! We're sorry that you can't dip it in volcanic lava, but this is still impressive.
So how does it perform with regular use? The MacBook truly can be described as a fluid and a smoothly-functioning machine.
Clear sound? Check! Rich colors? Check! Rest assured, this isn't the part of being anxious about.
Now here's the real question: How good is the video editing? The MacBook Pro already comes with a set of tools that include, among other things, iMovie, the video editing software. The accessibility has been improved thanks to the complete integration of the touch bar, and the Intel HD Graphics 530 video card is able to take care of any 4K footage you use it for smoothly.
Basically, this is definitely one of the obvious choices you'll find on the market for vlogging purposes. It definitely gets a recommendation from us.
Here are the key specs:
Retina Display, 15.4-inch display
Touch Bar with integrated Touch ID sensor
Intel HD Graphics 530
16 GB LPDDR3 RAM
512 GB SSD Drive
2.6 Ghz/2.7 Ghz quad-core Intel Core i7
2. Acer Predator Helios 300 – A Beast in Your Backpack
At first glance, you might think that it's specs aren't as great as those of the MacBook. But it'd be a mistake to brush this powerhouse under the rug because of that.
All we can say is what Predator Helios 300 is that it's a monster, a desktop in your laptop, which explains why it was designed for gaming in the first place. Yes, you read that right. The full name of this laptop is Acer Predator Helios 300 Gaming Laptop, which says a lot about what you can expect.
The crown jewel here is without a doubt the incredible graphics card, manufactured by NVIDIA. The 6-GB GTX 1060 is at the top of the mountain when it comes to high-end, high-performing GPUs. The power of this card gives you the performance guaranteed by a desktop gaming rig and the ability to edit videos without breaking a sweat.
Also, since it's a gaming laptop, it most certainly able to run the most demanding of games on high setting without breaking a sweat, while having an abundant storage capacity which makes having insufficient space and having to wipe your drives problems a thing of the past!
When it comes to portability, it's impressive to know that Acer has fit all this power in about an inch of thickness. Even with the 3220-mAh battery and the solid chassis, the laptop still sits at around 5.95 lbs of weight.
And we don't really have to talk about the performance with the presence of the 1080p screen. It will handle all the trouble. Rendering a 4K video? Editing the frames of some slow-mo footage? Take a back seat and let the laptop handle it.
Throw in there the fact that you can even make your own background tracks with FL Studio 12 that's compatible with this laptop, and you've got yourself a killer deal.
Here are the key specs:
FHD Wide Screen IPS Display
NVIDIA GeForce GTX 1060
16 GB DDR4 RAM
256 GB SSD
Intel Core i7 Quad Core Processor 2.8Ghz / 3.8Ghz
3. Lenovo YOGA 710 15″ – Best Laptop for Aspiring Vloggers
We continue our list of vlogging laptops in the traditional sense with the Lenovo Yoga 710, which comes in numerous configuration. The screen size is mostly the only change between them. However, streaming and editing require at least 15 inches for it to be doable comfortably. While also being lightweight, it makes this laptop a perfect fit for outdoor adventures as these features are highly in-demand for these types of activities. Additionally, the display is a superb 1080p screen, delivering vibrant and bright colors in all environments.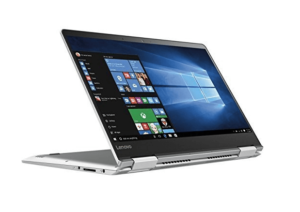 When it comes to the audio, it has a powerful speaker that is loud and clear, and that is a big plus because sometimes you need to edit things on the fly, especially when you have an urgent upload for example.
The sleek and crisp design feels like it was conceived with a neat, professional user in mind, which is the case of many youtubers who like their profile to look elegant. Moreover, it's built with 360 hinging, a feature beloved among this community, which enables it to be used in four modes: Laptop, Stand, Tent, Tablet. All of this functionality is boosted with a robust, aluminum build.
It has an Intel HD Graphics 620 graphics card which, in tandem with the fast 7th Gen Intel Core i5 processor and expansive RAM, makes it's performance seem almost limitless, capable of handling the most demanding of video editing sessions. Its' battery won't be cutting them short because it can hold up for up to 9 hours straight, which is more than enough to work with.
Here are the key specs:
7th Generation Intel Core i5 Processor
256 GB SSD
8 GB DDR4 RAM
Intel HD Graphics 620
4. Dell Business Flagship 15.6″ – Best Laptop for Serious Vloggers
This laptop is unsurprisingly one of the best for youtubers, and you wouldn't have a doubt about that when you check out it's full name: The Dell Business Flagship. And don't get fooled by it's appearance, as it might look just like any other laptop on the market with it's 15.6-inch display. However, under the hood, there are a lot of stuff that'll bring satisfaction to any vlogger, especially one with specific needs like video editing.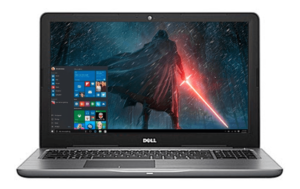 The average size of the screen is mitigated by the fact that it's Full HD resolution, along with a crisp display, anti-glare coating, and a Touchscreen feature. These features make it an amazing one to work with indoors and even outdoors, you won't have any problems with the location at all, and you can work seamlessly wherever you are.
Additionally, the keyboard is backlit, so you can comfortably work with on your projects even in the darkest conditions. And when working with video, it has an AMD Radeon R7 M445 graphics card which is a deal breaker on this device, as it works like a charm. Moreover, it's 7th Gen Intel Core i7 processor is stunning, and when coupled together, they can handle video encoding simultaneously while facing no slowing down or lagging signs.
In conclusion, this laptop is a magnificent middle-ground between high-end performing laptops and affordable laptops. So, if you're one to heavily consider the price tag while looking for a powerhouse laptop, you will just feel like you've hit the jackpot with this one!
Here are the key specs:
AMD Radeon R7 M445
512 GB /1 TB SSD
FHD 15.6 Inch Touchscreen
Intel Core i7 -7500U
16 GB RAM DDR4
5. Acer Switch Alpha 12 – Best Versatile Vlogging Laptop
This one can be used as either a laptop or a tablet! This detachable laptop is the preferred device for numerous vloggers for it's convenience while working on the go. And if it is the case with you, you shouldn't look any further than the Acer Switch Alpha 12.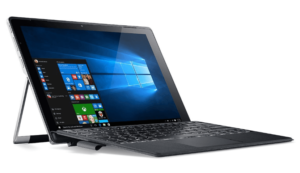 For it's price, this is a stunning product indeed.
The design is that of a true masterpiece, and it looks and feels professional. Additionally, it is very versatile in usage as you can simply detach the monitor from the keyboard, so it means that you can easily switch between utilizing it as a tablet or a laptop, making an incredibly versatile choice, especially considering that it comes with a kickstand which enables you to use it from multiple angles.
It's battery life is surprising, boasting 8 hours of autonomy, and it uses liquid for cooling instead of fans, thus reducing it's noise relative to other machines.
Here are the key specs:
Screen: 12″, QHD (2160 x 1440)
Weight: 2.76 lbs
Storage: 256GB SSD
Processor: 6th generation Intel i7-6500U, 2 cores, 2.5GHz.
RAM: 8GB LPDDR3
6. Dell i5568 – The best 2-in-1 Vlogging laptop
This laptop has the perfect quality over price ratio for this kind of hybrid laptops, simply because for it's price tag, it offers a powerful performance seldom challenged by other ones in the same price range on the market.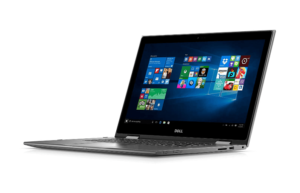 Moreover, it has a superb sound system and an FHD screen which makes it very suitable for professional vloggers. Add that to the fantastic Intel Core i7-6500U processor, 16 GB of RAM, and 256-GB SSD, and you've got yourself a powerful, versatile device that can handle the hardest of editing tasks.
The battery life on this thing is also nothing to scoff at, lasting for more than 7 hours. If you're somewhat on a budget, but you need a performing hybrid laptop for vlogging, this is definitely the one for you.
Here are the key specs:
Storage: 256GB SSD
Processor: Intel i7-6500U, 2.5GHz, up to 3.1 GHz with turbo boost.
RAM: 8GB DDR4 included, 16GB Maximum
Screen: Touch-enabled FHD 15.6″
Weight: 4.5 lbs
7. Dell Inspiron I5559 – For Windows Enthusiasts on a Budget
This laptop has an extremely low price for the specs it comes with, notably it's monstrous 16 GB of RAM which is a surprising amount considering it's price point.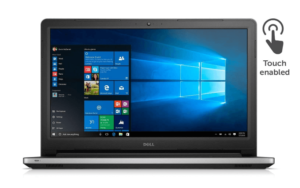 Moreover, it is more than enough for editing videos using any kind of software out there, whether it be Sony Vegas or After Effects. They won't prove to be a problem, especially when coupled with i7-6500U processor, a fast one for it's worth that'll do the job without fail.
These perks make this machine a perfect pick if you choose to go with it as they are really solid features that every laptop enthusiast craves, and even more so when considering the price tag. As a bonus of some sorts, they even offer a touchscreen with it which might make things easier and more convenient, depending on how much you use or need it.
If you're amazed by the number of advantages this video blogging laptop offers in regard to it's price, you won't be blamed.
However, there are some things that you should keep in mind before you make your purchase as it might affect your user experience.
First of all, it is a more or less fat device weighing at about 5 pounds which makes carrying this beast a bit of a chore especially on long runs by foot. Second of all, the battery is a bit lacking giving only five hours of autonomy, which is subpar considering that recording and editing footage takes a toll on it and consumes charge at an even faster rate than usual.
And lastly, this laptop only sports a dual-core processor, which puts an upper bound on the speed of rendering.
Here are the key specs:
1 TB Hard Drive
15.6-inch LED-Backlit, Full HD Touchscreen
4GB AMD Radeon R5 M335 Graphics
16GB DDR3 1600MHz RAM
Intel Core i7-6500U CPU, 2.5 GHz
8. MacBook Air 13.3″ – For Mac Enthusiasts on a Budget
Currently, there is fierce competition in terms of holding the crown of having the thinnest laptop on the market, most notably between Apple and its MacBook Air, and the other companies with their lines of Notebooks running Windows. According to some, the latter ones' design is originally apple's and they just outright copied it, but why would we really bother? For all we care, this intensifies the competition between concurring brands which means more pressure to push the frontiers of technology and satisfy consumers.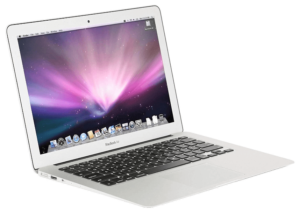 As for this laptop, it is the number one pick for Youtubers basically because it is an all-around high-performing laptop which meets all the criteria that this particular category necessitates. Apple manufactured hardware has universally-renowned durability and packs extreme resilience, and it comes with the outstanding operating system. This beast also sports powerful features and packs exceptional specs.
Moreover, it is perfect for work or entertainment on the go as it is very light-weight, sitting at 2.97 lbs, which is equivalent to 1.35 kilos, and only 17mm thickness: more than perfect for carrying around, no matter the distance.
When it comes to performance, this machine certainly delivers. It comes packed with an Intel HD Graphics 6000 card, coupled with enormous Core i5 processor that'll handle any demanding task. You can run multiple operations and tasks simultaneously or in the background, including video editing, and it will take care of them effortlessly.
The 16GB of RAM is the cherry on top of the cake, as this massive capacity means that you don't have to worry too much about the size of the files you're working with and what editor you use. That translates to a lot of flexibility; something that is very handy when you're a busy youtubers polishing and uploading videos left and right.
All in all, if you're ready to put your money on this marvelous laptop, you certainly won't be looking back from that point onwards.
Here are the key specs:
128 GB SSD
8 GB DDR3 RAM
13.3-inch LED-backlit display + 1440×900
12 hours' wireless web with 54Wh battery
1.6 Ghz Dual-Core Intel Core i5
Conclusion
Vlogging is all the rage right now, and if you're looking to jump on the trend and be professional at it, then look no further than this list. We've compiled the best laptops for vlogging out there that'll meet your needs and leave you with nothing but satisfaction.
What is Needed for Vlogging?
Microphone
Vlogging in it's most common form is streaming audio-visual content. That means that, besides a camera, you're going to need a mic, and it has to be a good one. A video without commentary in the mix of all the vlogging contents simply pales in comparison.
The voice is necessary to add an extra edge and personality to what you're offering. So, you'll have to take the microphone as seriously as you'd do any other piece of equipment.
There are some laptops and desktop computers used by vloggers that have good quality microphones (and we're going to mention a few of those). But it's always better to buy an independent mic.
Camera
Sure, you can consider the camera to be the primary device needed for vlogging, but that doesn't necessarily mean that you'll have to go looking for the most expensive one out there to start with.
A lot of new vloggers simply don't have the means to do so. But we don't think you have to anyway. A good smartphone camera or a webcam can be enough as a beginning to get things rolling. We recommend at least 2.0 MP for a first timer on a budget.
The Lighting
This is one variable that may be a bit hard to manage and get right. Lighting can depend on many factors, from the type of content you're creating to the locations you're planning to shoot in.
Seeing how many people may unintentionally ignore the importance of this element in vlogging, we have to stress the amount of attention you need to give it.
Lighting can make your videos look either professional if done correctly or unpleasant to watch if not. But you won't have to stress about it too much as you'll find a variety of good options out there for you to choose from.
Lightweight Laptop
Of course, a laptop is needed for all your editing purposes. But you should choose carefully. If your future vlogs will require you to be constantly on the move, then you'll want to have a lightweight laptop.
Laptops can vary in sizes, and a lot of them will be too heavy to carry around regularly beside all the other vlogging related equipment. So if you want to be more efficient and maximize your mobility and efficiency during your vlogs, you should definitely aim to get a lightweight, travel-compatible laptop.
A Good CPU
A powerful processor is basically a must in our day and age of high-quality editing. If you don't want to burden your system and don't want to be irritated by the potential limitations of your laptop, make sure you have a good processor.
Hard Disk Space
HD, Full HD, and 4K videos take up a considerable amount of space. And if you're planning on making relatively long vlogs, prepare to be challenged by that fact. But if you don't want to have to worry about it, you'll need speed and a whole lot of space.
So ideally, you'll have a 2TB HDD accompanied by 1TB SSD, for example. Of course ideally means having an expensive, big laptop.
But besides that, if you want to be prepared and ready, we recommend getting an external hard drive to keep the weight off your laptop as much as possible, or even a key drive with a significant amount of space (e.g., 1TB, if you can afford one).
As for speed, to transfer files quickly and save yourself some time, try to get a USB 3.0 compatible hard drive to make sure that all your file transfers run as smooth as possible.