Mobile gaming has become a thing lately. With games like Fortnite and PubG coming into existence, mobile gaming surely has taken a leap. Gaming tournaments take place worldwide and a "pro" factor has been added to it. Mobile is slowly becoming a portable powerful gaming platform. But it isn't really always that easy and convenient when it comes to gaming. Mobile games use on-screen buttons and their combinations. As a mobile's screen is small, it can be difficult controlling all the buttons. Especially for people with big hands, it can become impossible to play a game. GAMO G+ looks forward to try and solve that problem.
GAMO G+ is a mobile keyboard and mouse adapter developed by Gamohub. It's not a mouse or keyboard but just an adapter which enables you to easily connect a keyboard and mouse for easier and more precise control during gameplay.
It supports almost all of the mobiles games out there. So whether you're playing PubG, Fortnite or any other mobile games, you can connect GAMO G+ adapter via lag-free Bluetooth 4.0 and rule the opponents with a way more convenient gameplay. It involves no root, emulator or PC, so it's totally legit and won't be banned. It doesn't require any additional software or apps to connect either.
It's the world's first keyboard & mouse adapter that supports iPad and iPad Pro and turns it into full-fledged laptop workstation. To swap between Apple and Android devices, all that you have to do is flip a switch present on the back. That's also where you will find the two USB ports for connecting a mouse and a keyboard. It can work with almost all kind of mouses and keyboards out there. It includes a simple stand to put your mobile or tablet against while playing.
GAMO G+ is highly customizable. Players can easily assign keyboard shortcuts and button combinations to replace the various on-screen buttons according to their preferences. You can also fine tune the settings of your mouse i.e. sensitivity and cursor speed etc.
It helps in improving the accuracy of aiming, picking up items and scanning surroundings in first person shooters and battle royales. Doing all of that on a touch screen can be really hard and frustrating.
Even away from gaming, GAMO G+ can transform mobile devices or iPads and Android tablets into mini-desktops for working on the go. This could come in handy when your laptop isn't around, but your smartphone has access to the documents you need.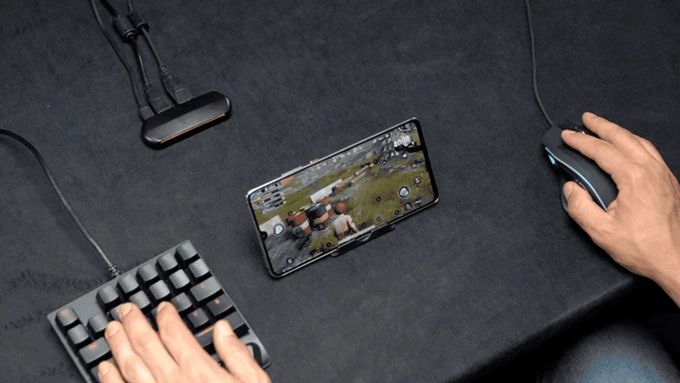 In software area, it supports Android 4.4 and above and iOS 10.0 and above.
It's dimensions are 94x31x16mm which is really small. It can easily fit in your pockets which makes it highly portable. The adapter only weighs 41.g and is lightweight as well. There is also an orange light that shows its on/off status.
GAMO G+ is simple, effective and highly portable. It really does make a difference in mobile gaming and is a must have accessory for smartphone gamers.
Source – Kickstarter