Earphones have turned wireless for better but sometimes they are not
truly
wireless and can cause inconvenience of their own
. We need something to replace them once and for all and it looks like we finally have something like that.
Wearbuds, developed by Aipower,
is supposed
to be a revolutionary step in the earphones tech
. The biggest problem about the wireless earphones is the bulky case. You need to carry the case everywhere you go and you can still lose them. They even have short battery lives and you'll have to turn to the case again. Hence, there is always an invisible wire. Wearbuds completely eliminates that problem.
Wearbuds combines earbuds with watch so that it always stays on your wrist instead of a bulky case without causing any inconvenience
. The earbuds fit on both the sides of a wrist band where they also keep charging. They fit in
perfectly
and you will never have to worry about losing them. To take them out, you
just
have to press on the both sides of the band, and they will pop
just
right out. You can even swap the band straps according to your preference. Transparent straps are available that will boost up your style factor.
It has a built-in 160 mAh battery. As the strap is also the charger, Wearbuds also solve the charging problem. No need of carrying a case that you don't even know where to keep if you are outside. It takes only 1 hr to charge the earbuds fully. Over one charge, Wearbuds can go on for 5+ hours but the band increases it up to 12 hours. The band itself is easy to recharge as well and has a magnetic charging cable that sticks to its back. It only takes 90 minutes to charge from 0 to 100 and once charged it can go up to a week without charging.
Wearbuds are
clearly
superior in design and convenience. But it doesn't mean they have compromised on the quality. Wearbuds have Qualcomm chip-set which provides impeccable quality sound.
This combined with Wearbuds' Bluetooth 5.0 makes for a high definition audio output without any static or distortion
.
Bluetooth 5.0 creates a
highly
stable connection that allows audio flow without any disturbance
. It has a Bluetooth range of 33 ft (10.06 meters) or 10 m. Wearbuds have fine-tuned hi-fi graphene-augmented audio drivers. These drivers improve the sound even more and remove any chance of an audio lag. They also add extra depth to the sound and make it more crispy. Its hybrid silicone material, along with comfort, also provides a passive noise cancellation.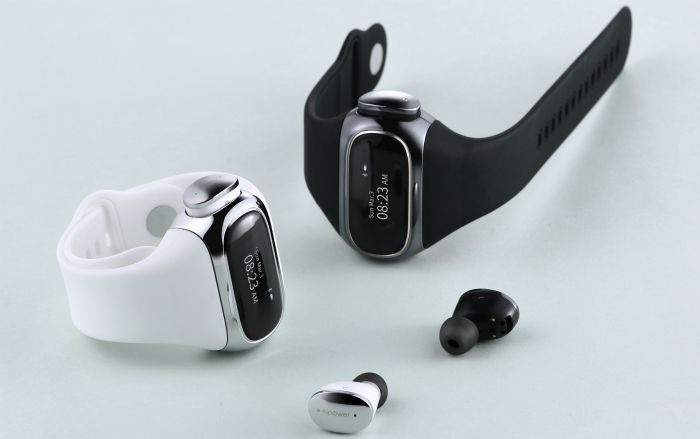 The earbuds are touch controlled. You can change track, set volume, receive/reject call etc all with
just
a light touch or tap.
The earbuds are also 1PX6 waterproof and you won't have to worry about water or sweat ruining their internals
.
Other than a charger and storage for earbuds, the wrist band is also a fitness band. It can
be used
to
monitor
amount of calories burnt and heart rate. The wireless earbuds also has built-in pedometer to count your steps. It can work as a sleep
monitor
and an alarm clock too. You can analyze
all of
this data by connecting Wearbuds with the Wearbuds app. With the app you can also manage your social media and other notifications.
Every notification you get will
be shown
on the backlit touchscreen of the band and you can choose an action from
just
there
.
Wearbuds are unbeatable in style and competitive & unparalleled in performance.
So if anyone wants true wireless earphone experience, Wearbuds is
clearly
one of the top options
.
Wearbuds Vs AirPods 2 Vs Powerbeats Pro Vs Bose SoundSport Free