Cannon speakers are for anyone who desires a home theatre like feel at the cost of a Bluetooth stereo speaker. Cannon speakers may look like any ordinary Bluetooth speakers, but they are not. These portable wireless speakers come in a pair or single packs and can both be connected to the same device at the same time. You only need these portable speakers and a Bluetooth enabled device to experience a home theatre like feel. These two speakers will automatically match to the right and left channels and create a clear stereo sound.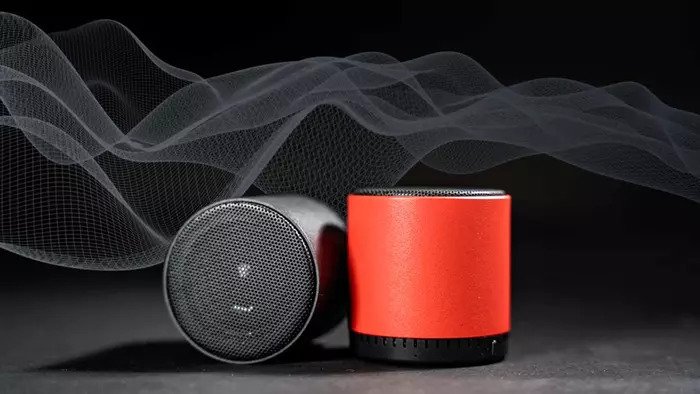 Not only are these speakers very small and portable, but also powerful. These have a full metal body to enhance durability. The speakers have a playtime of up to six hours and have a rechargeable battery. They also have a built-in noise reduction mic which enables hands free phone calls. It will be a great addition to your collection of gadgets. The all-metal body not only provides durability but also reduces the echoes for a better sound.
Moreover, the speakers have a great aesthetic appeal. The two speakers come in red and black and the design is really sleek. The speakers have multi colored small LED lights around the base which are also indicatives of pairing status with the Bluetooth enabled device. The speakers have universal compatibility with all Bluetooth devices.
You have an option to buy a single speaker or a pair of the speakers. The TWS feature of the speaker works when there are two Cannon speakers in a proximity. When the feature is enabled, one of the speakers works as the left channel and the other as the right channel.
It doesn't really matter what you're doing – partying, hiking, camping, having dinner or hanging out. When a speaker this small sounds this amazing, you'll never want to leave it behind.
The speakers feature Bluetooth version 4.2 and show a consistent connection for up to 33 feet away. The speaker has a very crisp sound quality and exhibits minimal distortion even at high volumes. The speakers come with a 500mAh rechargeable lithium battery that provides upto 6 hours of playtime on a single full charge. The speaker has a compact size of 60*60*62 mm and weighs only 220 g.
Source – https://www.kickstarter.com/projects/374518888/cannon-true-wireless-stereo-ultra-mini-bluetooth-s