Are you ready to introduce yourself to the best wireless keyboard and mouse out there on the market today? Now, does that sound like a deceiving Facebook sidebar advertisement? Well, I can't blame you, especially when the entire Internet lies. All I can say is that I won't use sanitized English to fool anyone. Over the years, I have unboxed a bunch of wireless keyboards and mouse. After all, it's the one thing that I use almost every day of my life. The point here is that I have tried and tested a lot of wireless keyboards and mouse.
Having worked in the IT industry for long time, I have used overpriced mechanical keyboards, over hyped magic keyboards, and what not. So, I have a clear sense of what I am talking about. Therefore, if you are looking for sugar-coated stuff, you can exit this browser right away because I am going to review each wireless keyboard mouse combo as it is. Although the products in question are the best out there, not all of them are perfect.
I am stating this because you might have to get comfortable with being uncomfortable if I were to include some flaws for a product that you might love till death. So, let's get started with the list of ten best wireless keyboards and mouse.
Top Wireless Keyboard Mouse Combo 2018
1. Dell KM117 Wireless Keyboard & Mouse
The Dell KM117 keyboard mouse combo is the answer to your prayers for freedom from a nest of wires, cords, cables, and other clutter. According to the product manufacturers, it's designed to be an item of admiration. The smart product design enables one to type quietly and efficiently with fewer errors than typing on a typical keyboard. With reliable wireless connectivity, perfectly curved mouse for less hand strain, and inexpensive pricing, this full-sized wireless keyboard and mouse with chiclet keys is a textbook product for everyday use.

During Use:
I am one of those guys who uses his keyboards gently. So, I don't spill or vomit on my computer accessory. Basically, the Dell KM117 pair has been going strong since the time of purchase. I have passed it on to a fuzzy person (common friend), and she hasn't complained about it yet. So, I am assuming that it must have worked well for her too. The only thing she reported was that her desk looked more professional with no wires in sight.
Pros
As described, the Dell KM117 Wireless Keyboard & Mouse is pretty compact. Unlike the competition, it won't eat half of your desk space. If you are a very tall person with large hands, your hands can actually dwarf the keyboard. But, that's a rarity. Frankly speaking, the slim profile makes it look pretty attractive. Believe it or not, it looks amazing on the desk.
Typing on this keyboard is not a pain in the butt. In fact, it's a breeze. I really liked the soft touch response. The wireless functionality works like a charm too. So, kudos to the developers for coming up with such a high-quality keyboard.
To save on battery life, the keypad and the mouse can be turned off. Also, the keyboard comes with multimedia functions with inbuilt controls for screen brightness, sound, and play/pause functions.
Cons
I found the spacebar a tad bit shorter for my needs. If I were to be the product owner, I would eliminate the Windows SuperKey and get a longer spacebar so that I can use it conveniently with either hand.
A user will have to replace the batteries. I guess that's the norm with any wireless keyboard device out there. So, I won't look at this flaw as a stern strike against the Dell KM117 Wireless Keyboard & Mouse.
2. Logitech MK345 Wireless Combo
With cordless functionality, high comfort level, and aesthetically pleasing appearance, the Logitech MK345 Wireless Combo Keyboard and Mouse is said to be a product that's a cut above the scope. It features advanced 2.4 GHz wireless connection and comfortable right-handed mouse that can get you going almost immediately on any desktop, laptop or mini laptop that makes use of Chrome or Windows system. It also comes with a standout feature of extended battery life like nothing else in the market – 3 years for the keyboard and 1.5 years for the mouse, which is pretty amazing for a full-sized keyboard.
During Use:
To begin with, I loved the freedom from messy cords that the Logitech Wireless Combo MK345 Keyboard and Mouse had to offer. The mouse fitted perfectly in my hands, and it had a very responsive scroll wheel. The keyboard key clicks were also solid, soft, and quiet. So, I really loved typing on it. Frankly speaking, the Logitech Wireless Combo MK345 stood out because of its sheer performance. For instance, I was able to use the keyboard and mouse combo for more than a year without having to change the battery even once. Of course, I did turn them off when not in use. For those who are not aware, the mouse demands one AA battery, and the keyboard demands two AAA cells.
Pros
Unlike other keyboards in the same spectrum, this wireless keyboard is very smooth and fast. Better yet, it's ready to use almost immediately out of the package. I just had to plug in the USB receiver, and it started working. I liked the fact that there were no delays when I initiated typing.
The full-sized wireless keyboard is pretty lightweight for what it is. I used to carry it easily to conference rooms and periodic business trips. I am glad that the folks at Logitech didn't compromise on product functionality to bring the keyboard weight down.
Unlike the inferior rivals, the sensors on this keyboard are top-notch. I type extremely fast. In fact, some keyboards are not able to keep up with my pace. But, the Logitech Wireless Combo MK345 Keyboard didn't disappoint me. It has always been able to keep up with my ultra-fast typing speed.
Cons
The package reads that it's for Windows only. According to the makers, the product is best suited for computers or laptops that have Chrome operating systems or Windows. So, Mac users may not be able to use this product.
3. VicTsing Wireless Keyboard and Mouse Combo
The VicTsing wireless keyboard and mouse combo hits the sweet spot by offering a truly reliable, comfortable to use, and inexpensive product with universal connectivity. Simply put, it's wireless, comfortable, effortless, and satisfying to use. It's a breeze to set up too. Upon order, a user receives a chiclet keyboard, a mouse, and a USB Receiver that's compatible with Windows XP, Vista/ 7/ 8/ 10, and Mac OS.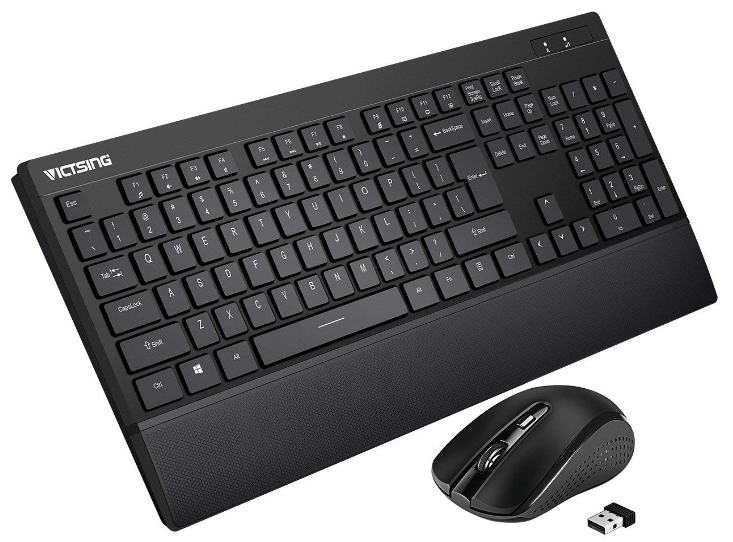 During Use:
Right off the bat, I was highly impressed with the hassle-free plug and play aspect of the product. As soon as I inserted the USB receiver into the port, both the mouse and the keyboard started responding in less than 20 seconds, and they worked like a charm. The performance of the mouse was nothing less than I expected. I fell in love with the silent clicking, scrolling, and ergonomic feel. The mouse is definitely one of the best ones I have ever used. I will give full marks to the VicTsing wireless keyboard and mouse combo for the easy connectivity, ease of use, high-quality components, and compact size.
Pros
The lack of cords will keep your desk neat and tidy. Better yet, both the keyboard and the mouse 'turn on' with a single click. And, they turn themselves off to save energy, when not in use for a certain period of time.
The mouse is of standard size, but it appears smaller in size. All thanks to the smart product ergonomics that gives users an illusion of a smaller size. The slimmer design allows users to hold and use the mouse comfortably for a long period of time.
The keyboard is pretty light, and it has a sleek design to it. It's very responsive. So, you won't find yourself routinely retyping everything. Furthermore, the added wrist rest on the bottom of the keyboard makes long hours of typing a comfortable affair than usual.
There are no bells and whistles to this product. It's just an honest full-sized combo of wireless keyboard and mouse that works flawlessly on any given day of the week. All the keys are smooth, soft, and highly responsive.
Cons
The VicTsing wireless keyboard and mouse combo is not an ideal product for hardcore gamers. But, it's suitable for everyday office desk warriors.
It's kind of odd, but the spacebar key on this keyboard is somewhat loud. Surprisingly, it's the only key that makes noise. It might take a little while to get used to the noise.
4. Logitech MX800 Wireless Performance Combo
The Logitech MX800 is a beautifully illuminated keyboard and mouse combo that does few things way better than a traditional keyboard. With elegant looks, adjustable backlit brightness, easy connectivity, and highly responsive keyboard, the Logitech Wireless Performance Combo MX800 has been a people-pleasing product ever since its inception. As a matter of fact, the product could be a close second to one of the highly-priced wireless keyboard and mouse out there on the market today.
During Use:
The keyboard and mouse were a pleasure to set up and use. I found the pairing perfect for my desktop computer. Given the easy setup, I was in business in less than a few minutes. The key spacing on the keyboard is pretty accurate, which helped me type faster without any errors. Frankly speaking, it took very little effort on my part to depress the keys. Also, the keyboard is very quiet, slim, and attractive. Given all these peculiar features, my fingers just flow effortlessly and quietly on the keyboard like nobody's business. The mouse performance is also fantastic. It's smooth and pleasurable to use. On the whole, I found the MX800 to be an excellent computer accessory.
Pros
Both the Logitech MX800 mouse and the keyboard are rechargeable via USB. So, one won't have to shave off extra bucks for a new set of batteries. Once recharged, they stay charged for 8-10 days even on full illumination. Of course, they will last much longer if you are an occasional user.
The backlit keys make it easy to use the keyboard even in a human cave. The best part is that the keyboard senses your approaching hands and illuminates on its own. And, it stays lit the whole time you are typing on it. Of course, illumination doesn't matter to me when I am using the keyboard in my office.
The scrolling wheel on the mouse is amazingly fast. It will allow you to go to the bottom of a page with a single flick. This really helped me on my visits to shopping sites such as eBay or Amazon.
Cons
The keyboard goes to sleep pretty early. But, it does wake up on the first keystroke.
It's a Windows-based product. Those looking for an Apple keyboard will have to look for something else.
5. Logitech MK530 Advanced Wireless Keyboard and Optical Mouse
If you hate the sight of a bunch of chords tangled up everywhere around your desk, the Logitech MK530 Advanced Wireless Keyboard and Optical Mouse can come to your rescue. With 15 programmable F-keys and some media controller keys, the product lets you control everything at your fingertips by giving you instant access to music, video, calculator, etc without the hassle of any wires or cords.
During Use:
This is my go-to keyboard and mouse. I love the design, feel, shortcuts, and the extra comfort that the keyboard has to offer. As such, both the keyboard and the mouse are battery operated. So, the impatient person in me can use them anytime without having to wait for a full charge. For a moderately priced wireless keyboard and optical mouse, I would say that the product is right on the money. According to me, the Logitech  MK530 Advanced Wireless Keyboard and Optical Mouse is a perfect marriage of price and quality.
Pros
The product is quite durable for what it is. I got it a couple of months back and it's still in good working condition. I anticipate using the pair for few more years.
The unit connects almost immediately to everything, which makes it very useful for a work environment. I am yet to face any connectivity issue.
When pressed, the keys are soft as butter, and they are nicely angled for comfortable typing. I did not experience any time lag issue either. So, you too can expect fluent typing at all times.
The tiny USB receiver that comes with the package enables a user to add more than one compatible mouse or keyboard easily. Plus, the receiver stays plugged inside the laptop.
Cons
It's a full-size mouse and keyboard with palm rest. So, you will need an adequate surface area for them to fit. That being said, the bulk offers more functionality than usual such as comfortable padding and wireless feature.
It's somewhat noisy compared to a few other keyboards that we own. This isn't to say that it's too loud or too quiet. It's somewhere in between. Therefore, it isn't too hard to overlook the noise.
6. Anker Wireless Keyboard and Mouse Combo
For sleek, silent, and wireless computing, the Anker 2.4GHz Wireless Keyboard and Mouse Combo should be on your immediate radar. The Anker Wireless Keyboard and Mouse Combo is designed for both office and home use. It looks modern but has full keyboard capabilities while looking clean and nice. According to the makers, it's wireless connectivity is second to none. It boasts a signal range of 26 ft. Moreover, both the keyboard and the mouse come with individual 'on and off' switches.
During Use:
The Anker 2.4GHz Wireless Keyboard Mouse Combo is beautiful and functional enough to enjoy a prominent place on my office desk. Frankly speaking, both the keyboard and the mouse are tied as my favorite office instruments. This isn't to say that it's a perfect product. Let me explain it this way. You know that you have a shirt that fits you like no other shirts in your closet, or a bar that you repeatedly choose over all other bars. For me, the Anker combo is the keyboard version of that feeling. Until I find something better or get bored of them, I plan to use the duo more often than the other keyboard/mouse devices that I own.
Pros
The buttons on the keyboard are extremely smooth and quiet. I doubt anyone hears me typing at work. Better yet, the keys feel really good on the fingers. They have a good bounce to them. Moreover, the mouse is also pretty crisp and reactive.
It doesn't have any flashy design or unnecessary features to it that don't get used normally for business or personal surfing. You can look at this combo pack as a functional over flashy computer accessory that gets the intended job done like a pro.
The keyboard can be used for several months at a stretch without a charge. Of course, I am talking about no more than 2-3 hours of daily work. Also, the makers have included an 18-month warranty on the product.
The keyboard and the mouse house no batteries. Basically, they are rechargeable. So, you can easily charge them with a standard USB charger without any fuss. The pair goes into sleep mode when not in use for a prolonged period of time and wake up almost immediately when you click or start typing again.
Cons
The mouse does require some time and attention to get used to because of its thin profile. However, I have got the hang of it now. So, I don't have any issues with it anymore.
7. Logitech MK550 Wireless Wave Keyboard Mouse Combo
The Logitech MK550 Wireless Wave Keyboard and Mouse Combo is the perfect candidate for those who are looking for a keyboard with fantastic layout, amazing controls, excellent feel, great battery life, and stupendous built quality. It's a spectacular upgrade for anyone who types a lot at home or in office.
During Use:
Being an IT professional, I need a good keyboard and mouse for a living. Gladly enough, this one did fit the bill for me. Frankly speaking, this Logitech MK550 keyboard had a way better feel than I anticipated. The setup was also very easy, and I was highly impressed with the battery life too. The wave design and padded wrist rest made it easy to use the keyboard for long hours. Interestingly enough, it has buttons for almost every imaginable need. Moreover, it's fairly lightweight. So, I found it easy to carry around. Not to forget the wireless aspect of the product which really helps to seal the deal for anyone looking for a high-quality wireless keyboard and mouse.
Pros
The keyboard gives you a feeling like you are typing on a cloud. Also, it's relatively quiet. So, you can use it in a library or in a bedroom without bothering anyone else.
The keyboard comes with a bunch of different buttons such as turn on/off, play videos, music, etc. Basically, it's a fully-functional keyboard with many predefined keys that a user can easily customize to perform numerous tasks.
Both the Logitech MK550 keyboard and the mouse have automatic off timer system, which prevents the battery from getting drained.
Cons
Although the mouse works very well, it has a bit of extra weight to it in comparison to my old mouse. So, I found it a tad bit harder to move in the beginning. It was all fine once I got the hang of it.
The Delete key is over-sized. If you are like me, you might confuse it with the Enter key. Of course, this bad habit stays only for a brief while.
8. Logitech MK710 Wireless Keyboard and Mouse Combo
If you are looking for a keyboard and mouse combo that hardly lets anyone down, you should stop scavenging the web, and take an immediate look at the Logitech MK710 Wireless Keyboard and Mouse Combo. Other than the universal keyboard traits, the Logitech MK710 keyboard mouse combo product offers one-step further features like nothing else in the market. So, you are not just paying for tangle-free convenience, but for things beyond the wireless aspect of the Logitech MK710 combo product.
During Use:
To tell you how this product treated me, let's rewind my life. Yes, I acquired this keyboard and mouse combo few years back in the middle of a regular day. For a fast typist like me, this keyboard proved to be a bliss at work. I was no longer disturbing my co-workers in the office with weird keyboard clicking sounds. Gladly enough, the Logitech MK710 Wireless Keyboard is whisper quiet. The battery life was great as well. Even after a couple of years of business use with the integrated LCD, it kept going strong. For home and office use, this product is a no-brainer choice. I am not a heavy gamer. Therefore, I cannot tell you how well this combo will work at a gamer's desk.
Pros
The keyboard has a lot of useful functions including Internet, search, email, music, pictures, messenger, Word, Excel, and more. Basically, it has most of the functions you would ever need.
The signal strength is strong and consistent. I did not experience any lag with the keyboard or the mouse. Moreover, the USB receiver that syncs both of them literally disappears inside the port. So, you can expect a nice clean look.
The keyboard comes with integrated wrist rest, which makes long typing hours pain free than usual. Also, the keys on this keyboard is a bit wider than its competition.
The keyboard and mouse combo doesn't cost a pile of earth. In fact, the Logitech MK710 Combo is sensibly priced for what it is. I would actually consider it to be a bargain product for its asking price.
Cons
Using the mouse proved to be a tricky affair for me in the beginning because I was not used to a mouse working so fast. Anyways, the learning curve was short lived, and my work efficiency actually improved once I was able to catch up with the mouse's pace.
9. Microsoft Sculpt Ergonomic Wireless Desktop Keyboard and Mouse
Between the wireless connectivity and the product features, the Microsoft Sculpt Ergonomic Wireless Desktop Keyboard and Mouse is a product worth considering on any given day. It has a nice appearance to it and a wide range of qualities to improve your work efficiency. For those who don't know, the keyboard requires 2-AAA batteries, the mouse requires 2-AA batteries, and the standalone number pad needs a separate CR2430 watch battery. All devices come with batteries inserted in them.

During Use:
To begin with, it's certainly different with the odd wave-like shape to fulfill the ergonomic purpose. The detachable number pad is a killer too, especially for dedicated gaming. The mouse has a baseball shape and size to it, but I found it very comfortable and responsive. Typing was a breeze too. It allowed me to type fast and quiet. Moreover, I never had to pound on the keys to make them work. It was all smooth and effortless. Frankly speaking, the Microsoft Sculpt is one of the best keyboard mouse combinations that I have ever owned for its price-point. Over the years, I got three of these. Why so many? I work in a large corporate office where people work on computers for 12+ hours every day. So, I had bought these for my office colleagues when they wanted to try one out.
Pros
The build quality of the Microsoft Sculpt Ergonomic Wireless Desktop Keyboard and Mouse is unmatched. Microsoft has really built this product with top-shelf materials for efficient use and longevity.
Unlike the rivals, this keyboard is easy on the arms, shoulder, and wrists. The keyboard does a great job at placing your wrist in a more neutral position to help you work pain-free for longer. All thanks to the well-cushioned palm rest design that Microsoft has imbibed in this model.
The installation (setup) part is a no-brainer. For the most part, it installs itself. All one has to do is plug the antenna into the designated USB port, and the keyboard and mouse become use-ready within seconds.
Cons
The keyboard does not come with the 'Cap Lock' or the 'Num Lock.' I found it to be a surprising omission for a keyboard of this quality.
Beginners might find the mouse a bit weird for a day or two. But, it feels great after that. It fits well in the hands, and it works well too without any hiccups.
Few of the letters on the keyboard started disappearing after few years of use. Keep in mind that there was a one-off liquid spill on the keyboard during my ownership regime.
10. HP QB355AA#ABL Wireless USB Keyboard and Mouse (Black)
The HP QB355AA#ABL 2.4GHz Wireless USB Keyboard and Mouse offer so much more than its leading competitors without being a burden on most wallets. The HP combo flaunts a slim design, hassle-free installation, smooth performance, and affordable pricing to minimize the usual user cribbing. It's compatible with a host of systems such as Vista, XP, Windows 7, 8, and 10.
During Use:
Believe it or not, I am using the device as we speak. The thing that I like about this keyboard is that it keeps up with my fast typing, and it has a wonderful touch and spring feeling to it. It's almost like typing on a high-end laptop. Also, it's compact and light enough to move out of the way if I need to use my desk space for some other activity. I wouldn't rate the mouse as high as the keyboard, but it has smooth wheels, and it works just fine. It's also very precise. It's just that I prefer a mouse that comes with navigation buttons on the side. Either way, it's worth the money.
Pros
The keyboard has a heavy duty look and feel to it. So, it's not one of those flimsy keyboards out there that were mass produced out of rush.
The batteries in them are really strong. Simply put, they live longer. It's been more than a year of use, and the batteries are still working fine for me. And, I am expecting more use out of them.
Absolutely zero set up is required for the mouse and keyboard to sync. You just have to plug the tiny adapter into the USB port, and it instantly recognizes both the mouse and the keyboard. Better yet, you can hook as much as five devices to the wireless adapter.
Cons
Just like most other wireless devices out there, you need to make sure that your computer is in close sight of the plugged receiver to experience zero connectivity issue.
The keyboard doesn't come with the usual signal lights (audio or visual) to indicate when the Caps or Num Lock is on or off. Therefore, unintentional use of the Caps Lock could lead to some time wastage for correcting the errors.