Computer designs have gone through multiple revolutionary changes since the time Charles Babbage came up with its idea. Well, not just design, in terms of technology as well. In today's time, we can do an unimaginable number of complex tasks in seconds using the powerful computing technology.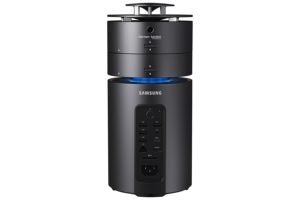 And as we all know, small is the new big in the digital world of the 21st century and mini laptops and mini PCs are a perfect example of it. Just like a traditional PC, a mini desktop pc can store tons of data, do the basic to semi-complex computing tasks with ease, and the best of them all, it's ultra compact.
New to this niche and confused as to which mini computer would be the best bang for the buck? Read my in-depth reviews of best mini pcs below and make an informed decision:
Best Mini PC Reviews – Top Picks in 2019
1. Apple Mac mini – Best macOS Mini PC
I am going to kick start this segment by talking about the brainchild (or should I say brain grandchild?) of Steve Jobs. The Apple Mac mini is a dream come true for Apple addicts like me who just want a compact, sleek and stylish computer for entertainment and basic computing tasks. I have been using the iMac for the past 8 years and I bought this one as a backup computer. This mini pc is easier to carry while traveling.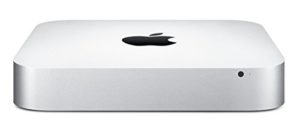 It runs on OS X along with 1.4 GHz dual-core Intel core i5. If you wish for more power and efficiency, you can opt for the 2.7 GHz version which also comes with a bigger RAM. Not that the 4 GB RAM can't process high graphics games or edit audio/video, it's just that the programs will get bigger in size with each update.
As far as the appearance is concerned, Apple has kept the design chic and sober. The 36 mm thick aluminum body with Apple's iconic logo on it readily captures the attention. You can spot an IR receiver on the front which lets you operate the mini PC with an optional remote control. The latest version of Mac Mini employs 802.11ac which increases the Wi-Fi speed 3X. I would recommend using an 802.11ac router for best output.
It features 4 USB ports including two Thunderbolt ports which are pretty useful for somebody like me who likes multitasking. However, all the ports at placed at the back which makes connecting the flash drive a little bothersome. The HDD version comes with 5400 RPM drive which makes the mini PC fast enough for editing images and videos.
On the downside, the upgraded version of Mac Mini has made wiring an SSD quite difficult. Not that it's impossible but just so you know, replacing the hard drive yourself will void the warranty. If you want a mini PC for developing apps on the go or serving as a media center in your RV, this could be an ideal choice.
The monitor, keyboard, and mouse are not included in the product package. I would strongly suggest you to stick to the Apple-branded accessories only despite the heavy pocket-pinch. I already had Apple USB keyboard and it worked perfectly well with Mac Mini. With the 8GB version, you get 1 TB hard disk which will be ideal for app developers. If speed is your main concern, go for the version with SSD.
Pros
Excellent for image editing and multitasking. Download the Split Screen app if you want to open two programs at the same time.
The 8 GB version comes with 1 TB hard disk.
4 USB ports.
Runs on OS X that lets you seamlessly switch between apps.
IR receiver for occasional remote control operation.
Cons
The HDD version is hard to upgrade to SSD.
Does not have enough computing power for heavy-duty tasks.
Final Verdict
This entry-level mini PC from Apple is a far better option than expensive Mac models if your applications are limited. It would work best as a secondary computer. Even the 5400 RPM HDD version is immensely powerful and can easily run medium spec games without a hitch. And you are always free to opt for the 8GB RAM version for enhanced speed and performance. Yes, the price is on the higher side of the spectrum but you won't regret spending it on a product so well-made.
2. ASUS VivoMini VC65R-G039M Barebone Mini PC – Smallest Mini PC
Technology has changed the way we live, electronic gadgets such as laptops and smart phones have become a mandatory part of our daily lives. However, today, having a PC is not enough. The users are looking for a device that is both powerful and portable.
The VivoMini VC65R, a compact computer launched by ASUS is an efficient solution to the problem. It is basically a fully functional computer that is small enough to pass off as a USB hard drive!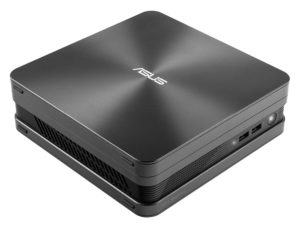 The sleek and sturdy ASUS mini PC measures 7.75 inches in length and 2 inches in height. The aluminum framework comes in various shades of black, white and silver-gray and is compatible with an HDTV or a flat-screen monitor. You can mount the device anywhere on the wall, under the counter or behind a PC console.
The ASUS VivoMini though very cramped is easy to dismantle, all you have to do is unscrew the lid, slide the latch and unlock the Kensington security notch.
The drive cage includes four 2.5 inch SSD drives that expand the mini computer's performance. The front cover features a power button and two USB ports along with a microchip SD card reader, Ethernet jack, and audio port.
The ASUS VivoMini device features the latest 6th generation Intel Core i3 and i5 Processors and RAID support for faster data transfers.
I am quite impressed by the console which displays crystal clear picture quality via HDMI, DisplayPort or VGA. The compact machine also comes with an energy-efficient battery, power adapter, and VESA-mount support that allow you to set the frame in both vertical and horizontal view modes.
The modular design of the mini PC is perfect for both first-time users and professionals alike. You can use the product for your everyday tasks, for specific projects or as an entertainment tool.
Pros
Compact design. Can contain up to four 2.5 inch drives
The framework is sleek, elegant and aesthetically appealing
Comes with 6th generation Intel Core i3 and i5 processors and Windows 10 configurations
The device has all the necessary ports you need
You can stream live content almost anywhere using an HDMI or Display port
The flexible construction can be mounted on the wall
Cons
The keyboard and mouse are not equally competent and solid when compared to the rest of the device.
Final Verdict
ASUS VivoMini is considered to be the world's smallest mini PC that is ideal for NAS, video editing and data transfers. The numerous RAID levels reduce any scope for inaccuracy or information loss during data transfers. Moreover, the device even comes with cloud support, giving you 100GB free storage along with Dropbox, OneDrive, and Google Drive integration. However, all said and done, the keyboard and mouse were a little disappointing to me considering the premium quality design of the micro PC. The keyboard is not suitable for long-term use, while the ambidextrous mouse is pretty small.
3. Acer Revo One Home Entertainment Desktop – Best for Entertainment
It is high time you break free from the old school personal computers with their huge monitors and heavy CPUs. Mini computers have made an impressive comeback in the market with big brands such as ACER launching their own compact desktops that are as big as a USB drive!
The product in question would appeal to tech-savvy users and people who appreciate minimalism but don't want to compromise on the quality of the services offered.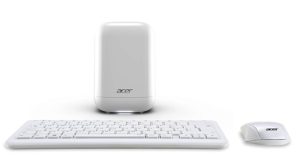 The ACER Revo One's aesthetically pleasing design, robust metallic construction, and user-friendly features are just some of the perks offered by it. The ACER mini desktop is both a media streamer and a fully functional computer. The device comes packed with 4TB storage, Intel 6th generation i5 Core Processor CPU, an HDMI port for viewing 4k videos and a range of cool cloud based tools that only add on to the product's appeal.
Acer's Revo One Home Desktop is basically an entertainment unit that is very similar to Apple's Mac Mini. The small and compact framework weighs just under 2kgs and comes with a single LED light that acts as a power indicator. The cubic body is smooth yet ergonomic and durable, made of white plastic and aluminum. The mini PC is pretty easy to dismantle, you just have to push a button at the back of the device to pull open the chassis and access the computer's CPU.
You can fit in three hard drives beside the RAM slot and SD card area. The RAID support (both RAID 0 and RAID 1) boosts the speed and performance of the computer for faster data transfers. The rear end of the Revo small form factor desktop unit is loaded with all kinds of ports, from audio jacks to USB slots. The product also comes with a wireless keyboard and mouse combo. However, they're quite small and uncomfortable for consistent usage. The dual wireless clicker is the weakest feature of the machine.
Pros
Ideal for amateurs and first-time users
The device features a smooth, curved and ergonomic framework
Includes HDMI port, audio jack, USB ports, and card reader
Excellent audio visual support.
Cons
Doesn't really support online gaming
The remote control system is poorly designed
Final Verdict
Acer Revo is a mini pc unit that has all the standard features you'll need in your entertainment system along with some additional perks. With 8GB RAM, 2.2 GHz Intel i5 Core Processor and 4TB internal storage capacity, the device is a smart alternative to the huge PCs and heavy laptops. The bundled keyboard and short mouse are a hindrance. However, the positives easily outweigh the negatives, making the Acer Revo a profitable investment.
4. ASUS CHROMEBOX-M004U Deluxe with 4GB Memory – Best Minimal Mini PC
The ASUS Chromebox Deluxe is a model that serves as a mini min unit running on Chrome OS, a web-based operating system introduced by Google. The mini computer device is pretty compatible with mobile phones, tabletss and other products (as Chromebooks), enhancing its reach and appeal among consumers.
The small desktop pc unit comes with a built-in antivirus application that helps you safeguard and manage the various software and extensions you download off the internet. You don't have to worry about data hacking, malware, and viruses ever again!
ASUS Chromebox is perfect for daily use and is a hit among amateurs. The framework measures roughly 5 inches and is extremely portable. It comes with a mounting bracket that can be fitted to the rear end of the monitor or mounted up the wall with ease.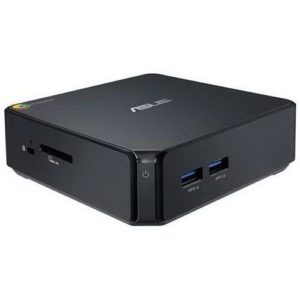 ASUS Chromebox has all the necessary ports set on the front and back end of the body. You get a big HDMI slot, audio jacks, four USB ports, Ethernet jack and a DisplayPort. You even get a set of tools for customizing the screen alignment and rotation of the display. Chromebox also comes with Bluetooth integration that can be used to connect any external device or platform.
Other than Google support and built-in Bluetooth 4.0 program, Chromebox also offers cloud-based services that enhance the functionality of your device considerably.
Here, you get access to all the power plug-ins under the x86 system, allowing users to create Office Files, streamline live video from Netflix and Amazon Prime, block unnecessary ads and translate content in different languages automatically. The device is powered by Intel Pentium Processor CPU and is integrated to Intel Graphics for a more robust and radiant user experience. You even get 16GB internal SSD memory for faster a data processing and transfer.
Pros
Very affordable, user-friendly and easy to manage
Quick to load, faster browsing and data transfers
Comes with Bluetooth, Cloud backup, and in-built antivirus
Comes with Google Chrome OS, Intel Pentium Processor, and 16GB SSD memory
You can seamlessly integrate your accounts, sync bookmarks and configure information via Google
Cons
The device doesn't support Windows and Mac-based applications
Users have complained that the 16GB of storage is extremely insufficient to contain all their data
Final Verdict
ASUS Chromebox is an excellent mini pc for users who are looking for a simple, efficient and solid small desktop pc unit. It has Bluetooth, a cloud backup with 100GB free cloud storage under the Google Cloud platform for the first three years, you get an inbuilt antivirus program and many more facilities that other brands don't provide. However, on the downside, the device doesn't come with a mouse and keyboard. You'll have to get wireless keyboard and mouse combo separately installed. Also, the Google Chromebox by ASUS is not the ideal option for users who have to work on Windows or Mac-based platforms such as Microsoft Office or Adobe Photoshop.
5. Azulle Access Plus Windows 10 Pro Fanless Mini PC Stick Review
Fascinated by the potential of a mini PC stick, I took a shot at the Azulle Fanless Mini PC Stick.
As of this writing, I have been using the product for nearly a month now in office. Since I have used the device to its full capabilities, I feel qualified enough to judge the product fairly. Frankly speaking, the tiny mini pc device did make my lives more productive and easier than usual.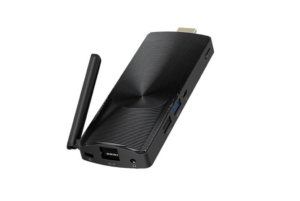 It doesn't matter who you are; the Azulle Access Plus Windows 10 Pro Fanless Mini PC Stick enables you to access Windows 10 everywhere you go. The idea behind the device is simple. It lets you stream and browse anywhere on your demand by connecting to any compatible TV, kiosk, projector, or HDMI. The palm-sized device has a compact design to it to easily fit into most pockets, making it a perfect travel companion.
This is pretty much the smallest-albeit thinnest-device to get your hands on something that can help you do just about anything and everything that you could do on a full-fledged PC or laptop without the bulk. Basically, it makes personal computing a walk in the park like nothing else in the market. Now, is it a better-made version of its rivals? Let's find out:
Product Highlights
Unlike the competition, it supports both Ethernet or Wi-Fi ports for fast speed and continuous connectivity
It comes preloaded with the latest and full version of Windows 10, 64-bit operating system.
For seamless viewing and navigating experience, it is powered by a 64-bit Intel Quad Core Processor
To be shoulder-to-shoulder with its best rivals, it offers 32 GB onboard storage, 2GB of DDR3L RAM and 128GB of storage.
It supports Bluetooth 4.0 connectivity
Pros
The makers have done a great job at introducing a very well-rounded device with smart design for a reasonable price tag.
With minimal power requirements and no moving parts, this PC stick is a little powerhouse on its own.
Unlike the rivals, this PC stick does not turn red hot in the middle of an ordinary day.
The reliability and connectivity of this computer stick are second to none.
Kudos to the tiny size of the device. It can easily fit into the palm of your hands without any fuss.
Cons
The thing comes with zero instructions for use. But, the initial configuration part is not a pain in the butt.
Hardcore gamers may not be a big fan of this product. But, light gaming should not be a problem.
Final Verdict
This Azulle PC stick won't retire your desktop PC or laptop for good. But, this little pc jewel can perform a lot of tasks that would generally require an actual laptop or PC. As long as you have realistic expectations, there is no way you can have buyer's remorse with this product. And, no joke, this is coming from someone who has used/judged/tested the device from top to bottom for nearly a month. Not to forget the fact that a myriad of customer reviews shows that I am right!
6. Lenovo ThinkCentre M700 Flagship Premium – Best Overall
Flagship products are often the subject of criticism for no real fault of theirs. By virtue of being flagship products, they raise expectations to a level that they are bound to fail. The same cannot be said about the Lenovo ThinkCentre 700 Flagship Premium. The device, a part of the hugely popular Lenovo series is often touted as one of the best selling devices of all time. Whether that reputation is justified remains to be seen.
I had initially bought the M700 Flagship Premium to play heavy duty games. The sole attraction behind choosing the product was the flagship. The first feature that impressed me obviously was the multiple monitor support. This enabled me to connect up to three monitors and therefore provide a greater visual experience to the element of game playing. The HD graphics card ensured that there were no frame drops or lags when playing HD videos or games.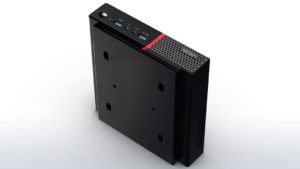 The device runs on an Intel Core i5 processor and can give speeds of up to 2.8 GHz. This is enough to run most high-end games which consume a lot of memory and require high processing speed. The product includes a USB keyboard and a mouse which, though not top notch, are of decent quality.
The only downside of using the product is the absence of an optical drive. Now, given that most games if bought legally come on DVD drives, this may be quite a problem while installing games. To solve this problem you can attach a detachable optical drive which can be used to run disks.
The Lenovo ThinkCentre M700 Flagship Premium is equipped with 4 rear USB ports and 2 front USB ports. All provided USB ports are for v3.0. The presence of USB ports on both the front and rear panels helps one manage plug-ins like pen drives and modem cables efficiently.
Apart from the USB ports, there are also 2 headphone ports which are a great addition in case you are playing double players. There is also a LAN port and two display ports which can be used to connect to multiple monitors. The device also packs in the necessary Bluetooth and WiFi connections.
The 8GB RAM can tackle almost everything that you throw at it. But, in the event that you need to increase you RAM, it can be expanded up to 32 GB. The 128 GB hard disk is, in my opinion, a little too small and you would do good to invest in an external hard drive.
Pros
Expandable RAM up to 32 GB
Multiple Monitor Support
Durable
Included mini keyboard and mouse
Supports VESA mounts
Cons
No optical drive
No HDMI port
Final Verdict
As a flagship product, the Lenovo ThinkCentre M700 Flagship Premium does not disappoint. It packs in all the right punches and ensures that you get a bang for your buck. The performance is simply mind blowing and if you are willing to overlook some of the minor concerns that the product has, then this is by far the best device to use if gaming lists high up on your to do list.
7. Intel NUC Kit NUC6i7KYK Mini PC – Best Value for Money
Given how overcrowded the Mini PC segment has become over the years, a product needs to pull out something marvelous to catch the consumer's eye. I have previously used and reviewed products by ASRock, Zotac and even Dell. And I was quite interested with what USP the Intel NUC6i7KYK was marketing. The product is aimed at the gaming segment and I expected it to be efficient on power and yet provide high levels of performance.
When I got the gadget, I noticed that it was a little bigger than most mini PCs out there. The bigger dimensions, while not adhering to the standard sizes employed by other makers, is not uncomfortable to hold. Therefore, it can be easily carried around. The design of the compact PC is not the standard industrial slab most other products are. I was happy to see that the design was something they kept an eye on. After all, it is a gaming PC, and style rules.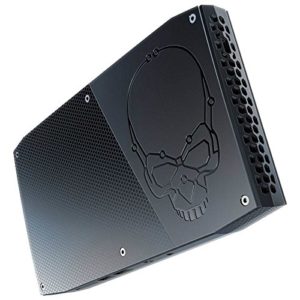 Along with the device, the box also had a 120W battery with a power cord that can be used to charge it. There is also a VESA mount and screws which you can use to mount the device.
The Intel NUC6i7KYK uses an Intel Core i7 processor which ensures a lag free experience. I was, however, very disappointed to see that it does not have any pre installed OS. I had to install Windows 10. This is not a serious flaw but it does lead to some amount of discomfort.
Basic web browsing and video playback are smooth, thanks to the 16 GB RAM of the device. But for a gaming device, the litmus test lies in how well it can handle games.
I installed four distinctly different games, all of them HD. The mini PC supports 4K display and so, graphics was not an issue. The 512 GB storage space also meant that I could download multiple games without having to employ another external hard drive. There were no frame drops and though the fan was very noisy, the device was only lukewarm and did not generate a serious amount of heat. This heating might turn out to be a problem if you are using the device in an area without any sort of ventilation but otherwise, it's fine.
The Intel NUC6i7KYK can support up to 7.1 surround sound, courtesy its HDMI cable. There was one issue which I had with this device and that concerns the USB ports. The device provides for four USB 3.0 ports. I was disappointed that there were only four USB ports, it is a bit too less when you consider that two ports will be blocked by a mouse and a keyboard.
Pros
The processor and the RAM provide a lag-free experience
The storage space is large enough to store many games
Expandable RAM
Cons
The fan is very noisy
Produces a little heat, might be a problem in some cases
Final Verdict
As far as gaming mini PCs go, the Intel NUC6i7KYK is a fine device. It ticks all the right boxes and ensures that the user gets what he pays for. In all the devices that I have so far seen in this segment, this provides the most value for money. If you are looking for a gaming device, this PC is definitely worth a glance.
8. Dell Inspiron i3050-3000BLK Micro Desktop
I have gone through a lot of micro desktops, but the Dell Inspiron i3050-3000BLK takes away the prize for being the smallest in terms of size. However, I would like to point out here that its diminutive size must not be equated with lack of performance.
When it comes to this segment, the Inspiron i3050-3000BLK is as affordable as they get. The best part about using the mini pc was that I could plug it into my TV to transform it into a computer.
Coming to the connectivity options, like most competitors, Dell includes a wired mouse and keyboard. But I took an upgrade which entails that you can switch to wireless mouse and keyboard after paying a nominal fee. The wireless setup ensured that I could control my home theater system from my computer which is pretty cool if you think about it.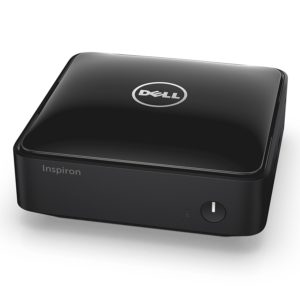 In terms of design, I was reminded of a certain Dell Chromebox which broadly sports the same design. The position of the power button varies though, unlike the Dell Chromebox, the Inspiron i3050-3000BLK has it on the front. These are but minor changes. The bottom line is, the product looks attractive.
The Product runs on the Intel Celeron J1800 dual-core processor which reduces power consumption. There are some problems with the processor, though. The low power consumption also meant that the computer was noticeably slower than most other products in the segment. This seriously disappointed me. However, it shouldn't be much of a problem if you plan to use the product for basic computing purposes. If you are a gamer like me, seek elsewhere.
I tried multitasking and the results confirmed my worst fears. The 2 GB RAM is just not enough to power multiple applications. This means that multitasking is a strict no-no. Even if you do end up paying extra bucks to upgrade it to the slightly more powerful quad core Pentium J2900 processor, the limited RAM space seriously hampers performance.
The third and quite possibly biggest problem with the Inspiron i3050-3000BLK is that it has a hard drive of only 32 GB. Nowadays, even mobile phones have a larger storage space. The abysmally low space meant that after installing the OS, I had hardly any space left to store or download anything.
I had to instead depend on cloud storage, which honestly can be a bit of a bother sometimes. The device is equipped with four USB ports, out of which, only one is USB 3.0. There are also memory card readers which can be used to increase storage space. Apart from this, there's little else that meets the eye.
Pros
Very affordable pricing
Sleek and compact design
Suitable for general computing tasks
Cons
Low RAM
Small hard drive space
Final Verdict
When you invest in a mini computer, you would obviously want the best of specs that money can buy at your budget options. The Dell Inspiron i3050-3000BLK, would be a great mini PC to gift to a 12 year old who has just started to learn using computer. If you want a stand-by device in case your laptop stops working, buying this inexpensive micro computer won't harm.
9. Kangaroo MD2B Mobile Desktop Computer
For years now, I have considered the rise of mobile devices to be the death knell of PCs. And believe me, if one were to look at the Kangaroo MD2B, he would consider that day to have arrived. It was extremely hard for me to distinguish between the product and my external drive and you can't blame me, they do look similar.
The latest mini pc offering from Kangaroo has a sturdy and solid feel to it. It is encased in aluminum and encrusted with a single light which changes into a variety of colors depending on what the device is doing (on-blue and charging-orange). There is also a power button, and wait for it, a fingerprint scanner!
The device has four ports (HDMI, USB 3.0, USB 2.0 and power) which you can use to connect a variety of devices. The sleek design of the product meant that I had to live with the disappointment of a missing audio jack, but the product more than makes up for it. The two USB ports could also mean that connecting a mouse, a keyboard, and a pen drive at the same time is going to be nigh impossible but I used the inbuilt keyboard and was satisfied with the result. I even used a wireless mouse and keyboard (not included with the product), courtesy: the Bluetooth 4.0 support.
However, I couldn't use Ethernet on the device because there is no dedicated port for the same. There is also a small tweak that I made. I used a MicroSD card to increase the 32 GB internal storage the device provides. Among the many devices I connected it to, it worked fine on HDTVs as well as Apple products like an iPad. Compatibility is therefore not an issue with the Kangaroo MD2B.
The device can also be charged from a power bank or a phone which ensured that I didn't have to carry the bulky charger everywhere I went.
The Kangaroo MD2B works on the Intel Atom X5-Z8500 processor, which works pretty well for basic computing and video playback or watching moveis. However, I did not press the device too hard because it had a RAM of 2 GB which is the bare minimum you require to run Windows 10. This does translate into performance. During my usage period, the mini computer did slow down a whole lot of times. Still, when you compare it with counterparts offered by Acer, you will prefer this mini pc device.
For all you gaming fans out there, the Kangaroo MD2B is strictly not for gaming. 3D games won't run and even 2D games would lag. Even though it does not have a fan the product stays cool most of the time and there really are no heating issues. I used the wireless facility for web browsing and the device lasted for around three hours.
Pros
Durable and sturdy
Extremely small
Value for money
Cons
Performance is an issue
Too few ports
Final Verdict
The Kangaroo MD2B promises a lot and you can't really blame it if it is unable to deliver on some fronts. That being said, the micro computer is extremely capable. If you are a casual business user or wish to use it for office work, this is the perfect mini desktop pc for you.
10. Samsung DP700C6A-A01US ArtPC Pulse Desktop
The Samsung DP700C6A-A01US is a sight to behold. Beauty personified. At least that's what I felt on first looking at it. The ArtPC Pulse is about 11 inches tall and has a solid metal body. The notification light runs around the body and is a treat for the eyes. The wow factor of the product is not its design, though. When I first powered up the mini pc device, I was pleasantly surprised to find that it had its own speaker. In fact, the speaker emits out 360-degree omni-directional Harmon Kardon audio. Imagine the endless amounts of possibilities this open up.
While there are endless variants available all depending on how much you are willing to shell out, I used the sixth-gen Intel Core i7 variant. The variant boasts a mammoth 16 GB of RAM size and 256 GB SSD. It also has a 1TB hard drive which ensures that you are never likely to run out of space.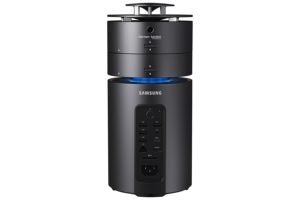 Truth be told, many critics have labeled this product as Samsung's take on the Apple Mac Pro. Given the product specifications, it is easy to see why. However, the Mac Pro is not the product you should be comparing this with. HP has a similar "computer shaped like a cylinder" in its offering – the HP Pavilion Wave. The Samsung ArtPC Pulse, by comparison, is a far superior product, having an almost premium feel about it.
The mini computer runs on an AMD RX 460 graphics card which allowed me to stream videos with 4K resolution without a hitch. This is certainly an added bonus as not a lot of products in this segment really stress on HD video playback. There are also innovative features like the Turn, Click and Expand. This feature allowed me to detach the external storage of the product with just a turn and attach another storage. So, I did not have to invest in another external storage just for the sake of extra memory.
On the connectivity front, however, there arose some problems. The ArtPC Pulse is endowed with a single HDMI port which essentially limits the number of monitors you can connect at a given time. This might be a problem if you wish to use the product for gaming purposes. Sure, I did try hooking up another monitor using the USB-C port but it is a time-consuming process and involves a lot of messy wires. Also, I found that the fan was relatively quiet when used for normal work on a computer but while playing games, it does become a little noisy and a tad bit warm. So, if you want to use the product for gaming purposes, you must take note.
Pros
Cylindrical shape
360-degree omni-directional Harmon Kardon audio
Turn, click and expand
Cons
Fan is noisy
Cannot be connected to multiple monitors
Final Verdict
The Samsung ArtPC Pulse is a premium offering from Samsung and as is the case with flagship products, is a bit heavy on the pocket. However, it is not overpriced. Consider its superb performance and almost lag free experience that I witnessed, I would surely recommend this mini pc should you be able to afford it.
11. Intel NUC Desktop/HTPC
The Intel NUC is a device unlike any other. NUC or Next Unit of Computing is basically a skeleton. This gave me the option to add in features as per my needs. The ability to enhance parts so that the overall performance can be tweaked up is by far the Intel NUC's biggest USP.
The mini computer segment is for people like me who refuse to carry around a giant laptop and yet need a mini pc for our office work. Now, while you do get an option between a 4th Gen and a 5th Gen variant, I decided to invest in the 4th Gen one. Why? Simply because I found the 5th Gen variant's price to be too steep.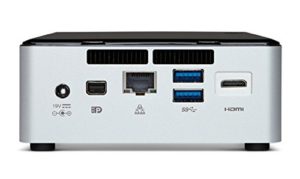 My first area of concern was what any person has when it comes to a wireless product- power consumption. Firstly, the NUC is a tiny device which automatically reduces the amount of power it consumes. Secondly, the 19V 65W power adapter efficiently charges the battery and ensures that the battery life is long. However, I noticed that unlike other mini PCs, the Intel NUC does not compromise on performance.
If you are searching for a normal desktop computer then the NUC is probably your best bet. For instance, I have often tried watching a movie at night only to be put off by the irritating sound the fan makes. In case of the NUC, the fan is so silent that you just about tend to forget that it exists. While some of you may actually find this to be a trivial point, I can assure you that this is one of the most important aspects you should be considering.
When you invest in mini pc, you have to make a conscious decision at the very onset of what you want to use it for. A gamer's choice will never be the same as that of a casual business user's. But, with the Intel NUC, I had the independence to build up my device as I want it to. Since the small pc supports HD, you can use it for gaming and business all depending on how you tweak it up.
Another thing that the NUC does not compromise upon is its connectivity options. The NUC sports four USB 3.0 ports and another two extra 2.0 ports. There are also an HDMI port and Ethernet connectivity. If this wasn't enough, you also get a Wi-Fi antenna and an infrared port. The NUC is, however, not without its share of disappointments. The NUC may not be the best option when it comes to graphics related work like editing and video related work.
Pros
Sleek design
Easily tweaked to change as per requirement
Unmatched connectivity options
Cons
HD support is not absolute
Final Verdict
The Intel NUC does not really have a competitor in the market that it can be compared to. Either you like it or you don't. When it comes to the NUC, I found that this is by far the best value for money mini pc that you can invest in. I would certainly recommend this product if you are willing to experiment with your computer.
12. MINIX NEO Z83-4, Intel Cherry Trail Fanless Mini PC – Value Gaming Mini PC
Prior to having bought the MINIX NEO Z83-4, I was using the Z64W. For those of you who don't know, the Z64W is made by the same company that made the Z83-4. It was good to see the makers keeping the basic compact size and fan-less design intact while improving on the cons of the predecessor. I used the Z83-4 both as a "TV box" and for daily computing work that I have. The big question that I sought an answer to is, would Z83-4 become the next proficient all-rounder mini pc that the market expects it to be?
There's nothing unique about the design of the product. If you are a Minx fan like me, you would obviously be familiar with the way the product looks because it employs the same design template as its predecessors. At the very onset, I would like to note that since the product does not come with any tools that can control it, I used a Logitech K400 wireless keyboard through most of my usage period. The keyboard worked without a glitch.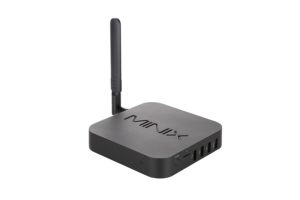 Another feature that impressed me was that the Wi-Fi and the Bluetooth antenna are optional. Given in a world of LAN connection, rarely would one want his system to run without a Wi-Fi. However, the optional installation allows for a wider choice in case you feel you don't need an attached antenna. There are 4 USB ports on the Neo Z83-3 (three v2.0 and one v3.0) which are enough for everyday use. Apart from this, there is also an HDMI 1.4 connection, a Gigabit LAN port and a 1.2 DisplayPort, complete with a 3.5mm jack for headphones and external speakers.
I used the Neo Z83-4 for a variety of tasks including but not limited to, video editing, re-encoding videos, editing photos, and casual web browsing. I found using the product to be an absolutely lag free experience. In fact, I found out that the Neo Z83-4 performs better than the premium NGC-1 which we use in our office. Now, any household that has a children would know the importance of gaming. The Neo Z83-4 allowed me and my son to stream games from the Xbox One without any problems and ensured endless hours of father and son bonding.
The Z83-4, however, is not absolute in its prowess. Though the Z83-4 played out 3D videos quite efficiently and the switch from TV mode to 3D mode easy we couldn't get it to play HD audio formats properly. I could, however, mix it down to DD+ 5.1 and play it.
Pros
Compact size
Optional Bluetooth and Wi-Fi antenna
Performs better than far superior products
Run out of box enabled
Efficient heat dissipation system
Cons
Drive size is too small to accommodate the ever-evolving Windows 10
HD audio play may be choppy
Final Verdict
The Minix Neo Z83-4 is everything you want it to be – fast, snappy, efficient and durable. It ticks all the right boxes and is by far one of the best products I have seen in this mini pc segment. The low profile that the device maintains and its low power consumption rates make it the dark horse when it comes to comparison with other products. If you are looking for an affordable mini pc product with unmatched performance, look no further.
13. CUK Lenovo ThinkCentre M700 Tiny Business Desktop – Best Office Mini PC
I have never been a fan of high-end products, partly because of my inability to buy them, and partly because I feel that most flagship products are overrated. It is this stance that had initially led me to the CUK Lenovo ThinkCentre 700. Don't let its small size fool you. Behind its compact hood lies a machine that can give the best of products run for their money. The ThinkCentre M700 can at best function as a mid-range desktop best suited for your multiple business needs. Being a part of an extended family living in a single house means that space is a luxury. The product doesn't occupy a lot of space and thus was perfectly suited for my needs.
The fourth generation Intel Core i5 processor is guaranteed to fulfill all business needs that you may have. If you feel that your business requires a machine that is more powerful, you can opt for the Intel Core i7 variant which comes packed in with 8GB RAM. In terms of processor speed, there is a variant which is 3.2 GHz. However, it runs on an Intel Core i5 processor. If you are willing to compromise of processor series, this is also a possible option you might consider.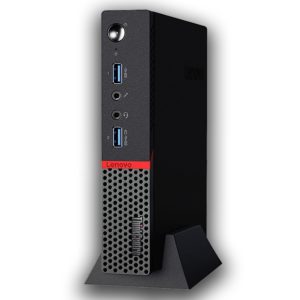 Since my business involves the use of multimedia tools mostly, the features pertaining to the multimedia is especially important. Apart from this product, I have also used the Dell 9020 and thus would like to note that the Lenovo M700 fares far better on its 3D performance and can play applications like Adobe Photoshop CS6 with relative ease. I have reservations about games and would like to warn you that if you are planning to play high-end games on this device, it may not hold up very well.
In terms of USB ports, the Lenovo ThinkCentre M700 has been equipped with 5 USB 3.0 ports, which I guess is more than enough for any work that you might have. The biggest downside of the product is by far the fact that it has no optical drive. The absence of an optical drive meant that I had to buy an external optical drive and attach it to the product. This permanently blocked one of my USB ports. Apart from these, there are also one VGA and one Ethernet port. It also comes equipped with Bluetooth 4.0 and an included Wi-Fi antenna.
Pros
Internal Memory – 8 GB
Upgrade options as per requirements
Compact size ensures that it can be hidden behind a monitor or desk
Comes equipped with a Windows 8.1 upgrade
Cons
Can not expand the internal space
No VESA mount included
No Optical drive
Final Verdict
As far as mid-range PC's go, the Lenovo ThinkCentre M700 is a very competitive and dependable product for a variety of reasons. Chief among them being that it can be used for general office work as well as clerical work. The compact shape ensures that it can be hidden away and so is not a problem when employed in cramped office spaces. While it may not be the best product that this range has to offer, I would still recommend you to give this mini pc a shot because of its consistent performance and handy features.
14. Acer Chromebox CXI2-i38GKM Desktop – Best Chrome OS Mini PC

Sometimes the greatest competitor you have may be from your own side. This would hold true for the Acer Chromebox CXI2-i38GKM desktop. On using it, I couldn't help but compare it to the very similar Acer Chromebox CXI-4GKM. So, how does the CXI2 fare? Not bad, surprisingly.
The CXI-4GKM is what you would call a basic Chromebox. The CXI2-i38GKM runs on Google's Chrome OS. It has an Intel Core i3 processor and 8 GB RAM. This makes the Chromebox another beast altogether. Overcoming my initial apprehension on working on a Chrome OS, I decided to invest in a Chromebox. The CXI2-i38GKM does not come cheap, at nearly double the price of its nearest competitor. I figured out it would have to perform exceedingly well to justify its tag.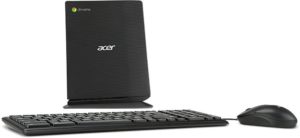 The compact shape of the device allowed me to carry it around with relative ease. This was absolutely perfect for someone like me who has to carry around the device for business purposes. The plastic exterior of the product felt nice to the touch and didn't feel too cheap in my hand.
The Intel Core i3 processor is perfectly suited to any daily task that you might throw at it, ably supported by the 8 GB RAM. The i3 processor is quite an enigma because most competitors use low powered Celeron processors. The Intel Core i3's prowess was pretty evident every time I switched between web pages or booted up the device. They had also included a basic keyboard and mouse in the box. I must say that I found the processor speed to be quite refreshing and very different from what I had so far experienced.
The front panel of the chromebox has two USB 3.0 ports and an SD card slot. The slot was pretty helpful in transferring pictures from my DSLR to the device. The CXI2-i38GKM also sports on the back panel an HDMI port, a Headset jack, two additional USB 3.0 ports and an Ethernet port. However, before you get impressed, I would just like to tell you that these features are common to almost all Chromeboxes.
There's only problem with the device for someone like me who has been using Windows OS all his life. It's difficult to work without the Windows applications. However, Chrome OS has substitutes for all windows applications and it is a matter of time before you get used to the OS.
Pros
Includes mounting and stand brackets
Enhanced performance with Intel Core i3
Great feature set
Mouse and Keyboard included
Cons
Low local storage of 16 GB
Heavy on the pocket
Final Verdict
What separates the Asus Chromebox CXI2-i38GKM from its competitors is its processor. The powerful processor allows for seamless video calling which, frankly speaking, is not the highlight other Chromeboxes are known for. I pushed the device to see its breaking point and found that it could run an impressive 10 live video streams simultaneously. There is no doubt that the CXI2-i38GKM is an extremely potent device. I would advise you to invest in this mini pc only if you feel that celeron powered devices may not suit your needs. The powerful processor might well be worth paying those extra bucks after all.
15. ZOTAC ZBOX MAGNUS EN980 – Most Powerful VR-ready Gaming Mini PC
The most common problem every gamer has faced is to find a system that does not bend under the heating that playing games generate. No, am not talking about smaller games like Counter Strike or Project IGI (no offense). Here I'm referring to large games likes The Witcher or The Assassin's creed series, which require larger RAM size and powerful processors for starters. My search led me to the New Zotac Zbox Magnus EN980 Gaming Mini PC. And let me state at the very onset that this tries to combine space constraints with power constraints and damn nearly pulls it off.
Zotac markets the Magnus EN980 as the most powerful VR-ready gaming mini-PC. I should compare it here with Zotac's previous offering, the EN970. The EN970 had a serious problem when it comes to its processor speed. This meant that I often found heavy duty games dropping a few frames or not installing slowly. On top of that, virtual reality was not something the EN970 was suited to. The EN980, I observed gets all of these areas right. It runs on an IntelCore i5-6400 65W to provide a seamless gaming experience.
In terms of size, the EN980 is similar to its predecessor. The height of the EN980 is, however, double that of the EN970. I was also impressed by Zotac's efforts to provide a product that also packs in a style statement. Unlike the dull and industrial looking EN970, the EN980 sports a silver look. The front panel of the product is black and has a big power button. This combination of silver and black had instantly caught my eye and is sure to catch yours too.
Among the external components, the Magnus EN980 flaunts a USB 3.1 Gen 2, Type-A and Type-C port. It also has the essential audio jacks and also an SDXC card reader. There are also two WLAN antennae, a read-only USB key and an installation guide if you are new to this.
Given that, let me tell you what exactly sets the EN980 apart from other gaming PCs out there. Any game enthusiast will singularly identify the first problem of gaming as heat. If the heat dissipation system of your device is inefficient, you are doomed. The EN970 addresses this problem by employing a special water cooling system that effectively tackles any heat problem you might encounter. There is also a honeycomb top with a mesh that helps dissipate heat. Now that we have that out of the way, it's GAME ON!
Pros
Effective heat dissipation system
Intel Core i5 processor
Stylish exterior
Unmatched performance
Cons
The 250 GB SSD may be insufficient
Final Verdict
When you consider a product of the Magnus EN980's caliber, you are bound to expect perfection. However, I feel that the only flaw of the product lies in its fixed SSD space of 250 GB. While you might say that 250 GB is a lot, think again. The Witcher 3 is around 38 GB, Shadow of Mordor is around 42 GB, couple that with the standard windows applications and I don't think you can keep more than 5 games at a time. The only solution would be to use an external HDD to shuffle games to make space. If this works for you, make the EN980 your gaming partner, you won't be disappointed.
16. HP Elite Slice Desktop Ultra-Small Form Factor Business Desktop Computer – Best Business Mini PC
If you are an HP fan like me, you would probably understand why I was so excited when this product came out. Prior to this, I had been using the Intel NUC mini-PC. The compact pc was so awesome that I had started using it as my primary desktop for well over a year. The best part about the NUC was that it got its priorities right. It was small and powerful enough to suit my needs. With the Elite Slice, HP looks all set to take things up a notch higher.
Upon first looking at the device, I was mesmerized by its sheer beauty. The Elite Slice is a gorgeous piece of technology that highlights the best that HP has to offer in terms of design. With the Elite Slice, HP makes a bold move into the modular. Something that only Lenovo has tried to explore. The cable-less design of the product blends in with the form factor. Who doesn't like add-ons? The HP Elite Slice allowed me to configure the settings in my own way. Add or change modules, kind of like the Moto X, but for a PC instead of a phone. You get the drift.
The range of modules that HP offers with the product impressed me. There is the ODD module which is basically an optical drive which can support any disc format, the audio module, the meeting room module and the list goes on. By far the most interesting module I have come across is the wireless charging cover.
While the modules were admirable, it was the PC that really attracted me. The Elite Slice runs on a 2.8 GHz Intel Core i7-6700T. You can also choose from the Intel Core i5 and i3 variant. The RAM is expandable upto a mammoth 32 GB. The storage HDD has a capacity of about 512 GB which meant that I could pretty much do anything I want with it.
Apart from this, the Elite Slice comes equipped with an Integrated LAN and Bluetooth. It has one USB 3.1 Type-C (charging), One USB 3.1 Type-C (alternate mode DP) and two USB 3.1 Type-A (1 charging) ports. Apart from this, it also has HDMI port and headphone jack. I wish I could point a flaw when it comes to specs and performance, but the Elite Slice is so conveniently built that one cannot but marvel at the sheer genius of the product.
Pros
Lots of adaptable modules
RAM up to 32 GB with two slots
Storage space of 512 GB
Unmatched processing speed
Sleek design and durable build
Final Verdict
As far as mini desktop PCs go, the Elite Slice is night perfect. It happens to tick all the right boxes and has no flaws worth noting down. If you are looking for the perfect small computer with the right amount of just everything, I, from personal experience, stand here to tell you, perfection has a name now – The HP Elite Slice Desktop.
Conclusion
It is quite a challenge to pick the absolute best product from this mini computer list. You have to choose a machine according to the kind of tasks you'll be doing with its help. If you're looking for a mini PC strictly for gaming purpose, the NEW ZOTAC ZBOX MAGNUS is a near-perfect device. However, as an all-rounder, very few come close to CUK Lenovo ThinkCentre. I made an honest effort to ease the selection process. Hope my reviews helped. That's all for today.