Earphones have become a part of our lives now. Be it listening to music while you are working out or taking private calls when you're in public. Then there are Bluetooth earphones which enable you to pick up calls while you're driving. Wires are gone. You can charge your earphones, connect them via Bluetooth and listen to music while being meters away from your device. Earphones are changing a lot.
And a new entrant xFyro xS2 has come with waterproof wireless earbuds. These buds are the perfect combination of everything that you have ever wanted in an earphone.
xFyro xS2, a pair of wireless earphones that are world's first-ever fully waterproof earbuds! If you have ever wished of listening to your favorite music in a hot tub, consider this your dream come true. The solid grip of the earbuds won't let them fall off but there is nothing to worry even if they do.
If you are afraid for your mobile phone falling in, don't worry. You can just leave your mobile outside as the Bluetooth 4.2 has a range of maximum 33 feet. Distance is never going to be a problem either. Hit some rock -n-roll and play air guitar in your shower. Play some dramatic soundtracks and make an amazing entrance through the rain. Pour some water on your head and act like Triple H while earbud is rocking your ears in full HD sound.
The earbuds come packed in a slick premium aluminum body. It has a compact cylindrical shape. They come in three beautiful colors; red, blue and black. The earbuds are magnetically attached to the inside and won't fall off if you fear that.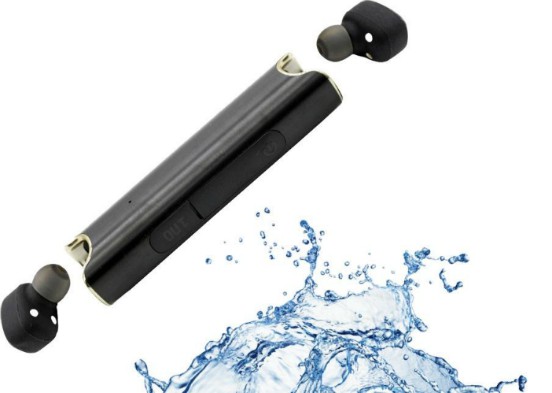 The respective earbuds are marked with "L" and "R" so that you don't get confused. Each earbud have a power button of its own. You can choose if you want to turn only one earbud on. To turn the earbud on you just have to press and hold the power button for 3-4 seconds. Both the earbuds have LED notification lights that blink red and blue when the earbuds are on. The power button serves two other purposes too. You can pause and play music by pressing it once. Pressing it twice will switch the track.
The aluminum case supports a quick magnetic conductive charging. It will charge up the earbuds to their fullest in an hour. One single charge of the earbuds provide around 5 hours of nonstop music. There is a separate USB port on the side of the case. The USB port does have a special purpose. The case not only charges the earbuds but also acts like an emergency power bank for your mobile phone. So, the case works like a mini power bank as well.
Inside the box, you get a Micro-USB cable and a pair of extra ear-tips alongside the buds.
With all being said and done, xFyro xS2 stands out as a one of a kind product. If you are an audiophile and like to be surrounded by music everywhere, this one is completely recommended for you.
Source – https://www.xfyro.com