Gone are the days of earphones with long dangling wires. This is the era of wireless stereo sets and earbuds. Not only do they look cool, but they are also very convenient for everyday use. There are lots of interesting variants available in the market but none of them is a complete and irrefutable package.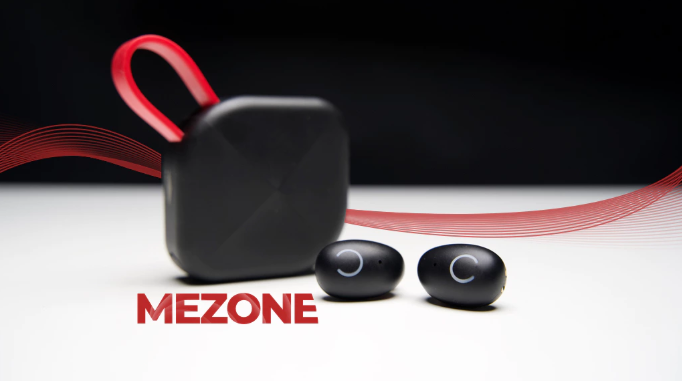 If you are looking for one such pair of wireless earphones, there is a product you should know about. Mezone is a product which might very well be the best in the category. These are a pair of true wireless stereo/earbuds with an amazing sound quality. Not only the sound, but the design is also really refined and appealing. These earphones have an outstanding battery backup which counts to 8 hours of single-charge playtime. Most other wireless earphones only offer about 4-5 hours of single-charge playtime. The battery life with the charging case is a whopping 80 hours of use as compared to 24 hours of Apple Airpods. Moreover, the charging case can easily be charged using a wireless charger or by a C-type cable.
It features the most advanced Qualcomm chip with TWS+ technique, Bluetooth 5.0+EDR, IPX7 nano waterproof and touch controls.
These earphones are developed with state-of-the-art technology and best possible features. The touch controls make sure that you don't have to manually press a physical button to operate these earphones. The two earbuds of Mezone pair to your device individually instead of operating in a master-slave mode with each other. This ensures that the other earbud works even when one of them is damaged. Mezone also works perfectly well with Siri and Google Assistant and can also be used to make or receive calls.
The ergonomically designed earbuds have a snug fit and never fall out even while running. The shape and tilt of Mezone was designed after thorough analysis of the data of ear exterior and canal of thousands of people. The earphones fit perfectly into the contours of the ear and ensure maximum comfort. The design also cancels out external noise to maintain great sound experience.
The best part is that Mezone is completely waterproof (IPX7) and can withstand an accidental submersion in 1 meter of water for up to 30 minutes. Not only the earphones, but the wireless charging case is well designed too. The case has three LED light indicators to depict the remaining charge. Moreover, the case is very small and lightweight.
The sound quality of the earphones is also commendable. The sound is optimized through Digital Sound Processing (DSP) to create the perfect balance of treble and bass.
MEZONE features the latest Bluetooth algorithm for a true lossless uncompressed audio quality and it incorporates a dynamic transducer made with graphene which delivers a high resolution audio.
If these features weren't enough, next comes the cherry on top. Mezone is very economical when compared to other wireless earphones available in the market. Mezone offers more on the plate for a much lesser price. It will cost around US$75 as compared to US $159 for Apple Airpods.
MEZONE vs Apple Airpods vs Bose SoundSport Free vs Jabra Active 65t vs Sennheiser Momentum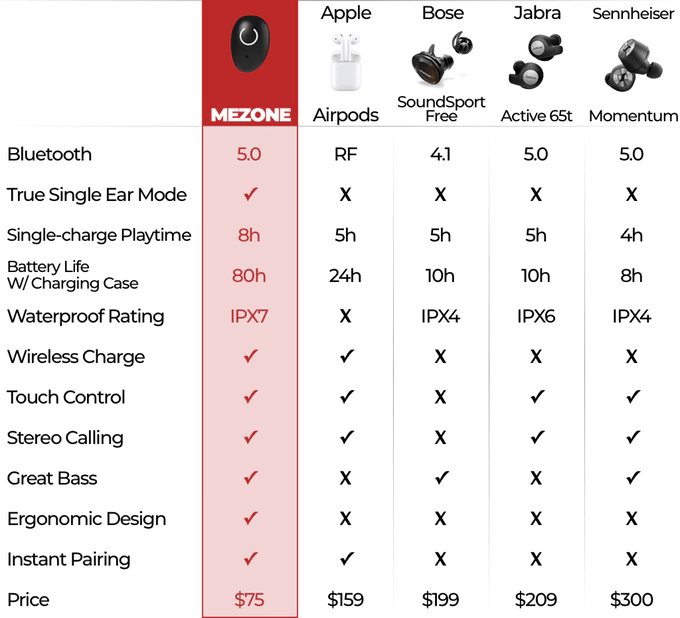 Source – https://www.kickstarter.com/projects/29744632/mezone-best-sounding-snug-fit-true-wireless-stereo