With the advent of modern high-end smartphones, getting a case for the phone is the first thing we do after buying the phone. Isn't it? Whether you've got an iPhone variant, the one from Galaxy series or any budget phone, buying a case for the phone is the mandatory task. But how about a protective smartphone case that is fully loaded with features like preventing volume, eavesdropping and cam hacking.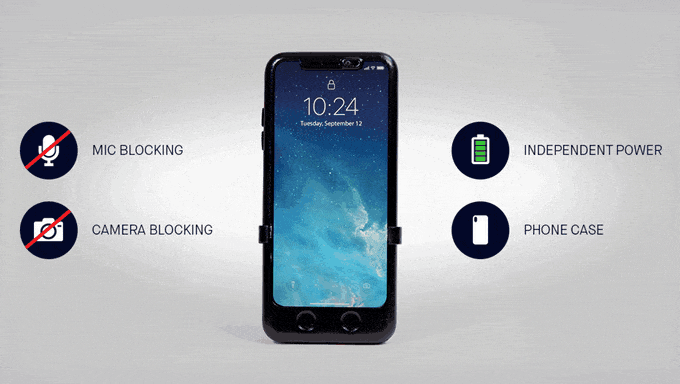 Need For Smartcase
With the advancement in technology and the launch of new flagships devices every day, smartphones are becoming more vulnerable to malfunctioning. According to resources, even an amateur hacker can easily penetrate our smart devices by following simple techniques. Isn't that scary? Your personal data, business credentials, net banking details etc.- all at risk!
This is the reason there is a need for SMARTCASE. SMARTCASE is an innovative product to meet the future demands of the people that is launched with an aim to preserve the integrity of an individual and provide perfect protection against privacy violation. It ensures the safety of data and information by preventing illicit third party access to microphone and camera of the smartphone. In nutshell, SMARTCASE is a next-generation bodyguard for your data privacy!
Let us have an insight view of the features of SMARTCASE:
Offers Anti-Eavesdropping
SMARTCASE isn't limited to preventing video invasions but also prevents eavesdropping. It prevents hackers and third-party apps to access the microphone and listen to your private conversations. SMARTCASE's computer chip is designed in a manner that it generates signals that interfere with microphone 's receptors. This prevents eavesdropping and blocks recording of audio on external devices.
Ensures Camera Blocking
SMARTCASE comes with camera blockers. You can slide these camera blockers over the front camera and rear camera when not in use. This ensures that there are no unwanted invasions and you don't have to worry about your private moments with loved ones getting exposed to the outside world.
Comes with Independent Power Support
SMARTCASE circuitry was specially designed in a manner that it allows charging using an external source i.e., using the charger that comes along with the product. This ensures that no outside system can access SMARTCASE and mess with it. It is necessary to charge the SMARTCASE for enjoying the sound blocking feature.
Note: You cannot use it to charge your smartphone.
Acts as a Protective Phone Case
Apart from offering high-end features like anti-eavesdropping and camera blocking, SMARTCASE also serves as a protective cover for your smartphone. It protects your phone body from shocks caused by a fall. So, that's an added plus.
Above all, is Better and More Affordable
Though there are many smartphone cases available in the market but no product is able to deliver better features than SMARTCASE.
There is no doubt in the fact that SMARTCASE is a revolutionary product, aimed to provide better data security and prevent a security breach. SMARTCASE, the personal bodyguard for data privacy is a must have for every individual and we can see them garnering a lot of attention and market share in the coming years.
Source – https://www.kickstarter.com/projects/713982998/smartcase