Charging is an essential part of any smartphone or laptop or other such devices. We need to charge them if we want to use them. Nowadays, having more than one device isa norm. More devices equal more wires and more inconvenience. And it can get even worse when you have to travel with your gadgets. Multiple chargers and wires eat a lot of space and they create an untidy workspace. We need a replacement for all the wires and adapters for our own ease.
TitanHub looks like that replacement. It is a universal charging dock station which has more features than any other such charging device out there.
TitanHub has all the ports one could need for Type-C laptop, tablet or notebook such as MacBook, Windows, ChromeBook, etc. There are total of 16 different ports for various functions more than just charging. The ports include 100W PD IN, 1080P VGA OUT, 4K HDMI OUT, 3 x USB3.0 port, 2 x USB-C port, 2 x USB2.0 port, SD/TF card readers, 3.5 mm audio in/out jack, Gigabit Ethernet, 20W DC IN and a port to connect the host(offer max. 70W PD OUT).
TitanHub's [email protected] VGA and [email protected] HDMI ports allow you to connect and run two external monitors with your primary laptop or desktop. Thus, you can share your desktop across multiple screens while mirroring your content on all the screens. This increases work efficiency and proves very helpful for people working from home on laptop.
The 3 USB 3.0, 2 USB-C and 2 USB 2.0 ports of TitanHub can be used for data transmission while charging the devices simultaneously. The 3 USB3.0 ports provide 5GB/s transmission speed and 7.5W max charging power for one device. You can also use SD or TF cards for copying and sharing files as it has a SD/TF combo port.
TitanHub also has an IN/OUT audio jack. You can use your headphones for audio output and its microphone for your input.
TitanHub is compact and durable. It has solid aluminum body and slim design. You can position it vertically by mounting it on its removable stand. That saves some space on your working table. Otherwise, you can also place it horizontally by taking it off the stand.
TitanHub proves to be more convenient while being vertical. The ports are strategically placed so that more used ports like power in/out, Internet and external monitors are located on one side of TitanHub. This makes for the wires to be hidden away while the other side stays wireless and free so that other peripherals can be connected.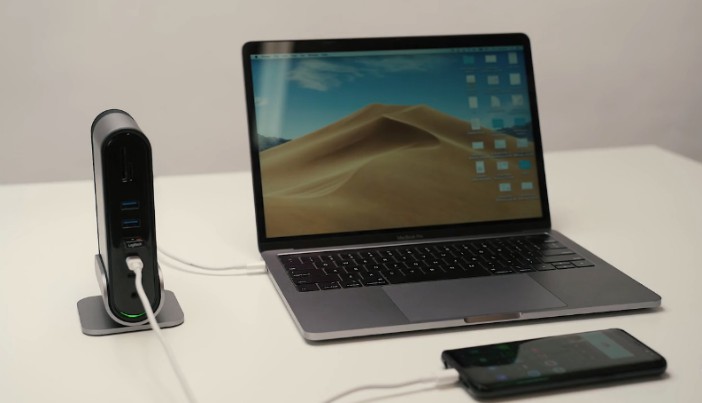 You can use TitanHub as a standalone PD 100W USB-C adapter. With that, TitanHub can provide 60W-70W power delivery to charge your laptop easily and quickly even while having all other ports in use.
TitanHub is more versatile and useful than any charging device out there. It has more features and yet does not compromise on the charging factor. Its compact design and lack of wires make it a great portable option. If you want your charging to get easy, TitanHub is a perfect replacement for all the messy wires and adapters.
TitanHub Vs Plugable Vs WAVLink Vs Dell
Source – Kickstarter