From hardcore tech geeks to general users who spend most of their time on social media and binging on TV series, everyone requires a laptop that caters to their computing needs. There are literally thousands of options in the market when you go out to buy a laptop. For this segment, we have decided to review the best laptops under $600. Before we get started, you have to understand that these are budget laptops and are best suited for casual use. Also, if your budget is constrained, do check our article on the best gaming laptops for $500.
Best Laptops for $600 Reviews
Newest Acer Aspire E15 High Performance 15.6″ Full HD Laptop
If you are looking for a high-performance laptop for your office works and entertainment purpose, the latest edition of Acer Aspire E15 could be a great choice. Acer has opted for Intel HD Graphics 620 for this sub $600 laptop which is not the most sought-after graphics for demanding tasks. However, movie editing is smooth on this machine.
It comes with a 1 TB HDD which is just about enough space to store all your movies, music and games.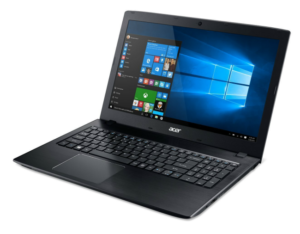 In order to boost the speed, you can get a compatible SSD which will also enable you to run a few low-end games like Overwatch.
It is powered by an 8 GB DDR4 RAM which is not the best RAM for gaming or any other hardcore task. But for a laptop under $600, this is as good as it can get. Core i7 along with 8 GB DDR4 works fine for net browsing, video and photo editing and running selected online games. Moreover, there is minimal bloatware to deal with. It takes only a few minutes to uninstall the programs you won't be using. Performance-wise, it is a notch above than core i5 laptops. It even comes with a DVD drive.
The in-built DVD drives in most budget laptops stop functioning after a few weeks. Thankfully, that's not the case with the Newest Acer Aspire E15. It features 4 USB ports including one USB 3.1 Type-C, allowing you to connect multiple external devices to jazz up your gaming and movie watching experiences. Coming to the battery life, the 4-cell 2800 mAh battery should provide you a runtime of 4-5 hours. Unless you are on the move all the time, this shouldn't be a problem as you can always put it on charge and use it for as long as you want.
The picture quality of the webcam isn't a highlight of this machine. It's a VGA camera and shows a somewhat clear image in the daylight. For internet browsing, this bad boy is a winner without a shadow of doubt. The 802.11 ac Wi-Fi is one of the fastest ports we have seen in budget laptops.
If you are a movie-bug, you would love the crisp picture quality and color output of the screen. Although it features 2 speakers, they are not powerful enough to pump out quality sound. So external speakers are highly recommended if you are picky about sound quality.
Pros
Excellent screen.
802.11 ac Wi-Fi port for blazing fast internet speed.
Good for movie and photo editing.
Sturdy build.
4 USB ports.
Cons
Cannot handle demanding tasks like gaming very well.
Final Verdict
This model of Acer Aspire E15 introduces a lot of new and improved features that were lacking in the previous version. For one, it is much faster than i5 laptops. You will get yourself a keeper if you are into video and photo editing. Even for internet browsing, this laptop is one of the best in its league. So, if you are a student who needs a solid laptop for preparing college projects or a homemaker who loves blogging and surfing internet, this budget laptop under $600 is for you.
Dell Inspiron 5000 15.6″ Full HD IPS Touchscreen Laptop
Dell isn't famed for manufacturing budget laptops. Its specialty is upscale business laptops, specially engineered to suit the needs of folks who spend most of their time preparing presentations and travel a lot. We have to admit that our expectation wasn't too high up until we tested the Inspiron 5000. Well, did it change our perspective afterward? Yes, and how!
For starter, the Inspiron 5000 doesn't imitate cheap look and feel of budget laptops. The silver matte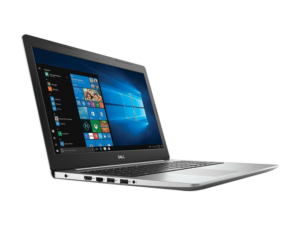 finish has a premium touch to it. The Full HD IPS touchscreen is one of the key features of this laptop. The 10-finger multitouch support works like a charm. But the gorgeous design is not the only thing that caught us by surprise at the first glance. It was the presence of the fingerprint sensor that sort of compelled us to give it brownie points. It is a feature mostly available in high-end business laptops which Dell specializes in.
The Full HD screen has a stunning picture quality. With Intel HD Graphics 620, you can run a plenty of low-key games with ease. Even the speakers are quite decent for a budget laptop. The machine is powered by Core i5 and uses an 8 GB RAM. To be honest, the laptop tends to freeze frequently if you run demanding applications on it for more than 30 minutes. Nonetheless, for general applications like MS-office, internet browsing, and movie watching, this is a decent bargain for the money.
Pros
Great picture and sound quality.
1 TB HDD.
Fingerprint sensor.
Full HD IPS screen with multitouch sensors.
Cons
Not as powerful and fast as core i7 laptops.
Final Verdict
For occasional gaming, non-stop movie binging and net surfing, this laptop is one of the best you can get your hands on when looking for laptop for $600 budget. Unlike most other budget laptops, it doesn't have a cheap and unsightly plastic build. On top of that, the sound quality is good enough, so you can give your headphones a pass while watching a movie or a cricket match with your friends.
Lenovo Flex 2 15.6-Inch Touchscreen Laptop
Lenovo Flex comes with an impressive assortment of hardware along with a sleek and portable design. The laptop can switch itself to a tablet with just a flip. It combines Core i5-4210U processor with 6 GB DDR3 RAM, allowing it to handle multitasking with a reasonably good efficiency. You will get 1 TB of storage space which is standard for laptops under $600 and a 15.6 inch, highly responsive touchscreen.
The screen provides great viewing angles and a sharp picture quality that is sure to leave your jaw-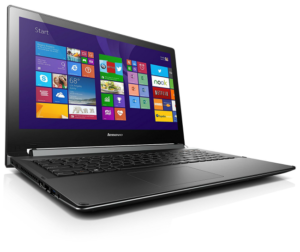 dropped. But what actually left our jaw-dropped was the 7-hours of battery life. You can use the laptop rigorously for hours without being forced to sit close to the charging port. It is also light yet ruggedly constructed, making it a strong suit for students and businessmen who are in constant need of traveling. However, we faced a few issues with the touchpad.
You will have to press really hard to register a click. For running a smooth and hassle-free operation, get yourself a wireless mouse which will only cost a few bucks. The speakers are located at the bottom of the keyboard, resulting in an annoyingly muffled sound. On a brighter note, the keypad of this laptop makes up for the lack of a well-designed touchpad. The keys are well-spaced and springy. Typing on it for hours doesn't feel like a chore.
Pros
Brilliant FHD display.
Responsive touchscreen.
Well-engineered keyboard.
Lightweight and portable.
The flipping is neat.
Final Verdict
The Lenovo Flex is one of the most stylish laptops under the $600 segment right now. Apart from day-to-day computing tasks, you can even run multiple online games on it without a hitch. The bloggers and writers will have a great time typing on this laptop. The screen quality is also quite up-to-the-mark, with great viewing angles and color contrast. Granted that some of the hardware are subpar and there is a lot of bloatware, it still remains one of the best $600 laptops for its easy-on-the-eyes design and multitasking ability.
HP 17.3″ HD Premium Hgh-Performance Laptop
15.6-inch laptops are standard for budget laptops. But if you are a cine buff who enjoys movies on a big screen, this 17.3″ HP laptop is what you might be looking for. However, in order to keep the price under check, HP had to cut some corners. As a result of this, you will get a resolution of only 1600×900. Although it's no match for FHD displays, you can still have a great movie watching and browsing experience at 720P.
The bigger screen also hinders the portability of the laptop. However, if you are not going to travel with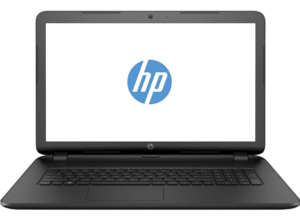 your laptop frequently, this shouldn't be a problem. Coupled with an 8 GB DDR4 RAM and Intel Core i7- 7500U processor, the laptop is stacked with enough power to give you a lag-free computing experience. The 8 GB RAM is more than what most general users will need anyway.
Moreover, the 1 TB hard drive allows ample room for storing all your important data. It even features a DVD drive which will be highly appreciated by programmers as well as office goers. With Intel HD 620 Graphics, you can even run a couple of casual games without a hitch.
As far as the sound system is concerned, this one also suffers from the same issue as the Lenovo Flex laptop. The speakers are placed underneath the keyboard, causing the muffled effect. However, it somewhat makes up for this glitch with the long battery runtime.
With casual use, the battery will last for nearly 7 hours. And even with multiple tabs opened and one to two heavy applications running in the background, you will get a battery backup of nearly 5.5 hours. Another minor downside is the lack of backlighting on the keyboard. A slight inconvenience if you need to type long essays every day, but certainly not a dealbreaker.
Pros
Large17.3 inch display.
DVD drive.
Powerful Core i5 processor.
1 TB HDD.
Cons
Speaker.
The keyboard is not backlit.
Final Verdict
If you are not going to be crazy about not having FHD display and muffled audio, this laptop is a decent investment for $600. It has commendable multitasking ability and the large screen is an added bonus for movie lovers, video editors, and students who take online courses.
Lenovo Thinkpad E570 15.6″ Notebook
Slim, light, yet built like a tank – that's Lenovo's Thinkpad E570 for you. This truly business-focused lightweight notebook comes with special features like a fingerprint scanner and Trusted Platform Module (TPM). The latter is a sophisticated data encryption mechanism to ensure top-notch security for your precious and sensitive business data.
As the name suggests, it comes with a 15.6-inch LED-backlit 1366×768 display, which is designed to be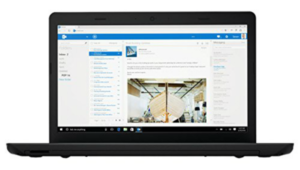 energy efficient. It is graphically powered by the internal GPU (Intel HD 620) of the laptop's powerful Intel Core i5 7200U processor, which can run at up to 2.5GHz. Accompanying this powerful CPU is a modest 4GB of high-speed DDR4 RAM.
The laptop is ideal for video conferencing as it features an HD webcam, plus two separate microphones to ensure noise-free audio recording. In my experience, this dual-mic setup was quite capable in its ambient-noise reduction pursuit. When it comes to the audio output department, the laptop has Dolby Audio Premium, resulting in superior sound quality as well as a satisfactory level of loudness.
Those who love to type fast even on a laptop would be pleased with its full-sized keyboard with 10 separate numeric keys. Connectivity wise, the laptop features 2 USB 3.0 ports and a single USB 2.0 port. Apart from this, it also has the standard 802.11abg Wi-Fi.
One more impressive thing about this laptop is its average battery life of around 7 hours (even more in certain less-demanding scenarios). It's quite impressive, especially considering the price point of this laptop.
The laptop comes with a 500GB standard 5400RPM spinning hard drive, and also packs an optical drive which is capable of both read and write functionalities. Topping off this rich feature set is the pre-installed Windows 10 Pro (64-bit) OS.
Pros
Fingerprint sensor.
HD webcam.
Optical drive.
7 hours of battery life.
Cons
The absence of LED backlight on the keyboard.
Final Verdict
This affordable laptop from Lenovo for under $600 packs a decent amount of power to help you with day-to-day computing tasks. If your applications are limited to official works, web browsing and video chatting, this laptop is worth checking out.
HP 15.6″ Flagship High-Performance Laptop
This edition of HP flagship laptop packs an incredible punch for its price, sporting class-leading specs that are not usually seen in laptops at this price point. The laptop is thin, lightweight and can deliver up to 8 hours of constant use before you need to plug-in the charger.
Being a 2018 model, it features Intel's latest and greatest 8th Gen Core i5-8250U processor, which can run at up to 3.4GHz and is a true quad-core processor unlike most other i5 models that are dual-core and hyper-threaded (i.e. 4 logical cores, but only 2 physical cores). Pairing with this highly capable processor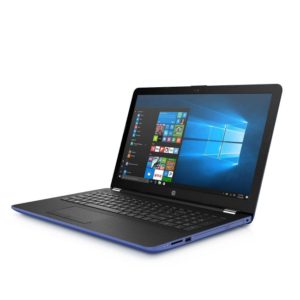 is a whopping 12GB of high-speed DDR4 memory. This much memory isn't seen on 99% of laptops in this price bracket. So if your typical workflow involves running a lot of memory intensive applications, getting hold of this laptop should be a no-brainer for you.
Storage wise, the HP doesn't disappoint either, with a massive 2TB of hard drive storage space. 2TB of hard drive storage is also very rare at this price point. Though this laptop doesn't come with an SSD, but neither do most of its competitors. Still, it's something to keep in mind if you're interested in high-speed storage.
The laptop comes with the latest 802.11ac Wi-Fi and Bluetooth 4.1 – which basically means that you'll experience the highest speeds possible today via Wi-Fi and Bluetooth. It doesn't lack a traditional LAN-slot either, so you also have the option of connecting RJ45 cables if you need to. You also have a standard card reader and a R/W capable optical drive.
This powerful and versatile laptop from HP includes 2 USB 3.1, a single USB 2.0 and an HDMI port and comes pre-installed with the latest version of Windows, i.e. Windows 10 (Home Edition).
Pros
High-speed 802.11ac Wi-Fi.
Multiple connectivity ports.
12 GB RAM.
2 TB HDD.
Cons
The case is made of low-quality plastic.
Final Verdict
At just 4.3 pounds, this laptop is definitely one of the lightest laptop available today at the budget of under $600 and it's also quite slim at 0.94 inches. The overall construction is quite sturdy, as is expected from a brand like HP, which is known for the reliability of its products. The powerhouse of this laptop is its Core i5-8250U processor which works in harmony with 12 GB of DDR4 memory.
Acer Swift 3 SF314-51-39NE Laptop
This compact laptop comes with a stunningly vivid and colorful 14-inch display with full HD (1920×1080 pixels) resolution. Full HD displays aren't usually seen in laptops belonging to this price point, especially in 14-inch models, so this laptop is quite unique in that regard. It's also super thin and super lightweight at just 0.7 inches and just over 3 pounds, respectively.
It's powered by a decent Intel Core i3 7100U processor which clocks at 2.4 GHz, and it's paired with 4GB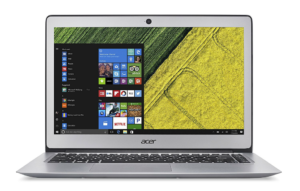 of DDR4 memory. Graphics duties are handled by the built-in Intel HD Graphics 620 internal GPU. The icing on the cake is 128 GB SSD which enables the laptop to handle games like Witchcraft, COD Modern Warfare 2, GTA V without experiencing any lag.
Connectivity wise, 802.11ac Wi-Fi featuring 2×2 MU-MIMO technology (Dual-Band 2.4GHz and 5GHz) is there, and there's also the latest generation Bluetooth 4.0 to facilitate easy wireless audio connectivity and optionally, data transfer.
The ultra-thin, all-metal design comes with a backlit keyboard (incredibly useful in low-light or at night) and a built-in fingerprint reader. The laptop also features a card reader, so quickly scanning the contents of the memory card of your digital camera or smartphone won't be an issue on this laptop.
Pros
128 GB SSD.
Efficient cooling system.
Full HD IPS display.
Short booting time (about 6 seconds).
Fingerprint reader.
Cons
The battery power setting needs to be tweaked to get maximum battery runtime.
Final Verdict
The Swift 3 comes pre-installed with Windows 10 and can run up to 10 hours at a stretch without needing the help of its charger. Overall, this laptop is an insanely good option for both media consumption and productivity. It won't fail to disappoint even the sternest of critics, given the amount of incredible, class-leading features it packs at its price of less than $600.
Dell Inspiron 15.6″ 2017 Business Flagship Laptop
Powered by the latest generation hardware, this business-focused laptop further comes with the assurance and reliability of Dell. This is an extremely value-for-money business offering from Dell, as it packs quite a punch for its price.
It's powered by the 7th-generation Intel Core i5 Processor, and sports 8GB of new-gen DDR4 memory. What really distinguishes this particular model from the rest of the field is its 256GB of Solid-State-Drive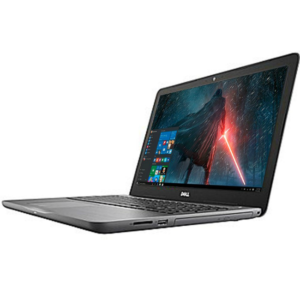 storage memory. It's truly a rare sight in most laptops in this price range. Though, you should keep in mind that it doesn't come with a traditional hard-drive, even as a secondary option. So, if storage space is a major concern to you, you should be looking at a different model, or consider using external hard drives.
It sports a standard 15.6-inch 1366×768 pixels HD display, which packs Dell's proprietary TrueLife technology and is also an On-cell Display. Another key feature of this laptop is its backlit keyboard, which isn't available on most budget or even mid-range laptops.
When it comes to connectivity, the laptop comes with Bluetooth 4.0, along with dual-band WiFi (i.e. both 2.4GHz and 5.0GHz bands). You also get a standard Ethernet port which is often not seen on more expensive models (UltraBooks) or Apple's line of MacBooks.
It also comes with a standard read/write capable DVD drive, and a multi-card reader. As it's geared towards business users and not gamers, it doesn't come with a discrete GPU. Instead, it's powered by the familiar Intel HD Graphics which comes built-in inside the Core i5 processor.
The Inspiron features powerful stereo speakers that are quite loud and also features a technology known as MaxxAudio, which further boosts the bass and mids of your audio. This capable machine has Windows 10 pre-installed so that you don't have to take the hassle of installing an OS right after buying the laptop.
Pros
Powered by 256 GB SSD.
Crisp picture quality and great viewing angles.
Backlit keyboard.
Good speakers.
Ethernet port.
Final Verdict
Although it isn't the lightest of laptops in its class, it's definitely not the heaviest at under 5 lbs. The same applies to its thickness, as it's moderately thick at around 1 inch. Overall, the Business-edition Inspiron from the house of Dell is a capable laptop for $600 that is suitable for most business users.
Dell Inspiron 15.6″ Premium High-Performance Laptop
As the name suggests, the primary goal of this particular Inspiron model is offering a high performance. It achieves this by using a 7th Gen Intel Core i5 7500U, and 8GB of DDR4 memory. This combination should be enough to run all modern business-oriented, casual and productivity apps that you can think of.
The processor can go as fast as 3.5GHz when there is demand for such a big amount of processing power.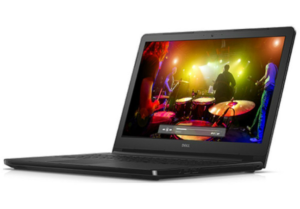 Intel's HD Graphics 620 takes care of the graphics department, which means you can run popular apps like Photoshop and Premiere Pro without a hitch (although it's not built specifically for heavy rendering).
This no-nonsense laptop comes pre-installed with an OEM copy of the latest OS offering of Microsoft – the familiar Windows 10. The particular variant that comes pre-installed is the 'Pro' variant and is the 64-Bit version of it, as expected on any machine featuring more than 4GB of RAM.
Like many of Dell's other offerings at this price point, this laptop also comes with a standard 15.6-inch 1366×768 pixels LED-backlit display, which is powered by Dell's very own TrueLife technology, offering vivid colors and amazing contrast. As it's powered by a 7th Gen. Intel processor, you can change various crucial display settings like color temperature, vibrancy and tones to experience even more vibrant and realistic images.
When it comes to storage, this laptop features a more traditional 1TB (which is quite a big amount of storage for a portable computer) of spinning hard-drive storage, which spins at a common 5,400 RPM.
The laptop features the latest standards of wireless communication, with Bluetooth 4.0 and 802.11 ac WiFi. You also get a standard Optical Drive that can read and write CDs and DVDs. It also comes with a 3-in-1 card reader that can read your camera's or smartphone's memory cards. The HDMI port that it packs is also of the latest standard, i.e. 1.4 – which means you can easily connect an external high-resolution display to the laptop shall you need to.
The large precision touchpad gives you plenty of room to play around with. The 10-digit numerical keypad means it's also ideal for data entry. Though the keyboard features just painted keys, so it'll disappoint those who prefer backlit keys.
Pros
Multiple connectivity ports.
Great for multitasking, especially photo editing and web browsing.
1 TB storage.
Intel HD Graphics 620.
Cons
The keyboard isn't backlit.
Final Verdict
The battery life on this one is really great, and you can go up to 5-6 hours at a stretch without having to plug-in the charger. The build quality is top-notch, as is expected from a brand like Dell. Though, it is a bit on the heavier side at just over 7 pounds.
Acer Aspire E 15 Full HD High-Performance Laptop
This particular model from the well-known staple of Acer offers great value for money. It's an all-rounder, which means it can do pretty much everything well. It features Intel's 8th Gen. i5 processor, the 8250U to be precise. The 8250U has four physical cores and can reach a maximum speed of 3.4 GHz. The amount of memory you get is 8GB and of the DDR4 standard.
The laptop comes with a super-fast SSD with a capacity of 256GB. As you probably already know, SSDs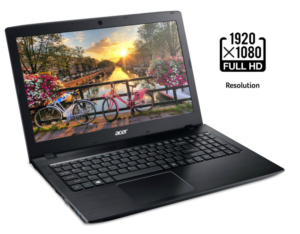 are a lot faster than traditional spinning hard drives and are much less prone to mechanical failure. As a result, SSDs typically cost quite a bit more than rotating hard drives, which results in most manufacturers of budget laptops not including one in their offerings. Acer is an exception, and the SSD in this model definitely takes the overall performance of this laptop a step further. A R/W capable optical drive completes its set of storage features.
Another class-leading offering is the display – which is pretty standard size-wise, at 15.6 inches, but it really steals the show when it comes to resolution, as it's a full HD (1920×1080 pixels) display, rarely seen on any laptop in this budget. It's also an IPS panel, which delivers much superior, vivid colors and realistic contrast as opposed to the cheaper TN panels seen on most other laptops in its class.
Acer hasn't left the duty of powering this hungry display to the internal GPU of the processor, as they have packed in a discrete GPU in the form of an Nvidia GeForce MX150, which comes with its own dedicated 2GB of GDDR5 vRAM.
Another strong side of this Acer laptop is its audio department. It has stereo speakers, powered by the proprietary Acer TrueHarmony audio technology. Connectivity wise, it comes with 802.11ac dual-band Wi-Fi (supports both 2.4GHz and 5.0GHz bands) with MU-MIMO technology resulting in extra power-saving while in operation. There's also Bluetooth 4.1 and a total of 4 USB ports (1 x USB 3.1, 2 x USB 3.0, 1 x USB 2.0). The included HD webcam supports HDR, which can help in detecting the subject better under poorly-lit conditions against a brighter background.
The laptop comes pre-installed with Windows 10, so there won't be any further hassle of installing an OS on the side of the user after purchasing the laptop. Finally, the claimed battery life of this laptop is a mind-boggling 15 hours, where most of its competitors struggle to deliver even half of it.
Pros
Super-fast 256 GB SSD.
15 hours of battery runtime.
HD webcam.
Stunning display.
Pre-installed Windows 10.
Cons
The card reader doesn't work properly. You need to use a USB card reader.
Final Verdict
Apart from a few forgivable flaws, this sturdily built compact laptop from Acer is a catch. You will love the FHD display, the screen is brighter than most other budget laptops for $600 in the market. The 256 GB SSD is the crème de la crème of this device, allowing you to run heavy applications without slowing down the performance of the laptop.
The Bottom Line
After hours of incessant research and weeks of rigorous testing, we have finally listed down the best laptops under $600. Among all these laptops that have made the cut, our personal favorite is the Dell Inspiron 15.6″ 2017 Business Flagship Laptop. With 256 GB SSD and 8 GB memory, you can run several heavy tasks with relative ease.
The second best option would be Acer Swift 3 SF314-51-39NE Laptop packed with a 4 GB high-speed DDR4 and 128 GB SSD. With such premium specs, this is undoubtedly one of the best budget laptops in the market right now. That's all for this segment. Meanwhile, if you are looking for a laptop under $300 for running basic applications, check out the best laptops under $300.