Pets are like a gift to humanity. Pets become an important part of our lives and people treat them like a family member. They don't just need special food, but they also need special care. It includes regular checkups and essential vaccinations. But the mental health of the pets should always be one of the concerns. Pets can get lonely and depressed when left alone. We can not stay 24/7 with your pets even while we wish we could. That's where technology comes to our rescue. There are gadgets and smart toys that act like a companion to pets and keep them happy and active. One such gadget is Ebo.
Ebo is a smart robot created specifically for cats. People usually think of cats as grumpy pets who like to stay alone but that's not true at all. Cats like to play and they need to play too. It keeps them physically active and mentally happy. That's what Ebo aims to do. It can move automatically in unpredictable non-repetitive patterns and serves as a toy for your cat. The cat can follow it around or spin and roll it around like a ball. Ebo gets your cat the playtime it doesn't get when it is home alone. It mimics the movements of a living thing and moves in different patterns rather than in straight lines. Ebo has a Pro version which features Artificial Intelligence. With the AI, Ebo Pro can learn and adapt according to the cat's habits and personality.
Ebo has multiple built-in sensors with which it detects the cat's movements and behave accordingly. It also has sensors that work for its own safety. Its collision sensor can detect obstacles and change direction to avoid any damage. It also scans the whole surroundings at 360° before starting to play to make sure the area is spacious and safe to play.
One major feature that Ebo has and is usually missing in such similar gadgets is a 1080p HD camera. Ebo can record the video of your pets if you want. Combine it with the Ebo app and you can be with your pet whenever you want. Through the Ebo app you can see live stream of your pet whenever you want. Thanks to Ebo's built-in microphone, you can also have a two-way conversation with your pet. You can save the videos you want from the app. There is an option to schedule playtime with the app itself as well. You can also play with your pet with Ebo's built-in laser that you can control through the app. Ebo makes sure your cat doesn't miss you too much.
When Ebo is done rolling, playing and recording it automatically comes back to its charging dock when it needs power. Ebo has an 1100 mAh battery that charges wirelessly. Once fully charged it can last for up to just 2 hours. This might be a problem as many people usually do spend more than just 2 hours away from their pets. It needs 2 hours to charge fully as well.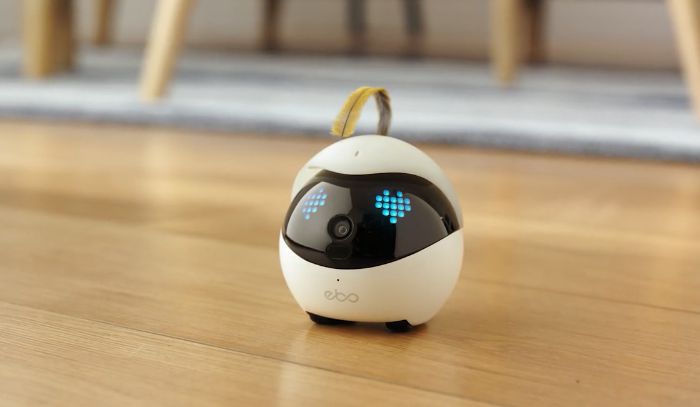 Ebo also has an activity collar of itself that can be worn by the cat. It monitors the cat's activity level which can be tracked through the Ebo app. The collar can automatically turn itself loose if it is too tight on the animal's neck. This makes the collar safe for the pet to wear. It charges wirelessly as well and uses  same charging dock for charging up.
Ebo provides a lot of benefits for cats and their owners. With its help you can make up for your absence with your pet. However, the battery life might seem like an issue.
Source – Kickstarter