Voice recorders need no introduction. Sound recorders vary from being dedicated physical devices to being a basic facility in smartphones. Whatever the form might be, sound recorders are actually helpful in a bunch of purposes. Be it recording yourselves trying to sing or taking notes of boring class lectures at college. Voice recorders have evolved a lot over time like most of the other gadgets. And a new voice recorder to hit market is TileRec.
Created by Atto Digital, TileRec is billed as the world's slimmest voice activated voice recorder. TileRec's dimensions are 1.6 x 1.6 x 0.2 inches (5.08 mm). TileRec is tiny and ultra slim which checks out the world's slimmest voice recorder claim. TileRec is easy to carry along even inside a shirt's pocket. It also weighs just around 15 grams which is equivalent to that of a penny.
TileRec records mp3 in 128 bitrate that ensures high quality of recorded audio. Smartphones are also good at recording but their sound quality is not compatible for professional purposes. TileRec can record a 360° audio of all the sounds within the range of 15 feet (4.57 meters). TileRec has two recording modes ; Continuous mode and Voice Activated mode. In continuous mode, the recorder keeps on recording unless manually stopped. In voice-activated mode, the recorder will only start recording when it detects any sounds. It saves memory as it does not record silent periods. All the recordings have a time stamped audio.
TileRec has an internal memory of 8 GB which can store around 145 hours of recordings. The device is simple to use with a sliding button on its body.
TileRec is completely wireless and works on a built-in battery. It has a Lithium Polymer battery of 240 mAh capacity. It take 1.5 hours to fully charge the battery. TileRec can record sounds continuously for around 24 hours on a single charge. The battery has a life cycle of over 1000 charges. It can also keep on recording while it is charging. It means you can continuously record of even more than 24 hours.
TileRec can be connected to any device with a USB cord where all the recordings can be played. It does not have any extra application or software. It is compatible with all kind of operating systems ; Windows, Android or iOS.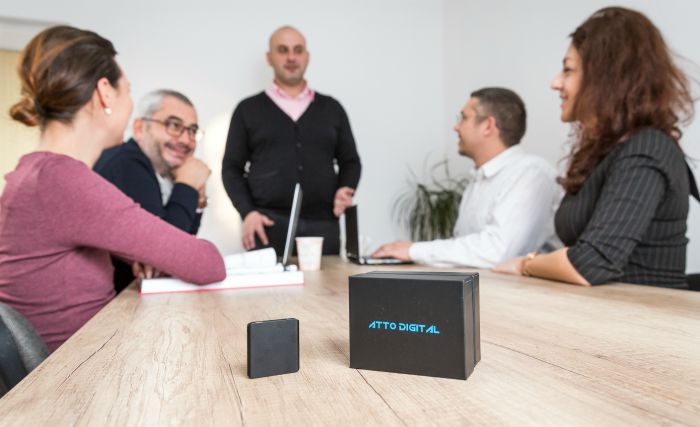 TileRec might be super light but it is surely not weak or brittle. TileRec is covered with a casing of aluminum that makes it durable. The aluminum is 100% recycled from used soda cans. It is an appreciable step as recyclability and reusability is better for our environment. The aluminum casing protects TileRec from any damages that might occur due to fall or impact.
TileRec is a smart audio recorder looking to replace traditional big and bulky audio recorders with its slim and light body. It is smaller in size but bigger in features and in terms of being useful. The fact that it is portable makes things even better. The bottom line is that TileRec is the perfect modern sound recorder.