Earphones have been a part of our lives since like forever now. Almost everyone owns a pair of earphones nowadays. Earphones have undergone a lot of changes over time. They have changed in shapes, capabilities and much more. One major change out of these is turning wireless. Earphones have turned into two earbuds that you can use anytime anywhere without any wires. Elimination of wires has made it easy to use. Untangling tangled earphone cable is a mess and it can ruin the earphones. There are a lot of wireless earphones out there. One of these is NuFlo.
Created by The Vibes Lab, NuFlo is a pair of soundproof wireless earbuds. The "soundproof" part is a major selling point of NuFlo. NuFlo boasts of having an ability of blocking out up to 30 decibels of noise with its Active Noise Cancellation technology. It does so with help of a custom-created array of microphones inside. Both the earbuds have dual microphones. It is superior to the traditional earbuds that have just a single microphone inside. 30 decibels is a big amount and filtering it out means reducing almost all of the noise around you.
However, ANC can be dangerous as it makes a person unaware of the surroundings. It is even worse when you are outside. NuFlo solves that problem as ANC can be turned on and off easily by a simple touch. You can enjoy your music or a call while still being aware. That makes NuFlo safe for outside use.
However, it is not all about the noise cancellation. The main feature of an earphone will always be the sound quality. NuFlo has no compromises on quality. It has a 5 mm speaker driver. The speaker driver has a graphene diaphragm which is custom-built to enhance sound quality. It also works over Bluetooth 5.0 that provides a stable transmission of signals which results in a clear audio without any distortion. It also has a built-in antenna module.
NuFlo is completely touch-controlled. Different touch points perform various tasks in the earbuds. One tap is for answering/ending a phone call and playing/pausing music. Two taps will reject a phone call or play the last song on the list. Three taps will play the previous played song. Tap and hold is for turning ANC on or off.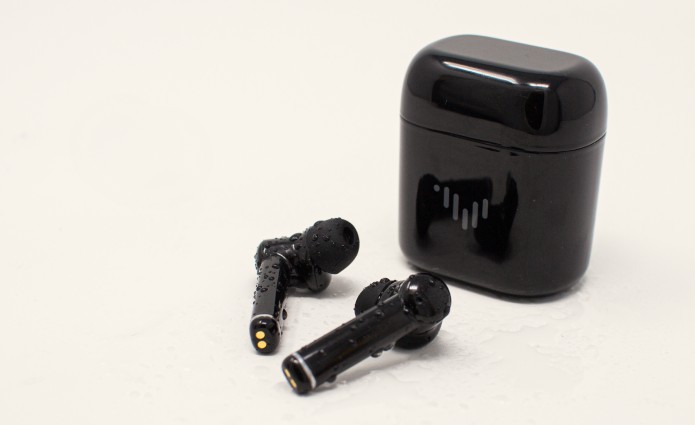 A wireless device like this obviously needs a battery of its own and NuFlo does have one too. The built-in battery provides NuFlo a playtime of up to 5 hours nonstop with ANC. If ANC is turned off, playtime increases to 7 hours. A charging case further increases to 18 full hours with ANC. It can last for 24 hours with ANC turned off. It takes only hours to fully charge case. The charger also has a quick-charge feature that allows you to store enough battery for an hour of playtime in only 10 minutes.
NuFlo is ergonomically designed to comfortably fit every kind of ears. It has soft gel buds and a stainless collar. The body is scratch resistant. To top it off, NuFlo is IPX6 certified waterproof. All of it combined makes NuFlo a long term companion for music lovers.
Source – Indiegogo