Music is beautiful. All of us include music in our daily lives to some extent. It can relax you, make you happy and remind you of memories related to it. Rock or Pop Or Hip Hop we all do love some music. When you love music the volume and quality matters a lot. Some people prefer listening to music with earphones while some like blasting it out loud in their homes. Blasting music out loud in public is annoying obviously. For those who like playing it out loud, there are portable speakers, Bluetooth speakers or even home theaters. Morel is one of the most reputed companies out there that produces home and car speakers.
Now their legendary designers have put out a new product. The all new Högtalare.
Högtalare means Speaker in Swedish. While it does sound really simple just like its minimalist design, it does the job it's intended to do. And it does the job really well. Högtalare is a wireless Bluetooth dynamic Hi-Fi speaker. With detailed highs, crystal clear mids and Morel's signature robust bass, Högtalare gives you a powerful high definition sound and fills up the room with life. Högtalare comes with 2 custom made 3/4″ soft dome tweeters. Each tweeter plays one audio channel, left or right. Both the channels get a total of 50 Watts. This gives out an amazing stereo sound in one unit itself. You can pair two units of Högtalare to get yourself a dual unit stereo. Hogtalare has an incredible 36hz-20khz frequency range and the sound quality is just incredible.
For bass, there is a custom-made 6″ huge double magnet woofer. It produces a deep and sensational bass. The reinforced MDF ( Medium Density Fiberboard ) makes it even better as it damps out unwanted vibrations giving out a more refined sound. You can even connect an extra woofer if you'd want as there is a special port for external sub-woofer. Högtalare has a custom-made digital signal processor as well. All of these components i.e the tweeters, the woofer and the DSP have dedicated amplifiers for each of them.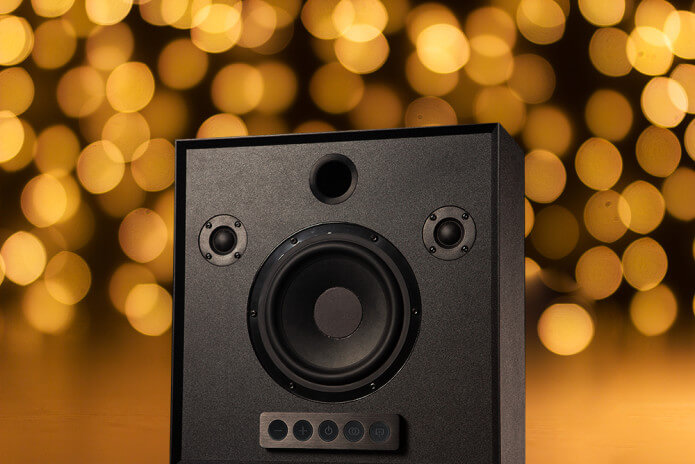 It is only 330 mm high, 330 mm wide and 180 mm deep. It is small enough to fit your shelf units so you never have to worry about finding a place to put it in. The design has been kept minimal to make it lighter in weight and small enough to fit in places.
The Högtalare connects over Bluetooth 4.2. It is not the latest version but has proved to produce better sound quality over the latest 5.0 version. It also includes the Qualcomm's aptX technology that improves the quality of sound over Bluetooth and provides a true hi-res audio stream.
Högtalare also has a 5V USB port and an AUX outlet on the back panel alongside the power cable socket. It can also be connected with Wi-Fi.
So while Högtalare keeps a minimalist design and a small size, it gives out an incredible sound second to none. While being a true affordable dynamic hi-fi speaker, Högtalare is a win-win for any audiophile.
Source – https://www.indiegogo.com/projects/hogtalare-true-hifi-wireless-sound-for-everyone#/