Robots and AI is taking over the world. Not in a Terminator apocalypse sense but in a more helpful sense. A lot of our tasks have become automatic. It never ceases to amaze us.
There are robot soldiers, robot toys and now there is a robot mop. Everyone loves a clean home. It's not just aesthetically pleasing but also better for your health. It might get tough if you have a busy schedule. But now you have Narwal for your rescue.
Narwal is the world's first robot mop & vacuum featuring an innovative self-cleaning technology. With Narwal, you could have all the floor cleaning with just a click of your finger.
While there are already some robot cleaners out there but they are not really effective at what they are supposed to do. Thy just sweep over the dust and stains which doesn't really clean them. Narwal however has a more advanced cleaning technology. It had rounded triangular spinning mops that press down on the floor and actually clean it. Due to the spinning action it can clean in more directions and with more force. It claims to be 3x more effective than other mops in cleaning.
However that's not the only advantage of Narwal. Other automatic cleaners do a not so good job at cleaning. But the real problem starts after that when you have to clean the cleaner. It can be a mess. It also defeats the purpose of having an automatic cleaner at the first place. That's where Narwal has its biggest advantage. It has a one of a kind self-cleaning technology. Narwal cleans its mops inside its base station. It goes back to its base station by itself when it's necessary. The base station has two-bucket system which separates waste water from clean water and includes a built-in pump to spray the water to the mops and a washboard to clean the mop. The full tank of 5L can cover a sizable space up to 2,150 ft² in 3 hours. It washes the mops, rinses them and even dries them by itself.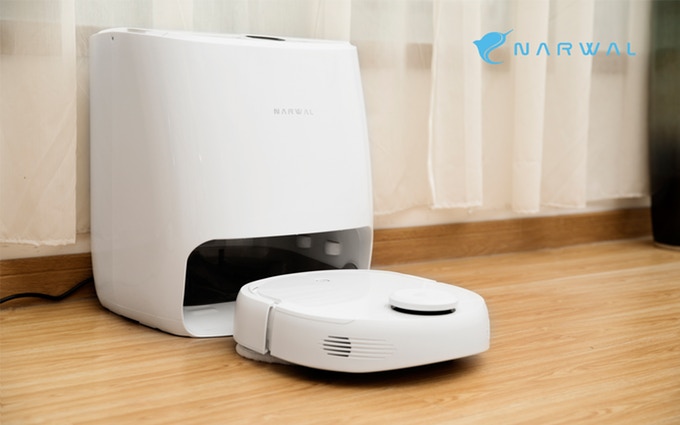 Alongside of the mops it has two side brushes with intelligent speeds designed to clean every corner.
The bottom of Narwal is covered with ultra-fine microfiber mop pads that ensure exceptional dirt removal and are gentle to the floor.
Narwal is powered by a 1800Pa motor, that help it clean everything in your home. And it does this all without making loud noises.
It uses the Simultaneous Localization and Mapping (SLAM) technology for mapping and navigation across your home. It helps to keep it from wandering aimlessly on the floor.
With their Narwal Robotics APP, you can adjust cleaning settings, customize the cleaning strategy, and monitor the cleaning status and more no matter where you are. You can schedule cleaning periods. You can also prevent it from entering some places where you don't want it to go by defining virtual barriers within the app.
Sensors like bump, cliff and wall sensors retract it after bumping into a wall and keep it from falling of heights.
Narwal is one of the better robot mops and automatic vacuum cleaner out there as it eliminates the problem of cleaning it time to time. If you have a busy schedule and want your home clean you should go for it.
Source – https://www.kickstarter.com/projects/narwal/narwal-worlds-first-self-cleaning-robot-mop-and-va