Laptop case is an essential laptop accessory for anyone who owns a laptop. Laptops are delicate piece of technology that are prone to being damaged. Cases protect them from wear & tear and resist fall damage to an extent as well. That's all what the cases have been limited to. At least that's the way it used to be before now. Things have changed a lot over years thanks to technology. And with these winds of change came Sinex.
Sinex claims as the world's first 3-in-1 multi-functional laptop case. The very first purpose that Sinex serves is that of a laptop case. The case is made of high quality leather that protects your laptop from various type of damages. The leather has a litchi grain design that makes it look good as well. The case has built-in magnets that form strong connections and keep the laptop locked in safe. The case keeps the laptop in a fixed position. The laptop stays secure even over heavy shaking. The case weighs just 420 grams which is really light. It does not add too much weight to the laptop. The case is also just 20 mm thick too. It is easy to hold the laptop with the case in just one hand.
The second way this case can be used is like a laptop stand. An inside layer of the case can be folded up into a triangle. This structure can then provide support to laptops or other such things. The stand can be adjusted at two different angles ; 15° or 35°. The 15° angle provides just a 2 mm elevation which is ideal for standing desks. The 35° angle provides twice the amount of elevation and can be beneficial for body posture. The stand is durable and can bear a great amount of weight. It is very easy to set up the stand and it takes just a few seconds to do so.
The third use of this laptop case is in the form of a wrist rest. Extended periods of working on laptop put strain on hands which can even lead to injuries. After placing laptop on the case, it also acts as a resting spot for the wrist. The case's soft material is comfortable for the hands.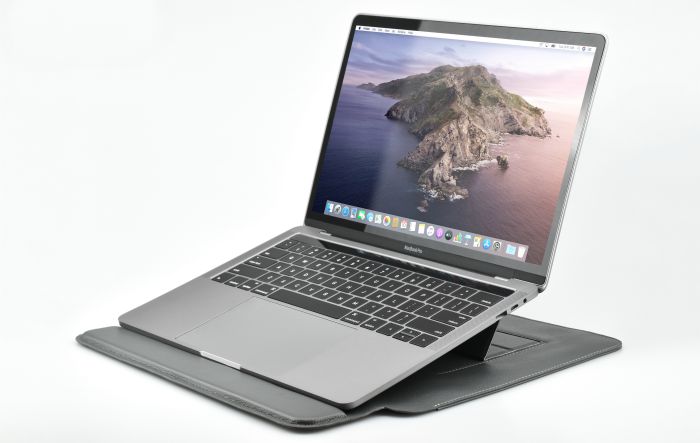 The case has water repellent fabric and is completely waterproof. It keeps the laptop safe from tea, coffee etc too along with water. The case is resistant to the heat produced by the laptop as well. It allows the heat to pass through and prevents the laptop from overheating. The case is anti-wear as well which makes it a good option for long run.
Sinex case is available in 13-inch, 13.3-inch, 15-inch size and 16-inch size. The case also has various color options ; warm gray, brown, green and yellow cream.
Sinex is a lightweight and portable multi-purpose laptop accessory. It's a first of its kind laptop case that poses multiple other benefits. Its durability and functionality makes it a very useful addition to any laptop user's cabinet.
Source – Kickstarter