More gadgets we user, more is need for charging them. Charging is an essential part of our lives with so many gadgets around. Charging can however get messy when you own multiple devices. More devices equal more chargers. It can get even worse when you are traveling and need your device or devices. You don't want chargers taking up the limited space of the bag. Another problem is that if there is no electricity socket the charger is useless. What we need is a portable, powerful and versatile charger. Monster X is trying to solve this problem.
The Monster X has a large capacity of 20,100 mAh of power. It has a newly designed power management system that packs it with a massive 100W power AC socket. Using which, it can charge up to 5 devices at the same time at fast speeds with huge power delivery.
Monster X has two PD-certified USB Type C ports. Both the ports hold a capability of 65W of power, one for input and one for output. This is said to be 2.3 times bigger than the standard chargers' capacities. The ports are compatible with any UBS Type C port be it mobile or a laptop. Monster X has enough power to provide 15 extra hours of run time to a standard usb-c laptop like Macbook Pro, Dell XPS, Samsung Chromebook, Macbook, Asus T100HA, HP Spectre 13 X360 etc.
For 2 more devices, there are 2 USB Type A ports which are QC3.0 compatible. The total capacity of the Type A ports is 24W that is more than enough for any smart device of yours.
Monster X possess so much power that it can provide fast charging for all of your devices. A patent-pending technology has been implemented by the creators to increase the speed while keeping the size minimum.
And to top this all off, on to top of the Monster X there is a Qi wireless charging pad. It provides 10W of power that is twice as much as standard wireless chargers.
To sum it all up Monster X has a total capacity of 223W power. But does it mean it also needs a full day of charging itself? Not at all. It gets fully charged in just 1.5 hours via the input C port which is way less than other similar chargers. It also supports pass through charging. That means that while you are charging Monster X, you can still charge other devices through Monster X. So it means you don't need to wait for even 1.5 hours to charge your other devices.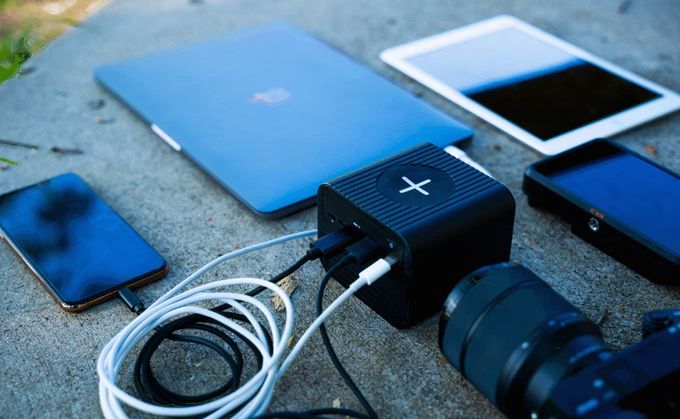 As Monster X holds so much of power, it must raise a concern about its safety regarding overheating and overcharging. However, Monster X completely eliminates the risk. It uses an intelligent technology to detect and reduce the charger's temperature while charging. Inside, there is a cooling fan that keeps the heat under control which is missing in any similar product.
And if all of this was not enough, Monster X can be charged with solar energy as well. It takes just 5-6 hours to charge it fully under solar power.
Its dimensions are 3.7″x3.4″x2.6″ and it weighs only 1.42lbs. It is smaller and lighter than other chargers even while having features like an internal fan.
Monster X is highly portable and richer in features than other similar products. For anyone looking for a single charge to substitute everything else, Monster X is the best option.
Monster X vs Omni Ultimate Vs LIFEPOWER A3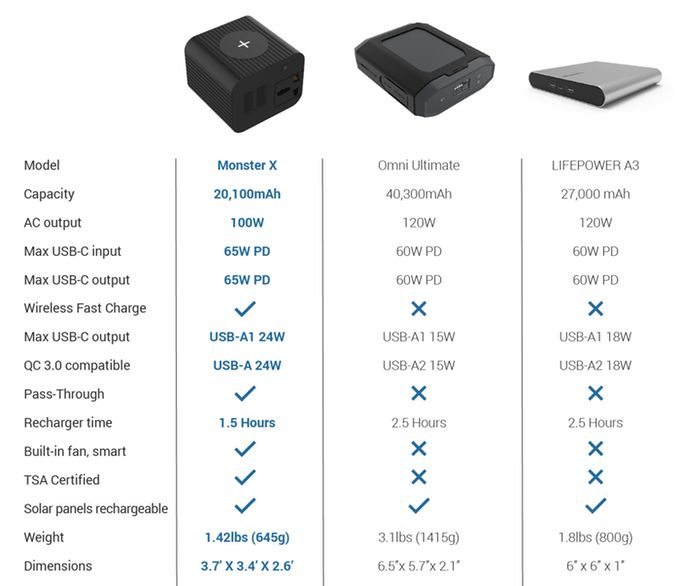 Source – Kickstarter