Music is like a gift. Everyone enjoys some kind of music in some kind of quantity. People listen to various type of music based on their liking or mood. Sad songs are usually enjoyed in earphones but there is nothing better than speakers in parties. There are a lot of party speakers out there; some are rechargeable and some are Bluetooth & wireless. Whatever the type might be, the need is loud and clear music. One of new party speaker on the block is the AIWA Exos-X8.
Exos-X8 is a big portable party loudspeaker. The big and the loud part checks out as Exos-X8can produce a sound output of 106dB. It's as loud as a vehicle passing by very close to you. Being loud is useless if the sound quality is bad and distorted. That's not the case with Exos-X8 as AIWA is known for a clean and fine sound. It has an 8″ woofer and a 3″ tweeter for sound enhancement. It also has a bass reflex port for extra bass.
A great feature in Exos-X8 is Aiwa.fm. Aiwa.fm is a new music sharing services started by the creators. Multiple devices can connect to a jukebox and play songs of their choices. It doesn't even need an Aux or Bluetooth connection. Thanks to Aiwa.fm, you can have a Karaoke of your own with the help of just the Exos-X8 speaker. Exos-X8 gives you 4 high quality wireless microphones. This allows 4 people to be a part of all the fun a Karaoke is. Aiwa.fm keeps a queue of all the song requests, and they play one by one in the order. As it is connected to YouTube, it will find most probably any song that one could want.
Exos-X8 fares very well on battery performance as well. It has a built-in Lead-Acid battery with a 5000 mAh capacity. Thanks to this battery, Exos-X8 can work up to 20 full hours nonstop. It has a USB port for recharging of the battery. There is another 5V x 1A port that can charge a smartphone.
Exos-X8 has some more additional features. You can also record audios as well with the mics. The playback speed can be increased or decreased to have some fun. It has lightshow to give a disco-like feel. AIWA Exos-X8 has a vocal remover to remove vocals out of a song. It also has an equalizer with 5 preset settings.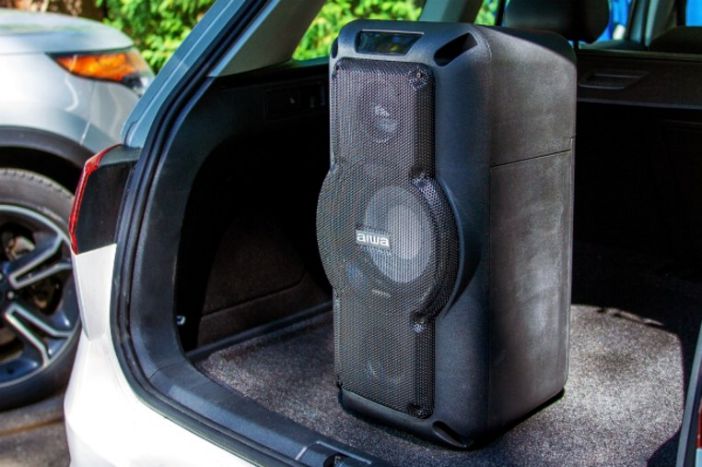 Exos-X8 is 23.625 inches (0.6 meters) tall, 12.5 inches (31.75 cm) wide and 12.25 inches (31.11 cm) long. It also weighs over 20 pounds (9.07 kg). It certainly is not something you can carry in a bag. Its portability comes from its mobility. It has 2 shock absorbing wheels with which you can carry it like a trolley. It has a telescopic handle for grip that can go to a height of 18 inches (45.72 cm). These two features make it easy to carry Exos-X8 around.
Exos-X8 has all the features of a loudspeaker with some extras that are not present in other party speakers. The sound is loud and the Karaoke feature is surely going to have some fans of its. All of this makes Exos-X8 a perfect companion for a party.
Source – Indiegogo