MiniBook is an ultra-portable and ultra-small laptop that is as small as 1/4th of a standard size laptop. It measures 201 mm wide x 128 mm deep x 19 mm thick, which makes it about the same size as an average-length novel. It weighs only 662 g too. Despite of being that small, it still keeps an integrated keyboard of its own. It also has a YOGA design which allows it to be flipped at a 360° freely. This helps in choosing the perfect viewing angle according to your position.
Minibook is small in size but it does not compromise on performance.
MiniBook has two variants of models – one with Intel Core M3 8100Y processor and the other with an Intel Celeron N4100 processor. The Intel Core M3 8100Y processor has 2 cores with 4 threads built inside to power through multitasking. It's 1.1Ghz-3.4Ghz high frequency speeds any tasks.
This mini laptop comes with 8 GB of LPDDR3 RAM so that all of your programs run smoothly without  freezing. And to top it all off, there is a 128 gb storage so that you don't run out of space. The MiniBook also has M.2 SSD, as well as microSD expansion in case you need even more storage. The MiniBook is more than strong enough for multi-tasking, entertainment or running almost any program. The integrated Intel 615 GPU might not let you play big games but its still better than nothing.
It has 8″ big and 16:10 ratio screen. The 8-inch IPS touch display has a resolution of 1920×1200 with a pixel density of 283dpi. At 250cd/m2 it's bright enough for most conditions. The touch screen supports up to 10 multi-touches at the same time.
The MiniBook's keyboard supports backlight and makes working in dark easier. Under the keyboard there is a gravity sensor that allows the tablet mode. It does not have a track bar but there is an optical mouse surrounded by right & left click buttons. The power button has a built-in reliable fingerprint sensor too.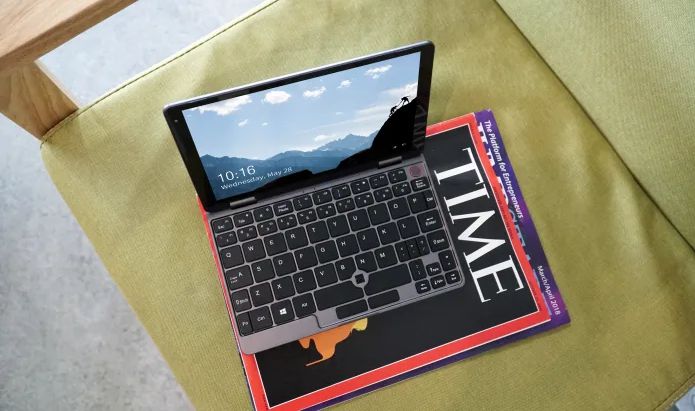 The MiniBook also has a built-in camera. However, its only 2mp and you can't expect much from it. On the both sides of the camera are its two speakers.
Keeping long-time use in mind, MiniBook has a 26.6Wh battery with a 7.6V input for fast charging. There is a USB-C port and a USB 3.0 port for charging purposes. You can use any charger with more than 5V power for charging MiniBook.
Other than the USC Type c port, there is a mini-HDMI connector and a USB 3.0 port on one side. On the other side there is a 3.5 mm audio jack, a MicroSD card slot and another USB 3.0 port. There is a plug for headset/earphones as well.
MiniBook works on Windows and comes with Windows 10 version.
MiniBook is a portable and powerful mini laptop. It might not match a full sized laptop's specs but among mini laptops, it might be the best one to go for.
CHUWI MiniBook Vs MacBook Air Vs Surface Go
Source – Indiegogo