The first thing that must pop-up in your head while reading this article is, why buy a mini laptop instead of a proper laptop? Valid question. The main difference between both lies in the weight and thickness. Mini laptops, while not technically as sound as regular laptops or desktops, are easier to carry. Moreover, they are perfect for casual computing tasks like making presentations, preparing assignments, net surfing and watching movies. In this article, I have come up with the best mini laptops money can buy. So, without further ado, let's get started.
Reviews of Top Mini Laptops 2019
1. Microsoft Surface Pro 4
Microsoft's latest venture, Surface Pro, a hardware series promises a tab good enough to replace your laptop. The Surface Pro 4 is equipped with a robust core processor, a proportionate display, high-tech features and a few other critical add-ons. It even comes with Windows 10 integration for a faster processing and better performance.
The all new Surface Pro 4 powered by Kaby Lake is an improved version of the preceding Pro 3 version. Pro 4 has been around for over a year now coming, next only to the likes of Apple when it comes to performance. I tested the mid-range Surface Pro 4 that included a 256GB SSD, an Intel Core i5-6300U processor and 8GB of RAM. You can opt for a cheaper alternative that replaces the i5 with a low-range processor, offers half the storage space and RAM.
Slim, sleek and lightweight, Pro 4 is hard to distinguish from its immediate predecessor. The 12.3inch display screens share the same footprint as Pro 3, except for the thinner bezels and increased screen resolution. The surface is pretty sharp with the Surface Pen working smoothly across the display.
The Windows 10 integration is another fantastic addition that is compatible with an external monitor. The tablet, though a bit on the heavier side, is portable enough. I could carry Surface Pro 4 around at my office and use it as notebook balanced on my knee or in my arms while taking notes. The kickstand is solid, sturdy and flexible enough to be tilted anyway you want.
External features include a USB connector, audio jacks, Ethernet slots, SD card reader, and a mini display-port cable for connecting the mini laptop to other platforms. Moving on to the Surface Pen, it is incredibly responsive and easy to handle. Powered by an AAA battery, the digital pen is ideal for scribbling notes, doodling and even creating serious art. Once done, you can place the pen on the left edge of the tablet where it is held in place by strong magnets.
Pros
Lighter, sleeker, faster with better battery life
Improved screen resolution and pixel density
Surface Pen is pretty user-friendly and responsive
Original Windows 10 integration that can be connected to an external monitor
Cons
Doesn't include a TypeCover keyboard,
Limited ports
Final Verdict
Surface Pro 4 might be just the perfect replacement for a laptop or desktop as claimed by Microsoft. I would definitely recommend this laptop for anyone who loves creating doodles or painting on the go. As far as the performance is concerned, the 8GB RAM lets you run multiple programs without slowing down the laptop. Unless you try to play high-end games on it, it should work just fine. If you are looking for budget gaming laptop, check out our guide for best gaming laptops under $300.
2. Samsung Chromebook 3
Samsung devices are known for their state-of-art design, robust functionality, and advanced features. It is one of my favorite brands when it comes to electronic gadgets, and the new Chromebook 3 only surpasses all my expectations. The Chromebook 3, like its preceding versions, is a responsive, robust and a sleek hardware option that is best suited for both personal and educational purposes.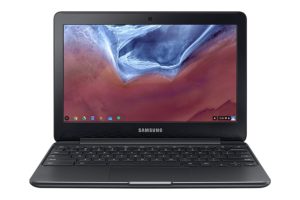 Light, slim, and extremely portable, the small laptop feels like a premium Ultrabook. Furthermore, the 2GB RAM, 16GB MMC Storage, and an Intel Braswell N3050 Processor enhance the functionality and efficiency. Chromebooks are devices that run on a cloud-based Google Chrome OS and hence, do not require a heavy 32-GB Windows 10 installation.
You get a lot of space to store all your information, both in internal memory and on the cloud. Chromebook 3 is marketed as a more upfront alternative to the tablets and laptops with traditional software installations. It is best for tech-savvy users like me who like to keep things simple and clutter-free. All of my Google accounts, be it Gmail, or Drive is all integrated into the platform.
The hard plastic construction is surprisingly solid and durable for a Chromebook. The framework features an ergonomic palm rest and a metallic black chassis that reduce the strain on the eyes and wrists considerably. I could tilt the screen approximately 180-degrees without flexing the keyboard. The entire body is water resistant, scratch-proof that is well protected against accidents and breaking.
Chromebook 3 has a decent display. However, the audio quality is highly disappointing. There are no USB ports or audio jacks as well.
Moving on to the functionality, the mini laptop features Google Chrome OS that though very intuitive and interactive fails to impress users who are used to working on the Windows interface. However, that being said, the new Chrome OS is a lot more stable and responsive than its previous versions.
File management still requires some improvements; I couldn't find most of the popular security features, apps and parental controls here. Almost everything here requires an internet connection to work. Chromebooks are useless unless connected to the web.
Pros
Lightweight, thin and aesthetically appealing
Very portable and easy to manage
Flexible ergonomic design with tillable hinges
Scratch resistant and moisture-proof body
Superb battery life and a fun webcam
Cons
Very weak audio support
Doesn't have USB ports and audio jacks
Doesn't function properly unless connected to the internet.
Final Verdict
Samsung's Chromebook 3 runs an ARM processor that is very similar to the ones used in smartphones and tablets. The limited onboard memory might come across as a disappointment to professionals. However, the mini laptop is a smart option for young students who are looking for an easy and affordable solution to store all their notes, music and movies.
3. HP X2 Detachable Mini Laptop
It is difficult to think of anything else, once you get accustomed to a product like the HP X2 Detachable. I have long been a fan of HP products and so, was very excited when the HP X2 was launched. I just couldn't wait to get my hands on this mini laptop.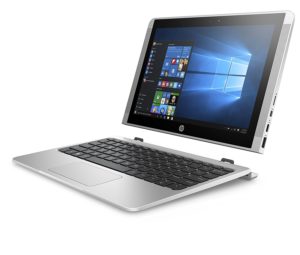 First off I would like to declare that the X2 is one of the smartest device I have come across. Its sleek look combined with the suave silver color ensures that it can be carried to both business meets and parties alike. The windows 10 operating system comes pre-loaded with the mini laptop, and I was happy to see that the system was not slow like the Chromebook series. The Intel Atom x5-Z8350 processor could pull through most applications that I used day to day.
I would have liked the RAM to be a bit more than 2GB. The smaller RAM capacity seriously limited any games option that I had. Couple that with the 32 GB eMMC storage and you know that you need to keep expandable options at hand. Since I watch a lot of films, I had to carry about an external hard drive because the storage memory you get after the system loads up is about 16 GB.
As a hybrid laptop, the HP X2 pulls some serious punches. The laptop can be transformed to accommodate stand or tent modes. The tent mode is pretty useful especially if you want to present at business meetings or social gatherings.
The hinge is a problem area whereas most hybrid computers are concerned. This small laptop uses a magnetic hinge. The magnetic hinge is snappy and holds the screen and the keyboard together. I initially found the joint to be a bit too tight and was apprehensive that the magnetic joint wouldn't last. But after using the mini laptop for quite a long time, the hinge worked perfectly.
Coming to things that disappointed me, the first thing is obviously the 10.1-inch touchscreen. The screen resolution and color depth are fairly average. The touch response is shoddy and leaves much to be desired. Therefore, while using it as a tablet I did face some problems.
The battery life of the laptop is on the other hand pretty impressive. One full charge and I was good to go for about 10 hours. The charging is also pretty fast. The mini laptop can charge up to 50 percent in about half an hour. There's also a 5 MP rear camera which gives out snappy pictures. Certainly not as good as I would like it to be, but then really commendable considering the price range.
Pros
5 MP primary camera
10 hours of battery life
Magnetic hinge
Cons
The storage space is low
Low screen resolution
Final Verdict
The HP X2 is a highly recommendable mini laptop. It ticks all the right boxes and while there are some shortcomings, that doesn't really hamper your day to day work. At this price, the laptop is an absolutely recommended bargain for mini budget laptop.
4. HP Stream Mini Laptop PC 14-ax010nr
The most complaints with mini laptops are that they cut a lot of corners and as a result, have a lot of shortcomings. I have a different approach altogether. It is only logical that a computer which has to cut corners has to compromise somewhere. So, I try not to look for all round excellence. If the shortcomings don't interfere with my preferences, I am more than satisfied. This was when I started using the HP Stream Laptop PC 14.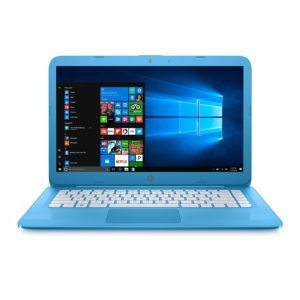 The laptop attracted me primarily not because of its features or price but because of its color. The cobalt blue color looks very attractive and sets apart this laptop from the other laptops which are usually black or silver. The laptop felt light in my hands. While truth be told, I was expecting something smaller (I had bought the 14-inch variant), I was relieved to find that there's an 11.6-inch variant also in offer.
The stream is easy to hold and carry about. The ridges on the lid aid in accentuating better grip and also provide a nice texture. The keyboard, however, is white. The white color meant that I had to clean the keyboard from time to time as it eventually got dirty after typing assignments.
Storage is a bit of a problem with the laptop as it offers only 32 GB of storage space. In fact, once you take into account that, half of that space is occupied by the operating system and the programs. Even a phone would have more storage than the laptop.
The storage problem is quite a thorn in the side as I realized after downloading a few movies. As the memory filled up, the booting time increased exponentially. At that point, it was almost frustrating to switch on the laptop. The only thing I could do was to increase the storage was to use an SD card to store my files.
The HP stream also sports in-built speakers. But after trying them out, I have decided that the least be told about them, the better. There is a reason the computer has a headphone jack and Bluetooth (sic), use them.
The battery life of the mini laptop is by far its most enduring feature. I had used the laptop, connected to the internet and the battery lasted for around 8 hours. If you work offline, then the battery might even last for around 9 hours.
The HP stream does not blow you away with its performance. But as long as you keep your work to watching videos and using basic net browsing and web apps, it should work just about fine. At the price you are getting this, you just couldn't ask for more.
Pros
Battery lasts for 8 hours on moderate use
External surface has a nice finish
Light weight
Well spaced keyboard
Cons
Low memory space of 32 GB
Poor speakers
Multitasking slows down performance
Final Verdict
The HP stream does not blow you away with its performance. But as long as you keep your work to watching movies and videos and using basic net browsing and web apps, it should work just about fine. At the price you are getting this, you just couldn't ask for more.
5. ASUS 10.1″ Transformer Mini T102HA-D4-GR, 2 in 1 Touchscreen Laptop
One of the most important criteria that I kept in mind while searching for a touchscreen laptop is whether I was getting value for my money. With the Asus Mini T102HA-D4-GR, I think I was just able to. But then, only just. First impressions can be very deceiving, and this holds true for the mini laptop.
When I first set my eyes on the device, I was mesmerized to see a laptop with a sturdy keyboard and a stylus that actually worked. The exterior looks beautiful, and the sleek design makes it an instant eye candy.
Before I indulge in the larger shortcomings of the mini laptop, let me start off by pointing out the positives. The Mini T102HA-D4-GR is actually quite light, even for a laptop. The keyboard quality reminded me of the Surface Pro 4, albeit in a good way. The faux fabric feels soft to the touch and is one of the best things about the laptop.
The magnesium-aluminum alloy is sturdy and rigid. Unlike other touchscreen laptops which are not really durable, the Asus mini laptop is very much up to the challenge. However, the compact form of the laptop does come with some drawbacks of its own.
The 10 inch keyboard crams in all the keys together, and I had a hard time typing. Add to that the lack of uniform space among keys. For instance, on the left-hand side of the keyboard, the keys are crammed. But, the right hand has a lot of space around the Enter and Backspace keys. This inconsistency is highly problematic. So, if you have large thick fingers as I do, you'll find typing on this keyboard a real challenge.
Another thing that I used a lot is the camera. Given that I love to Skype people up, camera quality for me is an integral part of any device. Quite sadly enough, the budget cut of the laptop occurs in this very segment. The only camera of the laptop is a 2MP front camera which, as you can well realize, is not worth much.
There is also a fingerprint sensor at the back for locking the laptop while using it as a tablet. Given its price tag, the Asus Mini T102HA-D4-GR is best suited for everyday home use, and I would recommend buying it only if you are in for casual use.
Pros
Light weight and sleek look
Back hinge can be turned about
Fingerprint sensor
Cons
Performance is not consistent
Camera quality is low
Final Verdict
The Asus Mini T102HA-D4-GR not really high on performance. It lags a lot as a laptop and as a tablet the camera quality is low. So, invest in this mini laptop only if you are going to use the laptop for light internet browsing and the likes.
6. ASUS T100 10-Inch Small Laptop
At the very start, I would like to note that the Asus T100 is not the most budget friendly mini laptop that the maker has to offer. Neither is it the first hybrid that Asus has made. That honor belongs to the VivoTab Smart ME400. However, the product is one of the best hybrid tablet-laptops at the moment. There are a few shortcomings. But hey, I learned to drive around that.
In what is a departure from most common types of hinges used in this segment, the Asus T100 uses a laptop style hinge. It was for this very reason that I could carry it around and pass it off for a laptop. Obviously, it is not as powerful as a laptop given its limited processing but it way better than the older ME400.
The common complaint with the ME400 was that the attachment between the screen and keyboard was loose. It is a relief to see Asus learning from his past mistakes and incorporating changes into its new products.
When I first held the mini laptop in my hands, I was kind of disappointed to see that the whole laptop body wasn't made of metal. But then I was perhaps expecting too much at this budget. Some parts of the laptop do use metal. The areas around the hinges inner working are made of metal primarily to provide strength to the overall structure. This works well enough, and I could carry it around with relative ease because of its durability.
The finishing of the mini laptop also confused me quite a bit. The back portion of the tablet has a glossy finish, while the keyboard area has a faux metal. Lastly, the bottom side of the keyboard has a soft touch matte plastic. All these finishing has a degree of inconsistency. Now, when I read about them, I wasn't too impressed with the combination.
But upon using the laptop, I am forced to concede that the laptop actually pulls it off. Design aside, the construction is spot on, and I found no problems with it, despite the apparent low quality.
I did mention that the device can be pulled off as a laptop and that is perhaps the product's biggest hurdle. Once I separated the two, neither of them looked like a product I would want to carry about. Together, however, they look great.
Pros
Long battery life
Consistent performance
Lightweight and sports a beautiful design
USB 3.0 port
Cons
The screen resolution is not up to the mark
Final Verdict
In terms of verdict, the Asus T100 can give some ultrabooks a run for their money. Performance on this small laptop is snappy and if you are not running any heavy duty applications, then giving this mini laptop a try won't harm.
7. ASUS C100PA-DB02 10.1-inch Touch Chromebook Flip
Chromebooks initially came into the market with the USP of providing machines running on Google Chrome OS at a budget friendly price. The possibilities of such devices on paper are endless. But whether such specs on paper can be translated into a machine on the desk is another matter altogether. Since Chromebooks have the added disadvantage of being OS specific, I figured that it would have to perform exceedingly well actually to warrant a recommendation.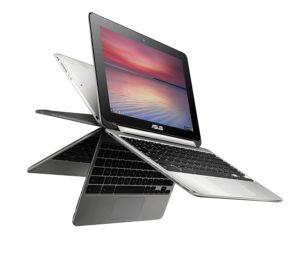 Right from the moment, I unboxed the laptop; I had a feeling that the C100 sought to impress with its premium looks and features. For starters, the 10.1-inch screen of the small laptop is a touchscreen. This is a feature I have rarely seen in laptops from this segment. The touch is snappy and responsive and made for a great user experience. Couple that with the 360-degree hinge which the mini laptop sports (exactly like the Lenovo Yoga series) and I knew that the Asus C100 held potential.
Unlike the Intel Celeron processors which most Chromebooks use, the C100PA uses an ARM based CPU. I figured that this was an effort on their part to cut corners rather than aim for a better performance. The small laptop performed well enough, though it did start to lag after a while.
However, when I compared web surfing speeds to other Chromebooks, it was way faster. There's one advantage to this though. Low processor speeds automatically mean that the battery lasts longer. In this, I found out that the Asus C100PA beats out on almost any competition.
The Chromebook, regarding utility, is extremely limited. For instance, it can play Netflix and send mails but not download and run Photoshop or any other windows software. If this is going to be an issue for you, then it is advisable to give this mini laptop a miss. That does not, however, mean that the C100 is not a useful machine for practical ends.
It can be used to surf news, stream videos and operate social media websites. Apart from this, you can even do word processing and play online games. However, doing too many things at once does tend to slow up the browser.
Pros
Touchscreen
Hybrid hinge
Almost 13 hours of battery life
Cons
Processing speed is extremely slow
Final Verdict
In a segment dominated by windows laptops, a Chromebook hybrid is a thing unheard of. However, if you can get past the basic limitations of the laptop it has great features and superb battery life. This product cannot be a replacement to your windows laptop, neither is it the best mini laptop to use on the go. But, if you wish to trade processing speed for battery life, this is the laptop for you.
8. Lenovo Ideapad 110s – 11.6″ Small Laptop
The Lenovo Ideapad is a cool and simple mini laptop, and it only fits that the standard color of the small laptop comes in a shade of white. The color ensured that my small laptop stood out among other laptops, most of which are a drab shade of silver or black. While using the laptop, I never really had high hopes about its performance and therefore, was not really disappointed.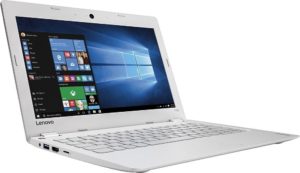 The Lenovo Ideapad maybe a convenient mini budget laptop but it sure does not feel like one. The plastic construction of the laptop gave away this illusion when I first held it. But, the build is durable, and the matte all-white clamshell gives the laptop a chic look. I was seriously impressed by the color.
The only laptop to have used this shade is the white MacBook. That is some standards to live up to because there obviously will be a comparison. Apart from the color, even the small size of the laptop makes it extremely easy to carry it about.
On the performance front, the mini laptop runs on a Windows 10 easily making it way more function friendly than the traditional Chromebook. However, it is not a high powered mini laptop. If you expect the Lenovo product to run heavy duty applications like games to run smoothly, you are bound to be disappointed. I had tried to push the laptop just to see how much load it could handle and it started lagging after opening just about four tabs.
Over the years, I have used a variety of small laptops, and one common feature to all of them was that they all had exceptionally cramped keyboards. I was, therefore, surprised to see the keyboard of this laptop. The keys were really spacious, and the layout ensured that I did not have any problems while typing. To find a keyboard so exceptionally solid in a small budget laptop was truly impressive.
If you are a movie buff like me, you would never undermine the importance of speakers and the display of the laptop. Firstly, the speakers of the Lenovo Ideapad 110 are located at the bottom of the laptop. The sound output obviously sounds muffled and to add to that, the maximum volume isn't a lot. I had to again invest in a pair of headphones so that I could hear music and watch movies.
By far, the biggest disappointment of the laptop is the display screen. The viewing angles are extremely bad, and even if I tilted the screen a few inches, I couldn't see a thing. If you are looking for a simple small budget laptop with moderate specs that provide value for money, the Lenovo Ideapad 110 is your best bet.
Pros
Value for money
Comfortable, spacious keyboard
Portable and light weight
Cons
Viewing angles are bad
Speakers are muffled
Final Verdict
The Lenovo Ideapad 110 does not score high on my list solely because it compromises with speaker and screen quality. However, if you need a mini laptop mainly for office works or writing articles like I am doing right now, the spacious keyboard of Ideapad 10 alone is worth every bit of money you spend on it.
9. Asus Chromebook C202SA-YS02
Over the past few years, notebooks are being replaced increasingly with the more system efficient and network oriented Chromebooks. Office spaces and online classrooms now use these laptops as they are easier to use in a network.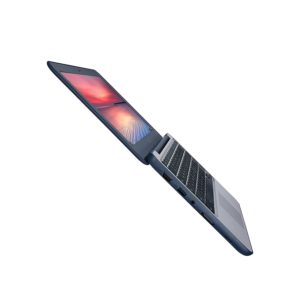 When I first took up the mini laptop, I was impressed with the way the Asus Chromebook C202SA-YS02 is designed.
Obviously, the makers were very clear about the customer pool they wished to target. Since they had targeted kids and young adults, the mini laptop features a rugged design and a spill resistant keyboard. The latter feature is extremely handy as I soon came to know. I spilled an entire cup of coffee on the keyboard and was surprised to find the small laptop still working.
Granted, that on the design front, the Chromebook is a wee bit thicker than most other Chromebooks. However, that does not, in any way, affect the portability of the laptop. The Chromebook C202SA-YS02 with its modular design and affordable price tag remains one of the most solid choices for students and professionals alike.
On the performance front, the laptop is powered by a 1.6 GHz Intel Celeron processor. It worked fine when I indulged in light browsing and video playback. But the moment I opened up multiple tabs, the browser started lagging.
YouTube and Spotify work absolutely fine on the laptop, but when I opened up my sixth tab, the just skipped off.
Coming to the display, the 11.6-inch screen is impressive and has an anti-glare coating. This is extremely noticeable when one is working outdoors or in an artificial lighted environment.
The laptop works on binary paradoxes. For example, the hinge can be opened up to 180 degrees. Now, this wide hinge angle should ideally help for better viewing. But what I only realized after getting my hands on the laptop was that there is a rubber grip on the bottom of the laptop. This means that the screen does not lie out flat. Add to that the abysmal viewing angles and there's not much to talk about the display front.
The keyboard and the touchpad feel premium to the touch. I had problems seeing the blue lettering of the keyboard, but the large key labels helped exponentially. Another thing that is praiseworthy in the small laptop is the set of two stereo speakers on the bottom corners of the laptop. To my utter surprise, I found out that the speakers were actually very loud and the audio quality was above average.
I would, however, advise you not to expect much from the speakers, after all, they are just budget speakers. The Chromebook C202SA is one of the good mini laptop you can find in this segment. It does have its own set of disadvantages, but given the place and utility, this is the best laptop in the mini laptops segment.
Pros
Spill resistant keyboard
Anti glare coated screen
Impressive speakers
Cons
Hinge function is useless
Performance lags upon opening multiple tabs
Final Verdict
As far as Chromebooks go, the Asus Chromebook C202SA is one of the best product in the small laptop segment. Granted it has its own share of performance issues that plague the Chromebook products, the build quality and the quality speakers however, earn a thumbs-up.
10. ASUS Flip 2-in-1 C100PA-DS03 Chromebook
Chromebooks sure have come a long way since their plastic days; the modern Chromebooks are high-tech, solid and highly responsive. The super slim Asus Chromebook C100PA is one of the many mini laptops that promises to deliver top-notch performance at affordable prices. The versatile new model combines the best of power, portability, and productivity.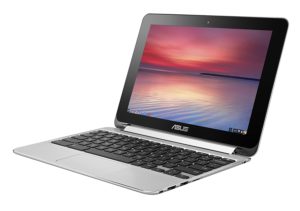 Asus, though a relatively new player in the market, has manufactured some of the most powerful and user-friendly laptops in budget laptop segment. It comes second only to the likes of Acer, Apple, and Samsung. The Chromebook C100PA features a minimalistic, sleek and elegant construction with its aluminum casing and metallic bezels. The design of C100 is pretty similar to that of a Macbook, only with a much compacter screen.
The 10-inch display screen is secured to the main chassis by flexible metallic hinges that can be tilted to 360-degrees. This adds on to the versatility of the laptop; I could easily change the view modes from a mini laptop to the tab and a simple screen.
C100PA is compact, lightweight and pretty portable.
However, the same cannot be said about the on-screen keyboard. I found the keyboard to be a bit too sensitive. It was very frustrating to type as random numbers, and letters would suddenly pop up on the screen.
The easy-grip ergonomic base of the laptop prevents the risk of slippage and accidents. Although there are no indentations on the body, I couldn't open the lid single-handed. C100PA covers all the basic ports and connecting slots for USB cables, audio jacks, Ethernet cables and SD card reader.
The power button placed on the left side of the framework next to the volume button is a bit frustrating as I often would shut down the machine while picking up the Chromebook. Even the trackpad is very small and loud.
Chromebooks are built on Google Chrome OS and require 24*7 internet connectivity for proper functioning. Asus C100PA is no different and features a Rockchip Quad-Core RK3288C processor at its core for lightning fast performance. The two-in-one flip framework is ideal for students, designers who want a smart and simple solution for storing all their information accessible on the go.
Pros
Long battery life
Flexible body with 360-degree tilting hinges
Very versatile, can be used as a laptop, a stand, a screen and a tablet
Premium ports for connecting USB, Ethernet, and audio systems
Cons
The keyboard is not very user-friendly
Even the touchpad is small and not very responsive
Final Verdict
The Asus C100PA Chromebook is not your everyday mini laptop, the two-in-one design suits both commercial and personal use. The HD IPS display is a significant improvement over the TN alternatives used elsewhere. Also, decent-sized screen, responsive features, and powerful processor add to the laptop's appeal and charm.
11. HP Pavilion x2 Detachable Premium Laptop PC
Every year, around about the time for college admissions, there's a mad rush for buying desktop computers and laptops for students. Prospective grad students all buy a new laptop or upgrade their older one. in keeping with their higher interests moving forward.
The HP Pavilion is specifically targeted at students. The greatest thing that the laptop has going for itself is its extremely affordable price. Unlike the Lenovo Ideapad, the HP Pavilion x2 can be twisted into a variety of positions as per your viewing convenience.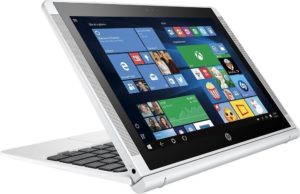 When it comes to the design, the HP looks fairly good. It is about the size of a notebook and therefore, fits comfortably into most of the sling bags. So, you wouldn't need to invest in a laptop bag.
However, that's just about where the vital form factor of the laptop ends. The moment I picked it up, I was surprised to find out that the plastic felt cheap in my hands. To claim that this is a small budget laptop is futile because most similar priced non-metal models in the market have a premium soft touch plastic.
Since my work usually entails a lot of running about, I was expecting a laptop which is durable and thus, able to match up to my hectic schedule. After having carried it along with me for around a month or so, I was delighted to observe that there were almost no scratches on the exterior parts.
Everyday bumps and scuffs didn't even leave a mark on the laptop. But there are some problems with the finishing of the mini laptop. The start button and all the other buttons that line up the laptop feel flimsy to the touch and wobble after a period of usage time.
The USP of the laptop is neither its looks nor its build quality. It's the performance. The HP Pavilion x2, being a convertible, allowed me to use it as a tablet or a laptop as per my wish. The magnetic hinge which connected the screen to the keyboard was efficient and didn't get loose with repeated use.
Apart from that, the x2 is deceptively thin. My friend has an Acer Aspire Switch 11. Though they are almost similarly priced, I noticed that the x2 was about 5 inches slimmer than the Acer product.
Obviously, when you are making a small laptop in budget, you have to cut corners. I was interested to see what corners HP would cut for the same. My worst fears were confirmed true when I saw that the display had a poor resolution which meant that black looked like inky gray on the screen. Even bright colors like red looked a bit faded.
However, given its shortcoming, the HP Pavilion x2 remains one of the best mini laptop in its segment. Certainly worth a try when on a budget.
Pros
Durable build
Screen can be positioned at all angles
Sleek and thin
Lightweight
Cons
Display looks a bit shallow
Audio levels are low
Final Verdict
HP products are usually standard products with great build quality and specs. However, the x2 Detachable is anything but the premium in its name. While the performance is commendable, the screen and the audio levels just fail to impress. If you could get past that, this mini laptop can be a decent purchase as a backup laptop, especially when you are traveling.
12. Lenovo IdeaPad Miix 310, 10.1-Inch Windows Mini Laptop
"Sometimes the best thing you can gift someone is belief". The latest tag line from Lenovo seems to go beyond the mere aggressive marketing gimmicks and focuses on the smaller things in life. So, whether it is your teenager's first laptop or your own secondary system, the Lenovo Ideapad Miix 310 makes for an impressive customer choice.
What first caught my eye was the 2 in 1 hybrid format of the laptop. The 10.1-inch screen can be opened up and used as a tablet. The small laptop aims to attract the casual user segment and is appropriately priced for the same.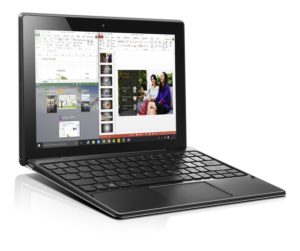 The highlight of the mini laptop is obviously its stellar design. Looks can kill, and if this cute detachable laptop doesn't steal your heart away, nothing will. There is a stylish edge around the laptop that makes the keyboard more pronounced. I could just forgive the cheap plastic feel that makes up the exterior of the laptop.
I started using the mini laptop initially as a tablet, relying on the keyboard section only when I needed to type out documents or make presentations. Now, while detaching the two halves, I noticed that it took a lot of force to make this possible. The two halves were tight and more than once I checked the manual to see if I was doing it right. However, this gives a kind of flexibility to the screen. And it does not wobble up when attached, unlike other laptops in the segment.
The display is also one of the brightest I have seen in this segment. The screen size is 10.1-inch, and it offers a vivid 1280 x 800 pixels display. I streamed and played HD videos, and there were absolutely no frame drops. However, there are some problems with the screen resolution. For instance, when I was watching The Dark Knight, I couldn't help but notice that parts of the screen just couldn't distinguish between different shades of black.
This was obviously a huge turn-off. Apart from this, even the reflective angle was a problem. I found the screen reflecting back bulbs and light sources if placed at any angle but straight. The sole problem with the mini laptop, in my opinion, lies with the keyboard. The keyboard has learning curves which make it cramped. As a result, there's hardly any space left between the keys. So, while typing, I had to look down every time, and I also hit multiple keys.
Pros
Long battery life
Consistent performance
Light weight
Cons
Poorly laid out keyboard
Weak audio
Final Verdict
The Lenovo IdeaPad Miix 310 does get a fair mid of work done at a very decent price. Considering its price tag it offers fair value for money. Be warned that you would have to make some serious compromises on the display and the audio front.
The Bottom Line
If I have to pick just best mini laptop from this list which is not only budget-friendly but also quite a decent all-rounder, my money will be on Samsung Chromebook 3. Despite of its shortcomings, it does almost all the basic computing tasks a student like me would need to do in my day-to-day life. HP X2 Detachable, in terms of both price and performance, is its closest competitor. That's all for today. I'll keep my fingers crossed, hoping my reviews of best mini laptops in 2019 will help you select the best small budget laptop for your individual use.