Laptops have changed the way of doing business over years. Laptops were big and bulky in past but now they can fit even in a person's lap. They have turned smaller than ever but still some new names keep appearing out of nowhere which take it even further up a notch. One such name is Peakago.
Standing at a size of just 7 inches (17.78 cm), Peakago is one of the smallest laptops in the world. To make it better, Peakago is the world's first ever laptop of this size with 4G network. However, the 4G capability comes only in Pro version. In most of the mini laptops you need to have a WiFi connection if you want to use internet in it. This is a limitation which can halt your work if you have to go to a place without a WiFi connection. It also weighs only 539 grams and is really lightweight. With that weight and dimensions of just 181 mm x 113.6 mm x 19.6 mm, you can easily carry Peakago even in your pockets.
Peakago's screen is 7″ IPS screen that supports a full touch control. It has a resolution of 1920 x 1200 which is slightly bigger than a Full HD resolution. The screen produces great colors and support a 178° wide viewing angle. The laptop has three modes ; Stand Mode, Tablet Mode and Tent Mode. Peakago is flexible and the keyboard can be folded to act like a stand. It makes a triangle tent like formation after folding that's why it is called Tent Mode. Tent mode is best for watching shows or movies. Stand mode is the regular mode where Peakago is to be used like a normal laptop. Peakago can be folded completely 360° to move the keyboard to the back thus turning it into a tablet. This is the Tablet Mode which makes it possible to use it like a tablet thanks to Peakago's touchscreen.
Peakago has an Intel Cherry 8350 CPU that powers it. This is where things get a bit complicated. Peakago has two different Pro versions of itself. As stated above Peakago Pro comes with a 4G network compatibility. That version features the same Intel Cherry 8350 processor. However, there is another Peakago Pro version which features an Intel N4200 processor. But sadly it does not support 4G. These versions also differ in terms of memory and storage. Peakago has a 4 GB ram and 64 GB of storage. Both the Peakago Pro versions have 8 GB of ram and 128 GB of storage. The other things are exactly the same across all versions. All three version work over a pre installed Windows 10S.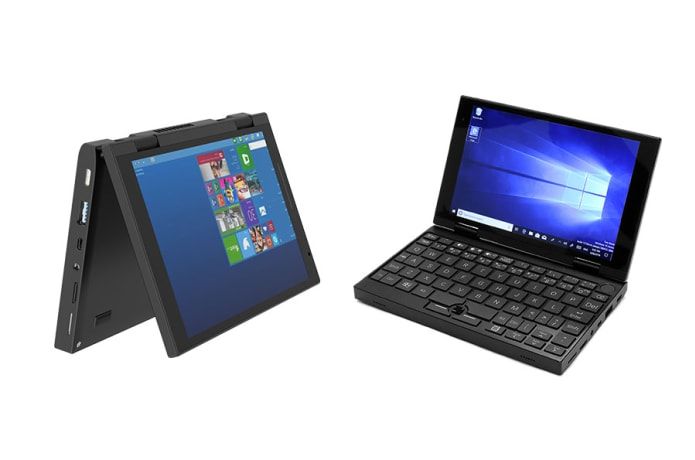 Peakago has a built-in battery of 4500 mAh. It can get you through enough run time over this low performance mini laptop. Peakago also has a built-in front camera in all versions. It has all the ports you need too. Along with a Micro SIM port for network and a Micro SD card for expandable storage, you get a headphone jack, a USB 3.0, a Micro HDMI port and a USB Type C port for fast charging.
Peakago combines everything good about a smartphone, a tablet and a laptop. The different versions are confusing and choosing one can be a headache. It is surely not suitable for gaming or high performance tasks either. However, its portability makes it useful for people who work from home and do not use a program requiring high specs.
Source – Indiegogo