Interesting and useful finds from Internet world.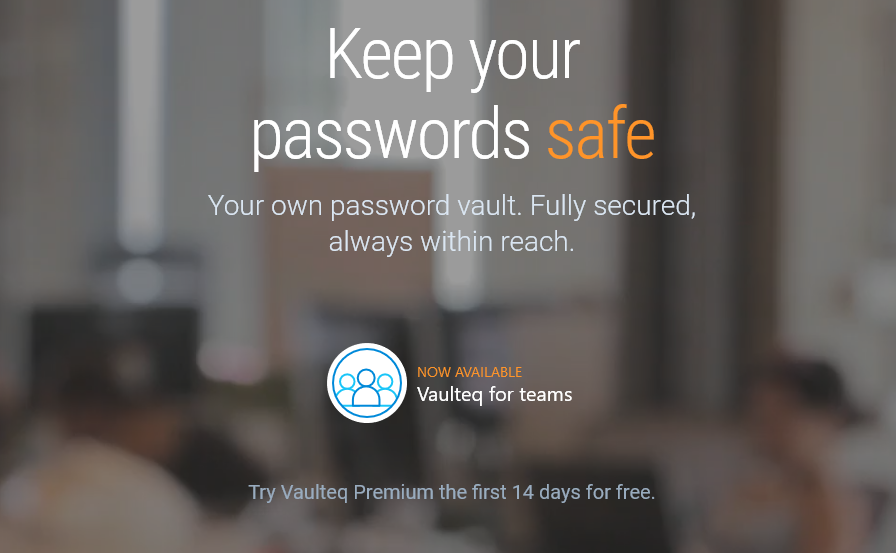 Vaulteq
World's first password manager that does not store sensitive data on cloud. It stores data exclusively in the Netherlands, with encryption and 2-factor authentication, following strict EU law.
Link – https://www.vaulteq.com
Nudgeti
A browser extension that helps you stop wasting time on distracting websites. You can configure site list and notification time. It's a good alternative to website blockers.
Link – https://www.nudgeti.com
BlockCrypto
BlockCrypto is crypto search engine and multi blockchain explorer.
Link – https://blockcrypto.io
pillar
pilar online support group for mothers. It offers advice and expertise during parenting journey.
Link – https://www.ourpillar.com
Brick
Spending too much time on phones. Use brick to take back your time from phone.
Link – https://www.gobricknow.com
Wandertale
Tell your stories in audio and share with others. Start audio blogging!
Link – https://wandertale.co
Rappil
A timely medicine and nutrition reminder app for you and loved ones.
Link – http://www.rappil.com
Langroo
A chatbot to teach native English thorough Facebook messenger.
Link – https://www.langroo.com
Bloom Smart
World's most intelligent in home camera system to capture family moments and turn them into video memories through wireless, wifi, motion detection automated HD video capture and video editing.
Link – http://bloomsmart.com
Ownetic
A community of collectors and creators who are passionate about collecting.
Link – https://ownetic.com
pup•eeze
A wearable collar attachment for your dog that can connect to 100 smart devices. It has features like activity tracking, noise alerts, location tracking, turning on lights, music, thermostat etc.
Link – https://pup-eeze.com
Showdown Live
Create and host live streaming game shows on your phone and win prizes. You can earn free swag from Amazon, Apple, and Walmart.
Link – https://www.showdown.live
Lumi
The most secure, easy & handy crypto wallet that features client side private key storage.
Link – https://lumiwallet.com
Cryptoboard
A real-time cryptocurrency dashboard showing live charts and statistics from different sources. It features altcoin trend comparison, cryptocurrency trends, tweet sentiment analysis, predictive alcoin analysis.
Link – https://cryptoboard.tech
Publer
A social media automation tool. Schedule post for Facebook, Twitter and LinkedIn.
Link – https://publer.me
Cryptkey
Cryptkey is the simplest and smartest way to manage cryptocurrency portfolio.
Link – https://www.cryptkey.io
List Genies
Get list of real emails, cellphone numbers & social profiles researched by real people in real time. Quick way to get leads for business.
Link – https://www.listgenies.com
Invoice Quick
Tool to create free invoice templates and download invoice PDF's.
Link – https://invoicequick.com
My Playparks
An app to find playparks and playgrounds in the neighbourhood.
Link – https://myplayparks.com
Shippa
Shippa connects buyers with professional shippers from other parts of world. Buy products from other countries from your home.
Link – http://www.shippa.me
Metal Pay
App to send and receive money. Earn crypto for doing transaction.
Link – https://www.metalpay.com
UnusedCSS
A tool to clean css. Find and remove unused css rules.
Link – https://unused-css.com
Paperform
Tool to create beautiful forms.
Link – https://paperform.co
Shedul
Online booking and scheduling tool for salons, spas, barbershops, and other businesses.
Link – http://www.shedul.com
Kyber Swap
Online service to swap crypto tokens.
Link – https://kyber.network
Center Nano
Simple device to test blood sugar from smartphone.
Link – https://www.center.health
Slenke
Online project management & team collaboration platform.
Link – https://slenke.com/pricing
USE Together
Screen sharing for collaboration and multiple mouse cursors.
Link – https://www.use-together.com
CryptoControl
Cryptocurrency news aggregator
Link – https://cryptocontrol.io/en/
Chrome extension to protect your computer from malware, phising and ads.
Link – https://www.trustnav.com/en
Siempo
Android phone interface to remove distractions.
Link – http://www.getsiempo.com
TribeFluence
App that connects brands with social media influencers and micro influencers at a low cost.
Link – http://tribefluenceapp.com