Everyone cares and should care about the security of their loved ones and possessions in their home. As technology is advancing, better security gadgets are coming to market. Smart locks, smart alarms, smart cameras, ecosystems etc prove really useful when it comes to home security. CCTV cameras have been in use before any of these devices, and they are being improved in the terms of quality now. People even install multiple cameras in their homes, one for each room. To manage them you need a single camera hubs. And one of them is Camect.
Camect is a private, smart, and affordable security camera management system. Your cameras can be connected to this hub and there you can manage the cameras or store the camera footage locally. Camect supports more than 50 brands of IP cameras which is a really important factor.
Another winning factor of Camect is the storage of the camera footage. Nowadays almost all of the cameras use cloud and store all the data and footage on cloud storage. However, cloud storage has its own security issue which leaves privacy and security at a risk. Cloud storage is also expensive and you have to pay more to the companies. So instead of using cloud and asking for extra money, Camect stores all the files locally. It has 1 TB of local storage which is also expandable. You can access it from laptop, desktop, tablet or mobile easily.
Camect is versatile as it is compatible with not just different brands but also different types of cameras. This includes Night Vision Cameras, Hi-res cameras, PoE, Doorbell cameras, Indoor camera, Outdoor cameras or any type of camera installed. It supports about 24M of total camera resolution (for example : 12 1080p cameras) of average scene complexity.
Camect has a Smart AI object detection as well. It applies video analysis to identify any object that is moving. Camect makes itself more accurate by learning from the user's feedback and only sends alarms based on algorithms and that feedback. It removes the chances of unwanted or false alarms. According to the developers, Camect can detect almost 20 different objects which is way more than any camera system with object detection.
Camect doesn't have any complex installation. You just need to plug it into the camera network and it will automatically detect all the cameras present in it. It can also be connected with any home ecosystems or Nests, Alexa, Google Home. You can also connect Camect with Dropbox, Google Drive for backup storage or a home assistant like Alexa for easier management.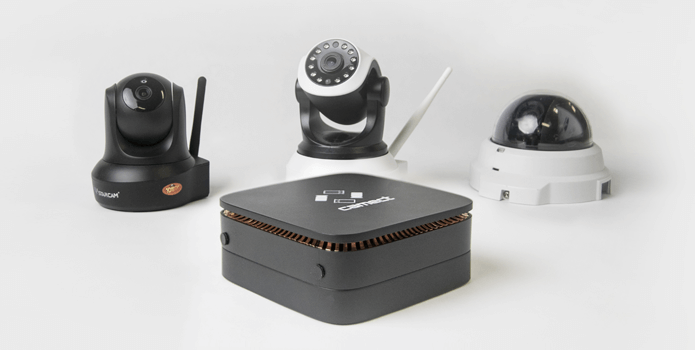 The Camect app provides some more features. With the app you can monitor the whole area, move/pan/tilt any camera or edit and share a clip out of the footage. The app also provides Time Lapse which lets you see long footage in fast motion.
Camect has a lot of features and supports a lot of different types and brands of cameras. Thus, for anyone having a camera system in their home Camect can be a very useful addition.
Source – Indiegogo