Summer might not have a lot of fans out there. It brings heat and sweat and can cause a lot of discomfort. It might be all fine in the comfort of your house but it can get ugly when you are out and devoid of any of that luxury. All of these are redundant without electricity. When you are out camping or on a picnic, the summer heat can take away the fun of it. However, there are some solutions out there. Zero Breeze Mark II tries to stand out from the lot.
Zero Breeze Mark II is a battery powered portable AC and it is the world's first to do that. There are a lot of portable gadgets out there camouflaged as AC but they are just portable fans. Zero Breeze Mark Ⅱ, however, is a real and portable air conditioner with a patented compressor that can reduce the ambient temperature by 30ºF/16.7°C. The creators has reduced an actual giant-sized AC condenser down to a size of a can. It is compact in size but yet powerful.
As the name suggests, Zero Breeze Mark II is a successor to a similar gadget created by Zero Breeze before. To improve on the first one, Mark II has a dual hose system installed in it. Dual Hose allows an intake hose to be used to circulate fresh air inside so that there is no negative pressure in the room. Due to that, Mark II generates 2X stronger cooling power with 2300 BTU/h and a 40% higher cooling efficiency than before.
Zero Breeze Mark II uses an upgraded duct system for air output. It increases the air volume in a room by 53% from 100cfm to 153cfm. It has a Brush-less DC motor that increases the airflow while reducing the noise to less than 40 dba. Having such low noise makes it perfect for using in tents and camps.
Zero Breeze Mark Ⅱ battery system has high energy density 18650 battery. Each battery delivers 5 hours of long-lasting coolness. The battery is detachable and easy to use for powering your other devices. It has a 12V DC output along with a USB Type C and two Type A ports for charging mobiles or tablets and laptops etc.
It has an LED light that you can use for illumination in your tent for various purposes. Mark II also has a monitor that displays air temperature.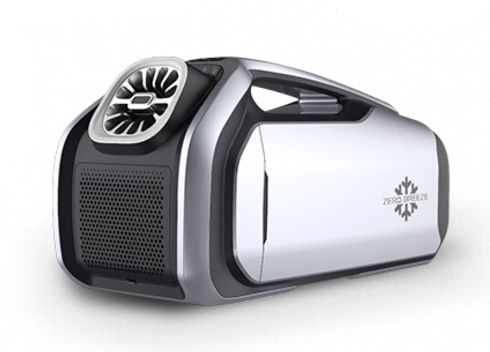 It has four working modes; Cool, Fan, Sleep, Dehumidifier. The fan mode has 4 levels of power that you can set. In the sleep mode, Mark II produces the lowest noise. Dehumidifier eliminates the humidity in air.
It's dimensions are 20″x10″x11″ and weighs only 6.4 kgs which is great as you are carrying a whole AC. It also has an IPX3 waterproof rating. This all makes Mark II a portable and durable device.
Mark II is a great device to have in the times of summer as it is effective and efficient. And if you are a traveller or an adventurer? Zero Breeze Mark II is a must-have gadget.