Home security always has and always will be a high priority concern for humans. It's incredibly important for a person to take care of their loved ones and possessions present in their home. Technology has provided many useful gadgets that make it easier to do so. Be it a basic CCTV camera or full-fledged home security systems. There are a lot of such devices out there and a lot of new ones keep coming out as well. One of these is WUUK.
WUUK Labs has created and billed WUUK as the world's most advanced smart doorbell. As a doorbell is installed outside a door it can let you monitor your doorstep and front of your house. If you can sense a potential danger when it is still outside your house it makes easier for you to protect yourself. That's what WUUK intends to do.
Inside WUUK, is a camera of 1536×1536 resolution. The camera's high resolution combined with its HDR makes sure to capture every detail of a scene or a person. The camera also provides a 162° ultra wide view that lets you monitor a bigger area outside. The camera also has infrared capability that provides a clear night vision. It has a long range of 16 feet (4.88 m) which makes WUUK equally useful at night.
The camera also features AI recognition. WUUK stores image data of everyone who shows up at your door. You can access it with the WUUK app and label any person you want. WUUK can then automatically  recognize that person on next visit. You can choose the medium of storing the video footage. All of it can be stored on a local SD card. There is options to store 48 hours worth footage cloud for free as well.
WUUK has built-in motion sensors which upon sensing a movement at your doorsteps send you a notification on the WUUK app. All of it happens just within 0.35 seconds which is really fast. After getting the notification you can have talk with the person through the camera with two-way 1080p HD video. You can also use an auto-reply function which would send a prerecorded voice message of yours to anyone on your doorway. This can be easily done through the WUKK app. Through the WUUK app you can also set a custom ringtone to the doorbell.
WUUK can be wired in for power if needed but it has a built-in battery of its own. One charge of the battery can make WUUK work for 8 months nonstop. WUUK does not need any wires for anything and works totally on WiFi. WUUK comes with WiFi amplifier. It increases WiFi router's range up to 980 ft (0.3 km) and make sure that WUUK stays within the WiFi range.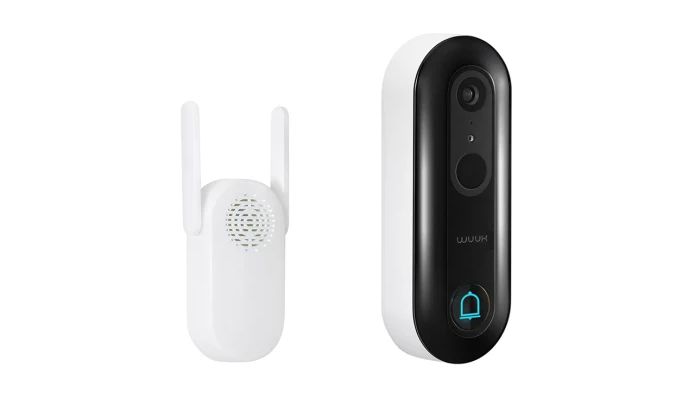 While WUUK helps you stay secure it is capable of taking care of itself as well. WUUK has a smart alarm system which goes off if someone tries to break it or tamper it. WUUK is IP65 waterproof as well. It can survive in any temperature ranging from -20° C to 50° C.
WUUK is surely a very useful gadget that can be an integral part of home security. It makes it easier and safer to keep an eye on your home's outsides. You can catch anything suspicious and take required measures while it is still outside. Prevention really is better than cure.
Source – Indiegogo