MiniFalcon is a full-size foldable high-performance E-scooter. It aims to make short duration travels easier and more convenient. Portability is always an important factor in such devices. MiniFalcon gets full marks in portability with its easy to fold setup. It has collapsible handles and a rear wheel that folds inwards. You can fold or unfold it in just 3 easy steps. This design gives MiniFalcon a sturdy and compact shape after folding. MiniFalcom folds up into a 23-inch long package which can easily fit in a standard backpack. Thus, you don't even have to worry about looking for a safe place to keep your scooter after reaching the destination.
Portability aside, MiniFalcon runs high on performance as well. It has a strong 250W brushless and noiseless motor for a ride without any disturbance. The motor allows MiniFalcon to reach a fast speed of up to 15 mph (24.14 km/h). It also has an adjustable steering pole. It can be adjusted into 3 heights according to the user's height.
MiniFalcon escooter has a thickened steel magnet inside of it that produces a 1.5x more torque than any standard scooter. More torque means faster pick-up and acceleration.
MiniFalcon is one of the first e-scooters to implement adjustable speed gears. It has 3 different speed gears according to different conditions. Aside from a balanced mode you can choose between High-Speed, Low-Torque or Low-Speed, High-Torque mode. High-Speed, Low-Torque gear is better for hills or inclined areas while the other one is better for open roads.
It also has hidden shock-absorber that helps in giving a safe ride while driving on uneven surfaces. For safety, it also has a dual rear brake system. Aside from an electric brake there is also a manual brake for safety assurance in case one doesn't work. There is an ABS anti-locking system that prevents the wheels from locking up. Suddenly slamming brakes sometimes locks the wheel and make you lose control which can prove to be dangerous. The tires too are made of polyurethane and are puncture proof. The body of MiniFalcon is made of strong anodized aluminum and can withstand up to 220lbs of weight without any tear.
There is no point of having an e-scooter with a bad battery life. If it runs out on your way you will have to walk or spend money on taxi or a bus. That completely demeans the point of having an E-scooter.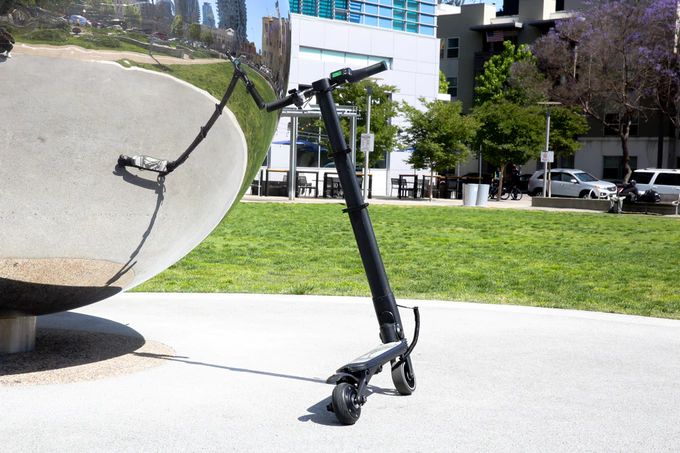 MiniFalcon, however, has a built-in Ternary 5C Strong Electric Discharge Battery inside of it which is powerful and long-lasting. Over one full charge you can ride up to 9 miles (14.48 km) even at the full speed. It doesn't mean you have to wait forever to use it again as it only takes 2 hours to recharge it fully. It has an amazing Kinetic Energy Recovery System that recycles excess energy and recharges your battery when you go downhill or brake.
MiniFalcon also has a digital display that shows all the info like live speed, battery life, gear position, and mileage while you are riding.
MiniFalcon is a perfect mode of transport for smaller distances in every aspect. If someone's looking for an e-scooter or such, MiniFalcon got you all covered in performance, efficiency, comfort and safety.
Source – Indiegogo