While we are quite finicky about our laptops, many of us do prefer to stick to a budget. It is not necessary that for better specifications, we have to go for more expensive models. There are several budget laptops under $400 that will offer just as much speed and storage as the ones with a higher cost. You just have to know the right choices to make and the right places to look.
You might even be able to use some of them for gaming to an extent, along with your regular purposes. There are some that are better suited for just office work. But for most, you can find a versatile range of use. Here are some of the best laptops under $400 which offers a wide variety of features for you to consider. If you are okay with spending 100 extra bucks, do check out comprehensive reviews of the best budget laptops under $500. However, if your requirements are low-key, you can also consider best cheap laptops under $300.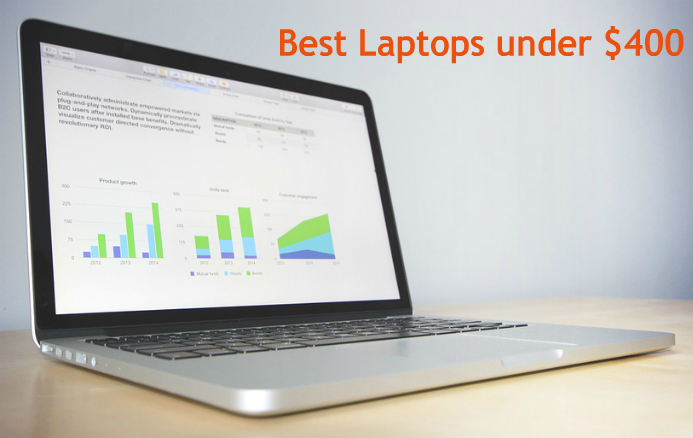 Reviews of Best Laptops under $400
1. Acer Aspire E 15 E5-575-33BM
The Acer Aspire E15 is one of those laptop which makes your work just a bit easier. For example, while not its most lauded feature, it comes with a backlit keyboard which saves you the trouble of using a USB light when you are typing in the dark. You can instead use the USB 3.0 and 3.1 Type C ports for more useful purposes. In fact, I think that the USB 3.0 is truly an advantage as it will allow you to charge the devices even with the laptop switched off.
At such a budget price, the maximum memory we can usually expect is 500 GB. However, the Acer Aspire E 15 offers 1 TB Hard Drive. Except for those who love to keep a backup, you can easily go without buying an external hard drive. You can even upgrade the hard drive if you require more than 1 TB.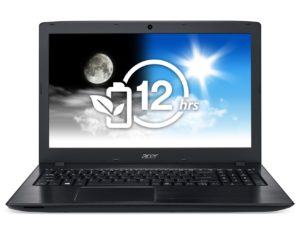 That is one of the reasons it is truly a budget buy. Moreover, while the memory provided is not more than 4 GB, you can easily upgrade it if you want to use it for more hardware-intensive purposes.
It comes with a 12-hour battery life and unlike some of its other competitors at the same range, you can use it for longer, without having to carry the charger around. The 802.11 ac wireless boosts up the wireless speed significantly. Moreover, you can even enjoy brighter shades which make watching movies a delight, due to the ColorBlast Technology, it offers.
On the same note, Acer's Trueharmony Speakers offers a better sound reproduction as well. It even comes with a DVD drive and you can use some of your older DVD's and not be limited to digital downloads. However, the only disadvantage is that the laptop is a bit bulky. It might not be an inconvenience though if you are not searching for mini laptops but a 15.6-inch laptop size is not that portable.
If you are not planning to carry it around, it is the perfect replacement for your desktop. There are few products that offer such a wide range of features at such a low price of under $400. If you are not worried about the size of the laptop, you can rely on its versatility.
Pros
Bluetooth 4.1
USB 3.0 and 3.1
ColorBlast Technology
1 TB hard drive
Final Verdict
While not ideal as a gaming laptop, this laptop is perfectly suitable for day to day use. You might consider upgrading the memory though if you want it to be faster. However, I don't think that a 4 GB RAM is that slow when you are considering the budget laptop of under $400 and the 1 TB hard drive more than makes up for whatever inconvenience it might pose. The battery life is extensive and you can easily use it while traveling without having to resort to carrying your charger around. Moreover, the superior image quality makes it one of the best devices for movies on top of everything.
2. ASUS F556UA-AB32
The ASUS F556UA offers several unique features when compared to the other laptop discussed in this article. It comes with a powerful 7th Gen i3 Core Processor. However, you can also opt for the same laptop with an i5 processor, if you want something better. That, however, would be a bit more expensive.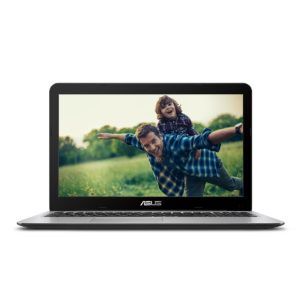 It also offers a 4GB DDR4 memory. I find a 4 GB RAM suitable for most purposes and a DDR4 memory makes it a lot faster. Of course, a 6 GB memory is more preferable, but the other advantages that this one offers make up for it. It offers a USB3.0 Type-C port like the Acer Aspire, with which you can charge any device with the laptop switched off. It also comes with a HDMI port and a 3 in 1 memory card reader.
The audio offered here is exceptional at this range as well. It is equipped with a professional codec and the amplifier is optimized to ensure a louder volume. On top of that, the larger speakers along with a resonance chamber offer a deeper bass. I wouldn't bother with an external speaker if I am investing in this model. Even with its 15.6″ screen, this increases its portability as you have to carry a lot fewer accessories when you are on the move.
The touchpad has a palm rejection feature. This helps a lot if you have the habit of placing your palm on the touch pad while typing. It can differentiate between your fingertip and your palm and save you the time you would otherwise waste on constantly editing any mistakes caused by accidental cursor movement.
The technology used in this laptop also ensures that it remains at a temperature lower than the body temperature level. Not only is this healthier for your laptop, it also ensures that you can comfortably use it for longer durations, without having to endure a heated body. The Li-polymer body can retain up to 80% of its charge even when it has been through a hundred cycles. With this feature, there is little to worry about a deteriorating battery with prolonged use.
If I have to mention a disadvantage, I would stick with the lower 4 GB memory. It might affect your performance if you are into more intensive processing activities. However, apart from that, this laptop gives you very little to complain about.
Pros
Li-polymer battery
Lower temperature level
Superior speakers with deeper bass and louder volume
Palm rejection touch pad technology
Final Verdict
This is another
good laptop in under $400 price
in the market. It offers some of the better features of the more expensive models and is suitable for multiple uses, even at the same time. You can further be assured that you don't need to change the battery after a few years with this one. It is easier and faster to type as well due to the palm rejection technology it offers. It is also good for viewing movies due to the combination of a better audio performance and the lower temperature that it can retain.
3. Dell Inspiron 15 5000 15.6″ Touchscreen Laptop
In case, you prefer to a laptop with a better memory but are unwilling to spend for an update, you can try the Dell Inspiron 15 5000, with its 6 GB RAM. Like the Acer Aspire, this too comes with an Intel Core i3-7100U processor which is powerful enough for most of the everyday tasks. The Intel HD Graphics 620 is good enough for regular movies and maybe some of the less intensive games as well. This also comes with a 1 TB hard drive, which, when combined with the 6 GB RAM is ideal for loading and watching videos.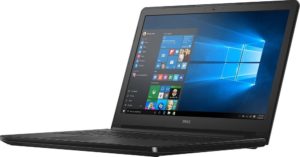 The MaxxAudio Pro Software provides superior sound quality. You can work without external speakers when you are listening to music. The laptop maneuvers a touchscreen which provides you the advantage of navigating the screen with less effort and time than it takes to use the touchpad.
However, it lacks the USB 3.1 port which the Acer Aspire offers. But that is an advantage that most laptops at this budget do not come with. Instead, the USB 3.0 and the two USB 2.0 ports it offers should be enough for any cords or lights you want to connect.
You also get an Ethernet port. Even if you do not have Wifi connectivity at your place, you can still use the internet without resorting to a slower data card.
With the HDMI output, you have the benefit of connecting the laptop to a bigger screen, if you want a better experience while watching movies or any other videos as well. It definitely makes it easier if you are having a movie night with your friends.
Pros
Intel Core i3 71000U Processor
Intel HD Graphics 620
1 TB Hard Drive
MaxxAudio Pro Software for better sound quality
Cons
Lacks USB 3.1 port
Uses a Bluetooth 4.0 instead of Bluetooth 4.1 connection
Final Verdict
Compared to the Acer Aspire, I find it a bit regressive as it lacks some of the more updated technologies that the former offers at a low price. However, if you are looking for an uncomplicated
budget laptop for under $400
, this is as good as any. It is especially useful if you are buying your first laptop as well.
4. Dell Inspiron Touchscreen 15.6″ HD Laptop PC
Most of the Dell laptops have similar features with minor variations. However, it is always good to have a choice and you can have your pick from a variety of processors and RAM space. Equipped with a 7th Gen Intel i3 7100U Dual Core mobile processor, the Dell Inspiron 15 5000 has one of the more powerful processors when compared to Dell's 13558 model. It can offer a better video quality with its Intel HD Graphics 620 card. It is equipped with a 6 GB DDR4 RAM as well. With this, you can use multiple apps on your laptop without having to slow down too much.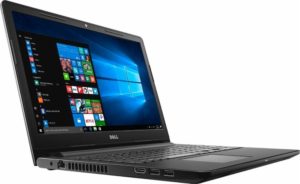 The hard drive is 1 TB HDD which is sufficient for storing even your movies and shows. You don't have to compensate with a separate external hard drive. There are three USB ports with two of them being USB 3.0 and the third, USB 2.0 port. While most USB connectors will work with either of them, it still helps to have a choice.
It further has an 802.11 N Wifi connectivity along with an Ethernet port. You can use either, according to your convenience and won't be limited to just a wireless connection, in case that fails. This too has the MaxxAudio speakers, which ensures a maximum sound quality. This, along with the superior graphics, makes it ideal for watching movies, even when you are not at home. You can leave behind the external speakers while traveling.
For the input, the laptop has a touch screen which makes it more accessible and easier to handle. However, the keyboard is not backlit. This can be easily resolved by buying a USB light. However, it is a minor inconvenience when you are working in the dark or just want to switch off the lights and relax.
Pros
Intel HD Graphics 620
1 TB HDD
6 GB DDR4 Memory
MaxxAudio Speakers
Cons
The keyboard is not backlit.
Final Verdict
The DDR4 memory makes it a faster laptop that is boosted with its 6 GB memory space. You can definitely expect a faster output on this laptop than most of the others you find in the market. While you can definitely update a 4 GB RAM to have a similar speed, it is cheaper to buy a laptop for $400 that comes with a better memory at the same rate. However, it is not suitable for hard disk intensive games. While you can try out some of the less demanding ones, it is better to use this for your work. It is a great device for watching movies or listening to music with its superior speakers as well.
5. HP 15.6″ HD Touchscreen Flagship Laptop (Intel Dual Core i5-6200U)

If you want to try out a different brand, you can consider the HP 15.6″ laptop. Like Dell, HP is a well-recognized brand worldwide. The advantage lies in its 8 GB memory which is more suitable for multitasking or using some of the power hungry apps. You might also be able to use this as a gaming laptop if you stick to less intensive games. Moreover, it ensures that your movies run smoothly and prevents your computer from hanging when you end up opening too many apps at the same time.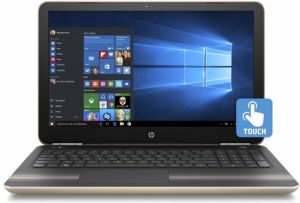 The Brightview WLED backlit screen eases the stress on your eyes when you are watching videos, especially in a dark room. Of course, it is more recommended that you do not work while switching off all the lights in the room either. The 1 TB hard drive offers you the space for 526 hours of video. You can easily download movies on the internal storage.
The super multi DVD burner is a feature that is lacking in most laptops nowadays. While we do not burn DVDs that often nowadays, it is still worth keeping the option on hand. The 802.111 AC Wireless LAN ensure three time faster connectivity. You can also connect your modem to the laptop, directly through the Ethernet port.
However, the laptop comes with Intel HD Graphics 520. While the RAM is more or less sufficient for gaming, you won't get the required graphics on this one. It is only preferable if gaming is one not of your criteria.
Pros
Brightview backlit Screen
DVD burner
1 TB Hard Drive
8 GB RAM
Cons
Comes with Intel HD Graphics 520
Final Verdict
This HP model is on par with the Dell laptops that I have included in this list of laptops for under $400 and you won't lose out on much if you prefer this one. However, I do have my reservations about the graphics that it offers. Even if I am not using it for gaming, it might affect the quality of the videos. This is more suitable if you are looking for a laptop for your office.
6. Dell Inspiron 13558-0954BLK
Like the previous Dell model, the Dell Inspiron 13558 comes with a 6 GB RAM variant as well. It is quite rare to find a laptop with a 6 GB memory at such a low price and that's what makes these Dell laptops unique. It makes it easier to run several applications at once without fearing that your laptop will slow down or hang up.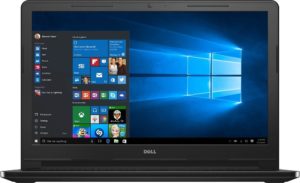 It also offers a 1 TB hard disk. You might want to get a hard drive if you want a bit more storage space, but this should be sufficient for most office work. The 802.11 A wireless connection ensures that you have a faster wifi speed on top of that.
These three makes it really convenient to work on this laptop.
However, the processor is 5th Gen Intel Core i3 with HD Graphics 5500. You wouldn't notice it when you are working on it. However, if you do decide to use it to play games, it might not suffice. On top of that, watching movies might not be as smooth as it could be either. It comes with two 2.0 USB ports. This will be compatible with most of the external devices you might choose to connect.
Pros
6 GB Memory
1 TB Hard Disk
802.11 A Wireless connectivity
2.0 USB ports
Cons
5th Gen Intel Core i3 Processor
HD Graphics 5500
Final Verdict
While I would not classify it as the best in this list of recommendations for under $400 laptops, it is definitely worth a shot. Dell is a brand with which you can never truly go wrong. However, if you are planning to use it for extensive movies or videos, it might not be a satisfying buy due to the less powerful processor. There is also a lack of a 3.0 USB port.
7. HP 15.6″ HD Touchscreen Laptop (AMD Quad-Core A10-9600P)
It comes with an AMD A10-9600P Quad Core APU Processor. The graphic card offered is AMD Radeon R5. While it might not be impressive as a true gaming laptop, it nevertheless, is a pretty good deal at this price. Moreover, the AMD processor makes it cheaper than any Intel model that you might buy.
The DDR3L memory is compensated by the 8 GB capacity it offers. You get a faster speed which is aided by the 1 TB SATA hard drive it comes with. A larger internal storage not only makes your laptop more suitable for holding larger amounts of data. It also ensures that your laptop doesn't get overloaded and prevents it from slowing down, thus hampering your work.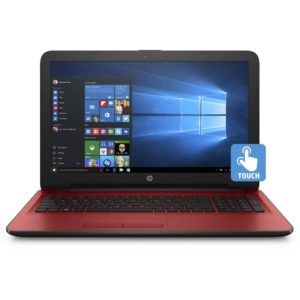 While the screen is 15.6″, the thinner design ensures its portability. You can travel with this. However, it would be better if you use this at home or at your office more than on the road. It also comes with an Ethernet port that you can use where Wifi connectivity is not that available.
You can also connect the Wifi with an 802.11 b/g/n connection. However, compared to the 802.11 ac connectivity, you will get a slower internet. If you want to access the speed, I would recommend sticking with the Ethernet connectivity.
It also comes with a full-sized keyboard which allows you to type more easily and faster. You can access the keys without having to figure out the shortcuts like you would on a mini laptop.
Pros
AMD Processor
8GB memory
1 TB SATA HD
Thin design
Final Verdict
8 GB of memory makes it quite good for personal or office work.  15.6″ display and full size keyboard makes it ideal desktop replacement.
This is another good choice for laptop under $400
.
8. Dell Inspiron i5555
If you are searching, specifically for a gaming laptop, at a lower price, you can try out the Dell Inspiron i5555. The difference with the previous laptops is that this one uses an AMD processor, which is more suitable for a faster output. AMD processors are also cheaper than Intel even though Intel is usually more powerful. Meanwhile, if you're looking for a budget laptop specifically designed for gaming, you might also want to check out budget gaming laptops under $300.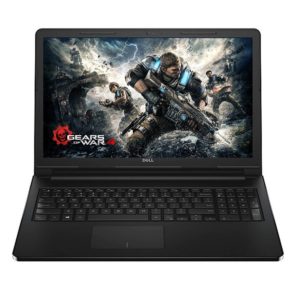 The hard drive is 500 GB. While this might seem like a disadvantage when you compare it with the other models, it is not so, if you are contemplating a gaming laptop. If you want to use this for extensive movie storage, you have to get an external hard drive. True to its purpose, it comes with LED backlit display, which reduces the stress on your vision. You can also use the HDMI output if you want a bigger screen. If your Wifi connectivity is fluctuating, you can use the Ethernet port instead to connect it directly to your modem.
However, for a gaming laptop, if offers a lower memory. It comes with a 6 GB DDR3 RAM, which does not work as well as DDR4 one. I think that would hamper the speed quite a bit. It might also affect your video quality on top. The bigger 15.6″ screen might work as an advantage as it will be easier to play games with a larger display. It won't be that easy to carry though if you want to play while traveling.
Pros
HDMI output
Ethernet port
AMD processor
Backlit display
Cons
DDR3 memory which offers a slower speed
Final Verdict
Dell Inspiron i5555 offers more than what you would find in most other laptops under $500 in the market. While not an ideal gaming laptop, it is still a worthwhile purchase if you want something that can serve both your entertainment and professional purposes. I would suggest not overloading the internal storage as that can further slow down your device. It is preferable to get an external hard drive with any laptop that has an internal storage of 500 HD. If you are planning to use it at home, that won't really affect its portability, like is the case with some of the mini laptops in the market.
9. Lenovo Ideapad 310
The Lenovo Ideapad comes with an AMD A10-9600P Quad Core Processor with Radeon 5 Graphics. However, the truly unique feature that this offers is the 12 GB DDR4 RAM which more than makes up for the graphics if you choose it for gaming. Of course, the images would be a bit distorted at times, but the speed would surely be amazing. It offers a 4 GB RAM onboard and an 8 GB DDR4 to supplement it. You can choose according to your needs.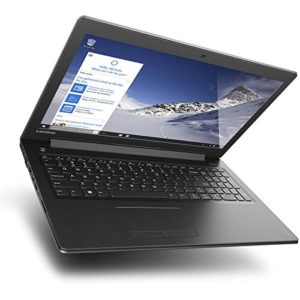 The storage it offers is 1 TB HDD, like most of the models here. It is highly preferable to 500 GB because in most cases you can do without an external hard disk. It offers an Ethernet port and a HDMI port as well two USB 2.0 and one USB 3.0 ports. These equip it for more versatile internet connections and the option to view your downloaded videos on a larger screen. You can also connect about three USB devices, which is useful when one of the ports is occupied using external speakers.
You might not need external speakers though. The inbuilt Dual Audio speakers with Dolby Audio ensure a rich sound and should suffice for movies or music. You also get a faster wireless connection with 802.11 ac connectivity. The Bluetooth transfer is also faster because of the Bluetooth 4.1 it offers.
There is a built in webcam along with a microphone. You can forego the headphone while on a video call. This helps if you are video calling along with your friends or family instead of just by yourself. But the battery life is very low at just 4 hours. You have to keep the charger on hand at all times, and it is an issue if you are working while traveling instead of somewhere with a stable electrical input.
Pros
3 USB ports
1 TB HDD
HDMI port
Dual audio speakers with Dolby Audio
Final Verdict
This is a product that can be bought as an alternative to any of the other laptops here. The features, when compared to the HP and Dell models, are more or less similar. However, the Acer Aspire and the Asus laptops do offer a lot more at a similar rate. However, if you are particularly looking for a reasonable Lenovo laptop for $400 with a faster speed and larger memory, this is a good choice.
10. Dell Inspiron 3000
While it is quite similar to the previous Dell model, the Inspiron 3000 offers an 8 GB DDR4 memory which makes it naturally faster than any laptop with a DDR3 RAM. That, along with a wireless speed of 802.11 n allows you to browse faster, making it ideal for office work and more. Most laptops offer  8 GB capacity while providing a lower memory. However, you don't have to upgrade in this case, unless you are using it more intensive purposes.
You also get a memory card reader and do not have to invest in a separate one. You can directly insert your phone's memory card into the port for transferring data. There is also a HDMI port with which you can watch your movies on a bigger screen by connecting your laptop to the TV.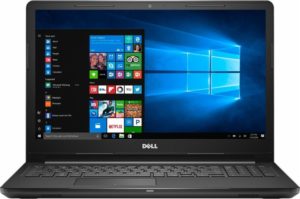 The front camera allows you to make video calls on Skype and more. Unlike with desktops, you don't have to get a separate one to make video calls. The 1 TB hard disk makes it easy to store a lot of data without having to worry about your computer slowing down or running out of space. Of course, if you want a backup, you have to buy an external hard disk. But otherwise, for most users, this should be enough.
Like most of the other laptops, it is a bulky model with a 15.6″ screen. You can have a wider screen view, but it becomes a bit difficult to carry it around if that's what you are looking for. Moreover, in this laptop, like the previous one, the keyboard is not backlit. If you are watching movies, you can use a USB light. However, if you are working, it is better to do so with the lights switched on.
Pros
8 GB DDR4 memory
802.11 N Wifi
HDMI port
1 TB hard disk
Final Verdict
This is a budget purchase under $400 and a good alternative to any of the other option here. It offers basically the same feature and that is quite a lot at this price. However, I would still prefer the Acer Aspire for a few of its extra advantages. Nevertheless, Dell laptops do ensure a certain quality and you can trust the product blindly. It is for that reason that however cheap the laptop might be, you can be ensured that it delivers what it offers.
11. Acer Aspire ES 15
Compared to the previous Acer Model, this is a less powerful version with a 6th Gen AMD A10-9600P Quad Core APU Processor. It would be unsuitable for gaming, but adequate as an office laptop. If you are looking to replace the desktop at your workplace with something reasonable, you can try this out.
The CineCrystal screen comes with a backlit display, which makes it more comfortable if you have to work for longer hours.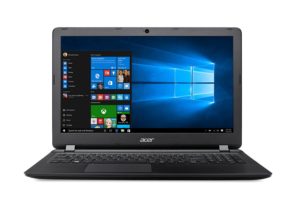 The 4 GB DDR3L memory is also more suitable if you are not using heavy-duty apps or multitasking too much. 1 TB HDD storage offers a lot of space and you can store all your data and even more. In case you are okay with using this for movies, you can store a decent amount on the internal memory itself.
It includes two built in speakers which also accentuates its video quality with superior sound reproduction. If you are editing videos for work, it might be an advantage for you. Along with 802.11 ac wireless, it also offers a 10/100/1000 Ethernet port.
The battery life is a lot more than usual and you can use it for 6.5 hours at a stretch. However, the graphics are of a lower quality on the downside. It offers an Intel HD Graphics 520, which is average for movies but not good enough for any kind of games.
Pros
1 TB HDD
Two built in speakers
802.11 ac wireless
10/100/1000 Ethernet port
Final Verdict
If you do not use your laptop too much for watching movies or gaming, it is a versatile choice which focuses more on the specifications required for an office laptop. However, apart from that, I would stick with the previous Acer laptop that I mentioned in this list. It is still a good purchase for under $400 and will offer you a faster browsing even if the RAM makes it a little slow.
12. Dell Inspiron 15 5000 Core i3-7100U
The Dell Inspiron with a 7th Gen Intel Core offers a four-way processing performance and a dual core. It ensures a powerful HD level computing performance, especially if you are focusing on intensive apps. Coupled with the 6 GB RAM it makes up for a fast and efficient performance on the whole.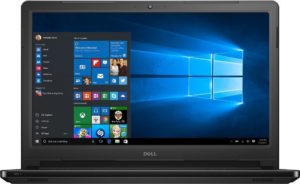 The 1 TB hard drive is sufficient for storing a significant amount of videos as well as music and other files. However, if you want to hoard your videos instead of deleting them when you are done, it is still preferable to go for an external hard drive. This will ensure that your internal memory doesn't get overloaded which might slow down your device.
The 620 HD Graphics is good enough for some light gaming and more than sufficient for videos and movies. There shouldn't be any disturbances while watching videos in this one. The LED is backlit, and the brighter screen display ensures that you can comfortably watch movies even in the dark. It also comes with a DVD drive. You can burn DVDs if you need to or play some of the older ones you have. Using DVDs for storing your videos will also save space on your internal storage.
Like all the other laptops, it comes pre-loaded with a Windows 10 configuration. Being the latest development till date, it is easily the most updated and the best you can have without having to separately pay for it.
However, the image quality is a bit low. The colors were not as bright as some of the other Dell models and that can be disappointing when you are editing photos or watching movies. Even gaming will be less entertaining in this case.
Pros
1 TB HDD
6 GB RAM
HD Graphics 620
Pre-loaded Windows 10
Final Verdict
Compared to the ASUS laptop, this should be a bit disappointing for laptop under $400. However, in its own right, it is a quality model with the assurance of being branded on top. If you are using this for your work and not for movies or games, the lower image quality wouldn't be an issue. Of course, if your job is based on photo editing, this will not work for you.
The Bottom Line
After a thorough research for best laptops under $400, I could finally narrow it down to just one product which, for all the valid reasons, is Acer Aspire E 15 E5-575-33BM. It packs quite a punch with tons of features that are not easily available in this price range. The closest competitor for the title of the best laptops for under $400 would be ASUS F556UA-AB32 for it also offers a wide array of premium features paired with a durable performance. Hope this review helped. On that note, I'll sign off.