Laptops are all the rage nowadays and everybody seems to want one. Add to the fact that in a digitally connected world, almost everything is done online, and you know why you need to invest in a good laptop for under $300. The budget segment of the laptop market is crowded with a lot of products, all claiming to be the best you can have at your budget. This naturally might be confusing and here I'll try to help you make a choice. Here are some of the best laptops under $300 that you can invest in. Alternatively, you can also check out list of laptops priced under $500 if you can stretch your wallet a little. Budget conscious users can look for cheap laptops under $200.
Top 10 Best Budget Laptops under $300 2019
1. Acer Chromebook 14
The Acer Chromebook 14 is a mid-budget option for all you people who wish to invest in a Chromebook but can't afford the more expensive HP Chromebook 13. This Acer equivalent is more moderately priced and does manage to cut some corners while keeping the performance intact for the most part.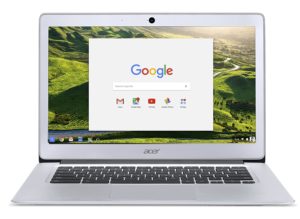 Upon looking at the Chromebook for the first time, you would immediately be reminded of Apple products. The shade of white of the laptop bodies kind of reminds you of Apple Macbooks. It is made of aluminum which results in a lighter weight and faster heat dissipation capacity. Given that the product is primarily intended to be connected to a local network, the heat dissipation greatly helps to keep the device in its prime condition.
Since the laptop can obviously be touted as a budget alternative of an Apple product, it makes sense to start with the display. The laptop has a 14-inch screen which sports a resolution of 1920×1080 pixels, similar to that of an HDTV. The pictures look crisp and the bright colors are great to look at. In fact, there is an added depth to the colors and therefore, shades of black and grey can be easily distinguished on the screen.
The viewing angles of the device are great and the fact that you can adjust the screen to 170 degrees greatly increases the affability of the product when reading or watching movies on it. Moreover, it has a massive battery life of 12 hours which is undoubtedly the best in this segment
The Chromebook runs on an Intel N3160 quad-core processor running at 1.6GHz, with 4GB of LPDDR3 RAM. There's also a built-in graphics card which means that HD movies do not lag on the screen. The overall performance of the device is extremely smooth and within the generous ambit of its hardware, the product is an absolute treat to use.
Pros
Tough durable exterior
Great display
Good quality speakers
Consistent performance
12 hours of battery backup
Cons
Cannot play games and high-end applications
Final Verdict
The Acer Chromebook 14 gets a lot of things correct when it comes to performance and durability. The battery life on the product lasts a solid 12 hours on full charge and is frankly one of the best things about the product. All in all, the Acer Chromebook 14 is a stellar product which offers great value for money for under $300 laptop. The Acer, on any day, is a better product than its Dell and HP equivalents and therefore, deserves a strong recommendation. If you are looking for a Chromebook under $300, you can't go wrong with this product.
2. HP 15.6-inch HD Touchscreen Laptop
The HP 15.6 inch laptop is one gem of a product in this particular segment, for the sole reason that it packs in a lot of features along with a premium look. For everyday use, a laptop that runs on Intel Quad Core Pentium N3540 along with 4 GB RAM will be just about fine. However, if you are planning to play hardcore games with a low-end processor, the laptop will, quite obviously, slow down. So, if your applications are limited, you won't experience any such lags.
The first thing that is bound to catch your eye is the large display screen of the device. The product has a 15.6-inch screen that supports touch capability. Now, while the touch is not as responsive as your smartphone, it is still better than having no touch facility at all. Thanks to the touch feature, now you'd be able to use photo editing apps with a greater efficiency and ease. The screen has a resolution of 1366 x 768 which easily provides great color output and vivid picture quality.
The laptop seems to constantly push beyond its price tag and the range of connectivity options it features will surely surprise you. Apart from the usual Bluetooth and HDMI and USB ports, the laptop also has Ethernet connectivity that lets you establish a stronger internet connection and faster download speeds.
What really sets apart HP product from other laptops is the fact that apart from great specifications, they also work extremely well as a unit. The speakers of this laptop provide such quality sound that any movie you play on the laptop becomes an immersive multimedia experience, to say the least. It comes with a 500 GB which might not be sufficient if you are a cinephile or audiophile with a massive collection of movies and music. But, you can always go for an external hard drive, right?
If you haven't been impressed with the product yet, the keyboard and touchpad are sure to impress you. The multi-gesture navigation system allows you to go through your tasks easily and ensures that you meet your deadlines without fail. All these topped with a battery life of 6 hours. This, I think, is more than what most would expect from a budget laptop of $300 like this.
Pros
Built-in webcam
Good speakers and display
Touchscreen facility
6 hours of battery life
Cons
There are some heating issues, especially when working for longer hours
Final Verdict
There are midrange budget laptops and then there's the HP touchscreen laptop. Rarely do windows laptops provide touchscreen capability at this price range. Most laptops which do offer this are Chromebooks which have their own specific usage. In this regard, the HP product comes as a refreshing change from the other windows devices in this segment. The bottom line being that the HP 15.6 inch touchscreen laptop has all the features you will need to get the day-to-day jobs done, nothing more, nothing less.
3. HP 15-af131dx P1A95UA 15.6″ Laptop
The HP P1A95UA is a dark horse when it comes to mid-budget laptops for $300. HP has a lot of offerings in the 15.6-inch segment and therefore, it could be difficult to settle down for the one that'll meet your specific requirements. The product under scanner is a basic laptop which has been designed to tackle the everyday tasks like office assignments, school/college projects, net browsing, and you got the drift. Given the fact that the product has been designed to be used for the same, it scores high on portability and design.
The HP P1A95UA goes a step ahead of its competitors in terms of performance. It is equipped with an AMD A6-5200 Accelerated Processor with a 4GB DDR3L SDRAM. The results are astounding to say the least. I did not notice much of a bloatware on the device as well. Unlike most other Intel-powered laptops in this segment, the laptop actually works well as a low-key gaming device. Games like Hitman: Silent Assassin work smoothly and you'll find no lags while playing. You don't even have to worry about the heating issue, thanks to the side air vents.
Like all the other 15.6-inch HP laptops, the display screen runs at a resolution of 1366×768 pixels. The integrated graphics card embedded in the device allows you to run HD videos and even play games with moderate graphics. The device has a 500 GB Hard drive to ensure that you never run out of space while downloading movies and games. Apart from this, the speakers are good and even though the placement of them does take out a lot of volume, the output is decent enough for the price.
Pros
Great performance for a budget laptop
Excellent wireless connectivity
Seamlessly runs low-key games
Great stereo speakers
Cons
The keyboard has no light, no Shift Key, Num Lock keys.
Final Verdict
The HP P1A95UA may feel cheap in your hands when you first hold it up. But, when you eventually get to use the device, you'll find that the laptop is one of the best products in terms of value for money. Considering the price, the laptop would be a perfect choice for students and working professionals who are on a tight budget for buying a laptop under $300. The lack of light and some important keys on the keyboard are two of the biggest downsides of the device but considering the fact that it has a host of other essential features, it sort of balances out.
4. HP Chromebook T4M32UT#ABA 14-Inch Laptop
HP has slowly been gaining a reputation for making durable Chromebooks at an affordable price. First off, the HP Chromebook T4M32UT#ABA is a gorgeous product to look at. The product has a beautiful streamlined structure. Though the chassis of the laptop is primarily made of plastic, the material does not feel cheap in your hands. In fact, the grip that you would get on the laptop is largely accentuated by the quality of the material used. The product is simple enough to be used at home and elegant enough to be carried to the office.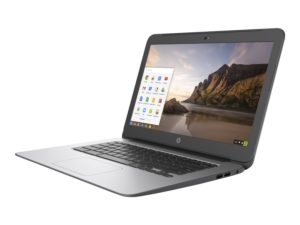 This HP Chromebook runs on an Intel Celeron Processor N2840 with a 4GB LPDDR3 Onboard SDRAM Memory. But there are two things that make it an exception among the notoriously slow Celeron-operated products. First is the heat dissipation system. Though it does not have a CPU fan, the device is constructed in such a fashion that the device does not heat up very much.
Secondly, the absence of a large hard drive greatly reduces the weight and makes the product lighter. Now, this machine has only 16 GB of hard disk space and you have an option of expanding the storage via a microSD card slot. Additionally, you can even you use an external hard drive to work your way about. If you do not want to go for storage card, you can opt for online cloud storage.
The 14-inch display of the device runs on a resolution of 1366×768 pixels. The screen has a layer of anti-glare coating which ensures better viewing angles. This means that you can easily work in artificial lit environments as well as under direct sunlight. The speakers are not the best you'd find in the segment as they produce mediocre sound at best. However, the HD webcam would certainly be a bonanza during video conferences.
Pros
HD quality webcam
LED Anti-glare display
Efficient heat dissipating system
Cons
Only 16 GB of internal storage space
Final Verdict
The USP of the HP Chromebook T4M32UT#ABA is primarily focused around portability and net surfing. It is for this very reason that most of the features of the device revolve around this. Thus, the laptop is lightweight and lacks a conventional hard drive and is extremely thin in terms of dimensions. While it does get the portability part right, there are some issues in terms of performance. With a 16 GB SSD at your disposal, you cannot do much with this laptop except browsing, email checking and video calling.
5. Lenovo Ideapad 15.6" High-Performance Premium HD Laptop
The Lenovo Ideapad might look like just another mid-segment laptop but it is one of the most versatile devices in this segment. In terms of design, there's nothing worth going gaga about. The laptop sports a conventional black color exterior body. You may find the design a tad too conventional, it will remind you of the first generation Lenovo laptops. However, there's more to the Ideapad than what meets the eye. The laptop has been designed to provide better grip facilities and is sleeker than other Lenovo laptops.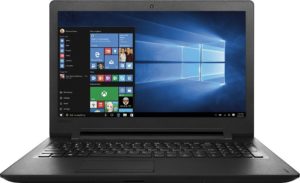 Once you get past the design, you'll see that the device is powered by an Intel Celeron N3060 Dual-Core processor with a 4 GB DDR3L. Performance is usually smooth and consistent. Unless you try to run large applications like Photoshop, the laptop usually doesn't lag. Game playing on the laptop, however, is a strict no-no. The 500 GB hard drive can store all your important files.
One of the best things about the laptop is the 15.6-inch display. The display incorporates an energy-efficient LED technology to conserve battery life. Considering the fact that almost 70 percent of battery loss comes from the screen resolution, the energy efficiency actually prolongs the battery life considerably. The Intel HD 400 graphics card ensures that HD movies run without a hitch. Another good thing the device has going for itself is the stereo speakers. While not as good as the Dell equivalent, the speakers pump out decent sound and music listening experience on the laptop is quite satisfactory.
Pros
Energy-efficient display
Optical drive
Good speakers
Cons
Only suitable for normal usage
Final Verdict
The laptop does get a lot of the basics right. It is easy to carry and therefore, perfect for home and office use. It has a wide set of connectivity options and so presentations won't be a problem. The immersive audio and visual experience makes it one of the best laptops to buy in under $300.
6. HP 15.6-inch HD High-Performance Laptop
HP produces some of the most competent budget laptops under $300. The HP high performance is an absolute beauty to look at. The smooth matt exterior of the device makes for an extremely comfortable grip. The laptop runs on an AMD Quad-Core Processor. While you would obviously find a few laptops in this segment which run on Intel processors, the HP laptop is in no way inferior in terms of performance.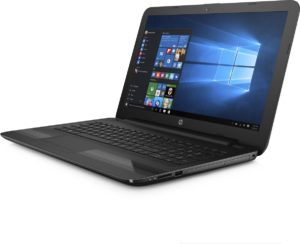 You can easily play light games or applications on the device. Another problem that budget laptops face is inconsistent video playback function. However, this is not something that you would face on the HP High Performance laptop, courtesy the AMD Radeon Graphics card. The biggest downside with the laptop is quite possibly the hinges. The hinges are not really smooth and you might have to exert some pressure to open it.
Working long hours on the device is an absolute breeze and if you are into tasks like typing articles, the keyboard is sure to impress you. The touchpad is average and while there is no multi-touch functionality, the response is pretty good. The piece de resistance of the laptop, however, has to be the battery life. The battery on the laptop provides enough juice to last for almost 6 hours.
This is certainly a notch above most other laptops in $300 price segment. The same can also be said about the speakers and the webcam. The DTS Studio speakers pump out clear audio and make for a great movie viewing experience. Passing mention must also be made of the webcam. While the quality of the front-facing camera is average at the best, still, under the right light conditions, it shows sharp pictures. That makes it good laptop choice for online college classes.
Pros
Bright display
Long battery life
4 GB RAM
No lag while playing high quality videos
Final Verdict
The best part of the product is the consistent performance. The features are more than what one would expect from a laptop priced under $300. It certainly deserves a recommendation if you wish to invest in a basic gaming laptop under $300. It just works fine if you are going about on your daily work. However, if you can shell out 100 bucks extra for better features than this, you should definitely check out list of recommended laptops under $400.
7. ASUS Chromebook C300SA
With the rise of smart classrooms and digital learning, Windows-based notebooks are increasingly getting replaced with the more system-efficient and network-oriented Chromebooks. Obviously, given the fact that Chromebooks have been designed to perform more than just work-related functions, it makes sense to invest in this. The Asus Chromebook C300SA is one of the best notebooks in this regard both in terms of design as well as performance.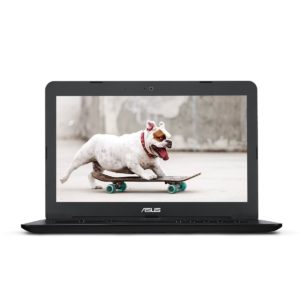 The device is certainly not for everyone. At the very start, it is important to understand that there are certain features that are going to turn you off if you are searching for a feature-packed laptop. For starters, the hard drive has only 16 GB of memory. As you can well realize, you would need to invest in an external hard drive. So, if you want a gaming laptop or one for entertainment purposes, this isn't the one for you. But yes, you can always get an external drive to solve this issue.
Instead, the Asus Chromebook C300SA offers you portability, online connectivity, and long battery life. True to a Chromebook, the product runs on an Intel Celeron N3060 processor pared with a 4 GB DDR3 memory. While this does hamper the speed of the device a bit, it greatly accentuates the battery life of the device. Performance, when limited to basic computing, is absolutely smooth and there won't be any problems. A lot of laptops which, when used for long hours online, get warm. The highlight of the device is that unlike those products, the Chromebook C300SA does not heat up easily.
Pros
Bright 13-inch display
Decent stereo speakers
Light and portable
10-hour long battery life
Cons
Keyboard is a bit cramped
Final Verdict
The Asus Chromebook C300SA is one of the most sorted products that you'll come across laptops under $300 segment. It understands that the things that a Chromebook needs the most are connectivity options and long battery life. There is literally no device that you cannot connect to the Chromebook. Smart TVs to projectors, everything can be connected one way or the other to this machine. The unmatched battery life of the product is the icing on the cake. You'll come across few other products that are so energy efficient so as to last 10 hours on a single charge.
8. HP Chromebook 14-ak060nr 14-Inch Laptop
There has been a constant and subsequent surge in the popularity of Chromebooks owing to the increased use of computers in the classroom. Once you set your eyes on the HP Chromebook 14-ak060nr, you would be tempted to switch from your Windows laptop to this gorgeous Chromebook.
The best part about the device is that it is one of the very few Chromebooks which has a screen size of 14-inch, making it highly portable. Now, this might not be the best part for those willing to get a bigger screen for watching movies.
The first thing that is bound to attract you to the laptop is the white plastic lid. The smooth finish is instantly reminiscent of piano keys and the matrix pattern is an absolute delight to look at. The build quality is pretty strong and by comparison, the keyboard is soft to touch. The laptop is powered Intel Celeron N2940 and a 4 GB DDR3L and while performance is fairly consistent, it's best not to play games on the device.
Another feature worth a mention is the long battery life. Once fully charged, you can use it for almost 8 hours at a stretch. It is hard to find a multitasker like this one in the budget laptop for $300. You can type a document, browse the web, and play your favorite music video- all at the same time without experiencing any lag.
Pros
Good quality speakers
Multitasking
Nice display
Final Verdict
There are two other things that must be pointed out in conclusion. If you are an avid lover of entertainment, battery life and audio, this laptop must feature high on your to-have list. While most other Chromebooks have a battery life of about 5 hours, the battery life of the Chromebook lasts for more than 8 hours, depending on the usage of course. The audio output of the device is decent and you will find that music playback is very loud and clear.
9. Dell i3552-3240BLK 15.6″ HD Laptop
This Dell laptop is actually a notebook, and as the name signifies, it specializes in easy portability. Thus, you can carry the laptop to your office and even on long tours and treks. The best part about the device is that in terms of performance, it is equally proficient in all the fields. Be it school work or office presentations or accouting work, the Dell i3552 has you covered. The laptop sports a black exterior which looks okay-ish, nothing spectacular. The smooth matt finish gives a dignified and yet non-serious look to the product.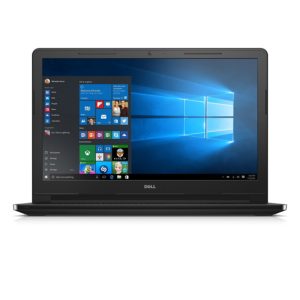 The screen size of the product is larger than most other notebooks. The 15.6-inch screen runs at a resolution of 1366×768 pixels. The display is good to look at and the viewing angles are great. The screen, in fact, can differentiate between different shades of black and grey and this is a treat especially while watching animated movies and films like 300.
The device operates on an Intel Pentium N3700 Quad Core Processor and has a RAM size of 4 GB. Performance on the laptop is usually lag-free if you limit your usage to typing documents, watching movies and surfing the internet. However, if you try opening up multiple tabs and playing games, you'd experience some slow-downs.
Apart from the decent speakers and the connectivity options, the Dell i3552 has a great battery life. If you use the internet, on a full charge, the battery will easily last for around 6 hours. Offline working would mean an added two hours. The laptop thus, can work for long hours on a single charge.
Pros
Great viewing angles
Multiple connectivity options
Long battery life
Cons
Processing speeds get slow after long hours of use
Final Verdict
The Dell i3552 is more of a notebook than a laptop. It is important to make this distinction because the performance of these two varies a lot. The Dell i3552 is a beautiful product. It packs in decent performance along with a great webcam at a price of under $300 that in one phrase, it can be termed as value for money. Given how the laptops under $300 market is being slowly saturated with a lot of products that do not deliver a high performance, it makes sense to invest in the Dell i3552.
10. HP 15.6″ HD WLED Backlit Display Laptop
The HP 15.6″ HD is not a laptop that can be categorized as a cheap laptop under $300 for the simple reason that there's more to the product than the regular features. For instance, unlike most other mid-budget laptops, this one can be used for light gaming purposes too.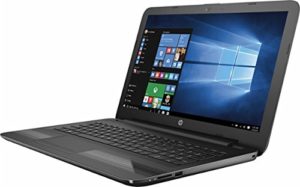 The laptop sports a smooth classic look with a semi-piano finish. The look is smart, suave and pleases the eye. In fact, the design itself is quite enough to make you root for the product. But that does not mean that it falters when it comes to performance.
The 15.6-inch display is average. The resolution is the usual 1366×768. However, if you have come across the Acer SP11, you'll find that the screen of the HP lacks the finesse of its Acer competitor. The screen, for all its brightness, has a lot of glare which makes it very difficult to work with it under sunlight. The product runs on a Quad-Core A6-7310 APU 2 GHz processor which works quite well when you play Netflix and watch movies. In fact, even Skyping for hours doesn't slow down the computer. The 4 GB RAM ensures that you are able to multitask without a hitch.
As a gaming device, the laptop has a lot going for itself. And it is here that the HP WLED leaves just about every other competitor way behind the race. For starters, the keyboard is spacious which is an added advantage for this purpose. The trackpad also is sensitive enough to be used for FPS games. However, you would find it hard to run high-end games as the device may not be able to handle it. Lastly, you can easily transfer data using USB 3.0, USB 2.0 and also via a card reader.
Pros
Bright display
Consistent performance even when gaming
Good quality keyboard and responsive touchpad
Final Verdict
The HP WLED is as perfect as a laptop can get without compromising on its price tag. Apart from basic performance, the laptop handles gaming with relative ease. Given the price at which you get it, it's a sure shot good deal guaranteed to provide you with the best laptop you can get for your budget of $300.
11. Newest Lenovo Premium Built High Performance 15.6 inch HD Laptop
Lenovo has a lot of laptops specifically designed for students. But what the latest offering aims at is to provide a premium experience to the students who are usually at the receiving end of budget laptops. It is to be noted that the laptop doesn't really double up as a gaming device. What you can do at best is to indulge in light game playing on this laptop. There are much better gaming laptops available at a decent price of $500, if you are looking for one.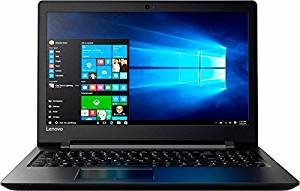 One of the highlights of the product has to be the exterior casing of the device. The smooth, sleek look coupled with the piano finish gives a stellar impression the first time you look at it. The laptop sadly comes in only one color: black. It is certainly disappointing that a machine with such finishing is available only one color.
The 15.6-inch screen provides beautiful picture quality and watching movies on the laptop is a treat for the eyes. But you really understand how great the screen is when you switch on the webcam. It provides quality picture and under apt lighting conditions, you'll end up wondering about the minimal amount of grain. The Lenovo laptop runs on an AMD Quad-Core A6-7310 Processor with a RAM of 4 GB and uses a Radeon R4 graphics co-processor.
There is also a variant which has a RAM of 8 GB. Now, when you see these specifications on paper, you'd obviously expect some kind of gaming capabilities on the device. The laptop does offer some gaming experiences but these are largely restricted to low-key games.
The audio on the device is the most exceptional feature in an otherwise average product. The speakers have deep bass levels and can play all types of music with perfection. Given the quality of sound produced, it is sure to keep both the movie watcher and the occasional gamer equally happy.
Pros
Smooth sleek exterior
4 GB RAM and 500 GB HDD
Stereo speakers
Cons
Only suitable for day-to-day applications
Final Verdict
As far as gaming laptops go, the Lenovo product does not really stand a chance. However, this one would be a decent laptop for the nursing students or working professionals who are on a shoestring budget. If you feel that both gaming and entertainment options feature high on your list of priorities, you can also look for laptops under $700.
12. HP 15.6-inch Premium HD Laptop PC
The HP 15.6-inch premium devises an AMD Quad-Core A6-7310 processor with a 4 GB DDR3 SDRAM. While Intel would have made for a faster processor, the AMD processor performs decently enough. You can work on multiple tabs without facing any lagging problems. You can even run heavy-duty applications like Photoshop without any problem.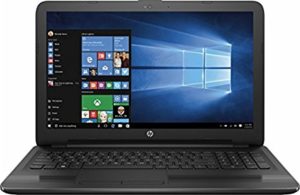 The laptop has a 15.6-inch BrightView backlit display which is one of the key features of this machine. Now, the USP of the screen is that the anti-glare features surpass any other screen that I have recently encountered. This means that you can use the screen under bright sunlight and see everything just as clearly.
The 500 GB hard drive ensures that you never run out of space while storing your movies and music. The laptop comes with DTS studio sound and dual speakers which is again better than what most budget laptops offer. The speakers pump out great audio with almost studio like sound. For easy connectivity, it comes with 1 SuperSpeed USB 3.0 and 2 Universal Serial Bus (USB) 2.0 along with an HDMI port.
Pros
Anti-glare property of the screen
Speakers
Multiple external ports
Final Verdict
The HP laptop is a great laptop under $300 for net browsing and general office related works. Granted that it has its fair share of problems and shortcomings but that is mostly due to cost-cutting. As long as you require a laptop for basic requirements, you will be satisfied with its overall performance.
Final Verdict on Laptops Under $300
As far as my understanding of computers go, I could say without a second thought that Acer Chromebook 14 is the best laptop you can invest in when you can spare only around $300. Granted, the internal memory of 32 GB is insufficient but you have the option to expand it with an external drive, don't you? And if having a decent amount of storage space is a big deal for you, the HP 15-af131dx P1A95UA 15.6″ Laptop could be your go-to option as well. That's all for today's segment. Hope you end up finding the perfect device you are looking for after reading reviews of laptops for under $300.