Everybody needs a laptop nowadays. And decent laptops don't really come cheap. Given the wide variety of laptops available under $500, it is very easy to get confused among which product to invest in. The secret to buying a great laptop for under $500 is to set your priorities right. No single laptop is going to offer you all the features in the desired quality and it is all a question of what you want to use the device for. Here is a list of best laptops under $500 you could try out. If you are not constrained by a fixed budget, you can also have a quick glance over laptops under $600. If you want to look at cheaper option, our guide to best laptops under $400 will help you in taking right decision.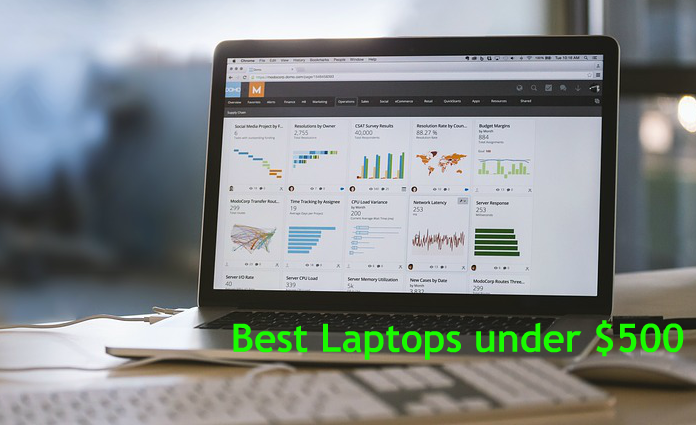 Reviews of Best Laptops under $500 2018
1. HP Pavilion 15.6″ HD SVA Brightview WLED-backlit Laptop
In a segment dominated by silver and black laptops, the HP Pavilion stands out for quite a few reasons. The primary among them being the exterior body color, a shade that HP labels as Manhattan gold. From the very first time that you set your eyes on the device, you would be impressed with the way it looks from a distance.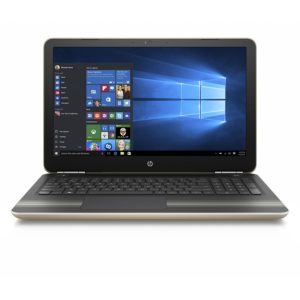 The screen resolution for the display is comparatively lower than most other of its competitors. However, this is not really a problem unless you are addicted to watching 4K videos. The device can play 1080p videos with relative ease. If you are watching a film like The Dark Knight on the laptop, you would find that the screen can distinguish between different shades of black and gray.
The laptop integrates an Intel i5-6200U 2.3GHz with an 8 GB DDR4 RAM which, frankly speaking, works wonders for the device. Performance is smooth and no matter what task you throw at it, the laptop does not lag. One could almost label this laptop as one of the top laptops under $500 to use both at the office and at home. For instance, the HD camera takes great pictures and video calling experiences on the device is wonderful. The dual array microphone ensures that your conference calls don't go unheard.
Two of the most elements to consider when it comes to the laptop are the keyboard and the touchpad. The keyboard on the device is one of the sturdiest you'll find in this segment of under $500 laptops. The keypad is integrated within the keyboard so that business entries can be made with relative ease. Even the touchpad is not compromised upon. It supports multi-touch gestures and is highly responsive to the touch.
You can also choose from a wide range of connectivity options including Ethernet and USB 3.0. Even the audio system on the laptop pumps out a very clean sound, better than you will hear on most budget laptops under $500.
Pros
Great exterior color
High-quality webcam
Excellent speakers.
Well-built keyboard and responsive touchpad
Cons
Screen resolution isn't up to the mark.
Final Verdict
Looking for a decent laptop which helps you around your daily tasks and is affordable? The HP Pavilion is surely a laptop you should look into. Apart from the unmatched performance, the laptop provides a good nine hours of battery life which is enough to take you through the day. The best thing about the laptop is that it looks great. If you were to choose between the HP Pavilion and another laptop with similar specifications, you'd obviously choose this, just for its looks.
2. ASUS P-Series P2540UA-AB51
The Asus P-Series P2540UA-AB51 laptop has been primarily designed for office and corporate uses. The specifications are thus tailored to suit the needs of the customer the product is targeted towards. The laptop runs on an Intel 7th Gen Core i5 7200 along with 8 GB of RAM. The specifications ensure that the product never compromises on performance.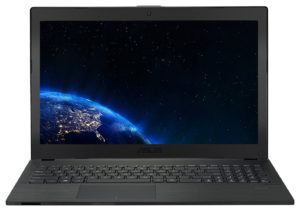 A common complaint among corporate users concerns the battery life of their laptops. Endless board meetings and PowerPoint presentations can drain the battery quickly. The Asus P2540UA-AB51 solves this problem by running on a battery that gives nine hours of charge when on full charge. If you use the battery saver option, you could probably get around 10 hours.
The display is one of the major highlights of the device. The 15.6-inch display sports a 1080p resolution which translates into crisp picture quality. Unlike many products which support a 1920×1080 resolution but fail to play full HD videos, this Asus laptop plays anything you throw at it effortlessly. There is also an extremely effective anti-glare coating on the screen which makes it easier to work under artificially lit corporate environments.
The only downside of the laptop is quite predictably the speakers. For a laptop that is built for office use, it is taken for granted that the audio quality will be ignored. There's nothing very wrong with the audio output. Just that when you compare it with the rest of the high-end specifications of the laptop, it seems a tad bit average.
Moving on, you'll also find a wide range of connectivity options ranging from USB 3.0 to HDMI outputs. Given how presentations and projectors are a part of office life, this is a highly valuable addition.
Pros
Long battery life
Anti-glare coating
Runs most applications seamlessly
Final Verdict
People always consider business laptops to be high-end products with a hefty price tag. But the Asus P2540UA-AB51 seeks to break that very stereotype and prove that even a mid-range laptop can give flagship products a run for their money. The laptop ticks just about all the right boxes and seeing as how it does not compromise on performance, this could very well be the best business laptop under $500. Yes, there's the average speaker, but one can always use a headphone, right?
3. Acer Swift 3
This is an ultraportable laptop with 14 inches screen size that makes it easy to carry to places. The laptop is handy when it comes to regular work and its slim frame gives it a premium look. The laptop has an aluminum body, and the metal adds more charm to the exterior.
If you have always wanted to buy a Mac owing to its classy look, this Acer laptop can bring you one step closer to your desire, albeit at a much lower cost. The glass panel on the front gives it a glossy look as well. However, the shiny glass sometimes causes hindrance in reflections.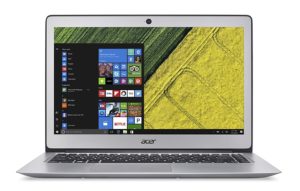 The keys have also been given an obtuse edge which adds to its pretty design. The full-sized keyboard gives you a spacious layout and hence, makes typing easier for you. Owing to a comparatively larger keypad than what it comes with most laptops at this price, the gliding becomes easier and more comfortable.
It gives you a fine display with no distortion of images. The color resolution is quite accurate and hence, you will not come across any problem while watching your movies. Neither will there be any imbalance of colors in the display.
Powered by 7th Gen, Intel Core i3-7100U Processor (2.4GHz, 3MB L3 Cache) , this laptop can deliver lag-free performance for hours when you are on the go. Be it office work, internet browsing, movie watching or photo editing, this laptop is a brilliant multitasker. It moreover comes with the latest 2×2 802.11ac MU-MIMO technology to boost the wireless performance manifold.
The laptop has two built-in stereo speakers that give a fuller sound experience for maximum usage while watching movies and listening to music. The HD webcam is also of dynamic range that gives an improved image quality. Along with all this, a prolonged battery life of 10 hours helps you the most when you have to carry the laptop at various places.
Pros
Long lasting and good looking
Quality display
The keypad makes typing fast and easy
Ultra-fast internet browsing
Final Verdict
This is a handy laptop when it comes to portability and functioning. The battery life is 10 hours. The display quality cannot be complained about at this price and the audio system is worth the price. The speakers have a good quality bass that provides a full sound experience without cracking. The headphone port is also in full function. Therefore, you can use it for both a large audience and individual purpose. 4 GB RAM along with 128 GB SSD works perfectly on a daily basis for tasks like video editing, Netflixing, web surfing and more.
4. HP 17.3″ Laptop
If you are looking for a product to replace your home desktop, you should seriously consider investing in HP 17.3-inch laptop. As you can well realize from the screen size, this is not a device that scores high on portability. Now, when you consider the HP laptop, think of it as a desktop you can carry about your house. But the real question is- does it have the performance capability to outdo the desktop?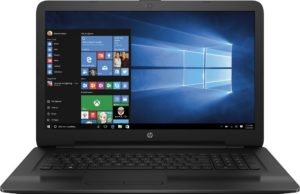 For starters, the laptop runs on an Intel Core i5-7200U processor and has an 8 GB RAM. The outer body is made of plastic but it does not feel cheap in your hand when you lift it up. In terms of performance, the laptop can get through most everyday applications easily. Even games (to a certain extent) can be played with any sort of lags or frame drops.
The 17.3-inch screen which is by far the USP of the laptop supports a resolution of 1600×900. This is certainly better than most other laptops you'd find out there. Pictures on the screen are vibrant and the details are commendable. Overall, the display is one of the stronger reasons why you should think of investing in this laptop under $500.
Now, when you consider this laptop as a replacement to your desktop, audio quality plays a big role. The speakers on the laptop are some of the best I have heard in the laptops under $500 segment. Yes, it is located at the bottom of the laptop which does tend to muffle the sound but if you are playing music indoors, this certainly won't be a problem.
Pros
Good viewing angles
Long battery life
Great audio quality
Cons
Speaker placement is faulty
Final Verdict
If you are looking specifically for a gaming laptop then this might not be the best choice for you. The larger keyboard and the trackpad size do make gaming easier, but the device cannot run heavy games. And to top it, gaming produces a lot of heat and the device turns hot after a while. It would, therefore, be better to search for something else if its gaming you are after. Check out our article on the best gaming laptops under $500 for a better insight. However, if you are thinking of investing in a laptop with a big screen and great display quality at an extremely affordable price, this is one of the best deals you'll get.
5. Dell i5568-0463GRY 15.6″ FHD 2-in-1 Laptop
It is not easy to blend power and style at the same time into a laptop. But Dell has achieved this seemingly impossible task with the Dell i5568-0463GRY.
Now, to be fair the device is not a traditional laptop but a 2-in-1 variant.
The product is an absolute beauty. Not that it matters but the laptop is sure to turn heads wherever you take it. The device operates on an Intel Core i3-6100U Processor and a 4 GB RAM. Performance on the laptop seemed fairly consistent and it could run almost any applications. You could even try using it as a gaming laptop as long as you are not into heavy gaming. Since the laptop doesn't dissipate heat easily, it is advisable to not heat up the laptop too much by playing games.
A pleasant surprise, however, is that despite its sleek look, the laptop includes in SSD storage of 500 GB. This ensures you never run out of space and can store movies, music, and games. However, the device fails to include in an optical drive. The loss of an optical drive is not that great a loss especially when you consider the USB ports and the simple fact that CDs are just not in vogue anymore.
The display of any laptop for that matter is extremely important but that is what sets the tone for the device. The 15.6-inch display seeks to do just that. It is an absolute beauty. The display is bright and the viewing angles are great. You can easily sit with your friends and watch a movie and not a single one of them will complain of a bad display.
The 1920x1080p resolution of the screen allows you to play HD videos and games alike. But, where the Dell i5568-0463GRY really surpasses all expectation is with the touchscreen. The response timing is excellent and playing games which involves the touchscreen is a breezy affair.
Pros
Responsive touchscreen
Good quality speakers
Consistent performance
Final Verdict
The Dell i5568-0463GRY 2-in-1 laptop undoubtedly offers a list of striking features. However, there are certain shortcomings like the plastic body and the absence of a USB-C port or a standard IR facial login feature which is one of the most interesting features of its brother series, the Dell Inspiron 7000 2-in-1 laptops. The product, however, provides some of the most stellar features and display in sub $500 laptops.
6. ASUS VivoBook E403SA-US21 14-inch Full HD Laptop
When you look at this laptop, the first thing that strikes you is its design. The thin, brushed aluminum lid gives it a stylish and premium look. Along with that, the plastic material keyboard also adds to its expensive look at such a low price. The keyboard provides a smooth and comfortable typing experience.
The key layout is a bit different from the other laptops. However, once you get used to it, the touchpad enhances the smooth typing experience. The touchpad is accurately sensitive to register three-finger multi-touch gesture on Windows.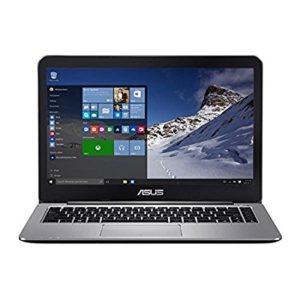 The screen may not give you the best display but you will not regret watching your favorite action movies on this laptop. Your Ironman and X Men movies, with their specific color focalizations, are pretty much a delight to watch on it. A 14 inch HD screen with 1080p resolution gives it an increased 30% visibility.
You can easily open two windows simultaneously and continue working on one and watch movies on another. This makes multitasking easier for you. You can easily split the screen into two and work on them simultaneously, without facing any delay in synchronization or any lagging, thanks to the 4 GB RAM.
To talk about the audio system, it is good for playing music in a medium-sized room. If you think it is a little low, then you can increase the bass level by switching to the movie mode and get quality audio output. In that way, the audio will sound crisp without cracking. It has an Intel HD Graphics which works absolutely fine for casual gaming.
Pros
Long lasting battery backup
Looks good
Lag-free performance
Cons
Not suitable for playing graphic-rich games
Final Verdict
When you look for a budget laptop for $500 these days, the first three things that are on top of your mind are battery backup, good display, and portability. Asus VivoBook guarantees all three features at a very low price. Along with that, it has a gorgeous exterior that you can flaunt around. Besides, with a 128 GB eMMC, you can easily store large files including movies and videos of your choice and play them whenever and wherever you want. This is also possible because the laptop is lightweight and handy as it is promised.
7. Dell i5567-0927PRP 15.6″ Laptop
The Dell i5567-0927PRP comes in a bright shade of purple. The bright exterior color may be just too bright for the corporate segment and therefore, has limited prospects in that particular sector. However, if you are looking for a laptop with an exuberant exterior that literally turns heads, this is the best option for you.
The laptop runs on an Intel i3-7100U processor along with an 8 GB RAM. The RAM space is expandable up to 16 GB. So, if you wish to use the device as a gaming laptop for $500, you can obviously upgrade the RAM to power up the device.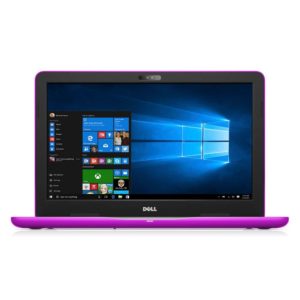 A common worry with mid-range laptop is that of longevity and durability. But with the Dell i5567-0927PRP, this wouldn't particularly cross your mind. The build of the laptop is strong although it might feel a little difficult to carry around. The 1 TB hard drive ensures that you never fall short of space when downloading games, applications, and movies.
Special mention obviously be made of the keyboard and trackpad, The keyboard is sturdily built and there is just the optimum amount of space between keys to ensure that typing for long hours is not a tiring exercise. The trackpad is very responsive and especially works wonders when working on Photoshop.
The best part about the laptop has got to be heat management system. Since the product can ideally be transformed into a gaming laptop, it does have an efficient heat dissipation system which ensures that long hours on the laptop do not heat it up.
Pros
High-resolution display
Responsive touchscreen
Great Viewing angles
Can be used for playing low-key games as well.
Cons
Speakers produce average sound
Final Verdict
The Dell i5567-0927PRP is equipped with a standard screen size and provides decent performance while being very pocket-friendly. There may be many options available in the market for $500 laptops that provides better functions and features. But the greatness of this particular Dell model lies in the fact that it can be easily customized to suit your needs and alternatively also be used as a basic laptop for your everyday needs. A passing advice though, if you are going to use it as a gaming laptop, it is better to equip the device with a better graphics card, as the inbuilt one just won't suit your heavy gaming needs.
8. Asus F555LA-AB31 15.6-Inch Laptop
This laptop comes with an attractive design and a sharp display. Paired with powerful speakers, the 1080p display utilizes the full screen and renders a bright output. The best feature about the design is the lid of the laptop. It has a shiny metal layer which gives it a classy look. Along with that, when the light hits the logo, it generates concentric circles. At this point, you will be dazzled by its radiant look.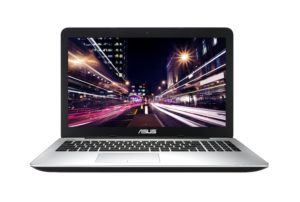 If you work a lot on Excel, then you will be happy to know that this laptop has a full sized keyboard with a number pad. Hence, working on this laptop should be more convenient for you. The display does have a few problems, but that is not something you should be worried about.
The screen, while being bright, does not really put out color very well. But watching your favorite movies, which may have a major portion of loud colors, is not a problem. The colors won't appear too dark or too bright.
The Audiowizard Program and Realtek HD manager give the laptop a premium sound experience that is quite unexpected for a laptop under $500. The bass, highs, and mids could be distinctly understood and there is no cracking of the loud sound. Such an audio system is perfect for a larger group of friends during activities like watching movies and also grooving to the music.
Pros
A stylish look
Good display and sound
Well-designed keypad
Cons
Might lag a bit after prolonged hours of web surfing
Final Verdict
This Asus laptop could be seen as a package deal if looked at the sub $500 price and the many features it provides. Besides, the battery backup of the laptop is pretty commendable. It gives you a full run for 5 hours with constant web surfing and working on many programs. It does not even heat up after prolonged use. The webcam also works fine which will not impede your Skyping experience. Coupled with the audio system, and Intel graphics, you can also go for mild gaming on the laptop.
9. HP Flagship Model 17.3″ HD+ WLED-Backlit Laptop
The laptop uses 5th Generation Intel Dual Core i3-5005U Processor (2.0 GHz, 3MB L3 Cache) for an enhanced performance. It increases its efficiency so that you can work for prolonged hours. Multitasking also becomes easier where you can open numerous programs at the same time. The HD screen gives you an enjoyable experience of viewing your pictures, videos, and web pages. They can be zoomed in and viewed for detailed observation. When it comes to the question of durability, this laptop sets the bar high.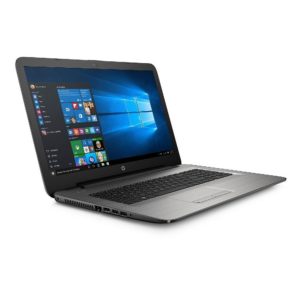 It has a 6 GB RAM which lets you multitask on this device, and even play graphic-intensive games for long hours. The 1 TB storage capacity is quite an ample one as you can store as many videos, movies and pictures as you want. You do not have to invest separately in buying a hard disk because your laptop already comes with one of its own unlike most Chromebooks. You can download and store your favourite movies and TV series and can watch them anytime you want.
It has an HD webcam and a digital microphone that gives you the best combination for video calling. It also has a DVD burner that has multipurpose uses and an optical drive too. This gives this laptop an additional edge over other similar sized laptops which may not always have this feature. Moreover, you should not be concerned about the battery backup of this laptop. 7 hours is by any comparison a long battery life especially if you are constantly using the internet and watching movies.
Pros
Good display
Ample storage space
ong battery life
Cons
Not as handy as a notebook to carry places.
Final Verdict
A good battery backup, a speedy RAM, and a large storage space make this laptop an attractive deal for $500 laptop. Along with all that, a DTS audio system completes the package. It gives a clear studio type ambient sound that renders clear sound and dialogues. The keyboard is a full sized one with a separate number pad. It makes typing easier and faster as it gives you enough space to move your fingers freely and accurately. The battery time is quite commendable with 7 hours if you are constantly net surfing, watching movies or doing some basic stuff.
10. ASUS X555DA-WS11 15.6-inch Laptop
This 15.6-inch laptop comes with a tactile finish that gives it a premium look. When it comes to the look of the laptop, it is unique because of its matte lid. This X series of the Asus laptops are known for their designer look that gives it a distinctive and stylized look.
This series uses SonicMaster audio system that enhances its sound quality that is particularly designed for activities like watching movies, listening to music and playing video games. Watching your favorite action movies or musicals with your friends will not be a problem anymore. The audio system generates a full, round sound experience.
An 8 GB RAM speeds up your work and you can open multiple programs and work on them simultaneously without facing any slowdowns. 1 TB hard drive allows enough space for storing all your important data. All such features add to the high quality of the device that maximizes your work efficiency on a regular basis.
Not only that, this laptop will never let you down during your presentations because of the USB and other ports, along with the audio system rendering a good combination in terms of connectivity options.
To talk about the keypad, it gives a comfortable and fast typing experience. The keys are not located far away from each other but with only a minimal space gap. The keypad has a multi-touch functionality that helps you to work on Windows 10.
Pros
Stylized look with a premium design
Nice display and audio system
Design of the keypad
Final Verdict
When you come to think of it, this is one of the best laptop you can get for under $500. Not only is the display praiseworthy but the audio system is commendable too. This gives an outstanding combination when it comes to working on the laptop. Besides that, the laptop also gives 7 hours battery backup when you use it constantly for net surfing and watching movies. It does not lag or slow down even after a prolonged use. Moreover, laptop's design acts as an icing on the cake.
11. HP 15.6″ Premium High-Performance Touchscreen Laptop
The HP laptop is all about subtlety of the highest order. Take for instance the outer finish. The laptop sports a matte black finish that is soft to touch but firm and durable. The soft touch has its obvious downsides as it attracts a lot of fingerprints and thus, needs to be cleaned regularly.
The first thing that impresses the moment you get your hands on the device is the trackpad. The trackpad is made of the same material as the rest of the exterior body and is ever so responsive. Elegance is a word that can rarely be attributed to a trackpad and yet this device manages to do the impossible. The device is also equipped with a top-notch keyboard that is bound to impress. The keys have a slightly rough texture that makes it easier to type and work on Word-based applications for longer hours.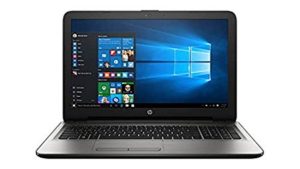 What otherwise should have become the centerpiece of the laptop does seem to slightly disappoint. The device sports a 15.6-inch touchscreen with a resolution of 1366×768. The results are, however, not very encouraging. The color output is average at best and there are better viewing angles on cheaper products like the Acer E-15. The touchscreen facility does try to make up for the poor screen output and just manages to pull it off somehow. The touch, while not extraordinary, is responsive and gets the job done.
On the performance front, the product runs on an 6th generation Intel Dual-Core i3-6100U 2.3GHz Processor (3MB L2 Cache) and an 8 GB RAM which provide a consistent output in terms of performance. The product does come with a lot of pre-loaded bloatware and a great deal of your time would be spent in removing them from the device. That aside, the HP 15.6″ Premium Laptop is a decent laptop under $500 price range.
Pros
Excellent build quality
Good quality speakers
Responsive touchscreen
Final Verdict
Considering the product and the price tag it comes at, it is easy to raise doubts about the product at hand. However, to reiterate the obvious fact, the HP laptop is good laptop for budget of $500. It puts in the best of what HP can offer at an extremely affordable price. Very few laptops under $500 combine style, power, sleek look and specs like this HP product does.
12. HP 455 G3 15.6″ HD ProBook Flagship High-Performance Laptop PC
The outer build of the laptop is firm and there are no chinks or loose parts. The finishing is top class and the brushed aluminum pattern on the keyboard base is a show stealer. This gives the keyboard greater flexibility and ensures that it can endure rough usage. The area around the keyboard is built extremely durable to endure any sort of wrist pressure that might be put on it.
However, all these durability and finishing come at a cost. The weight of the laptop makes carrying it about a painful ordeal.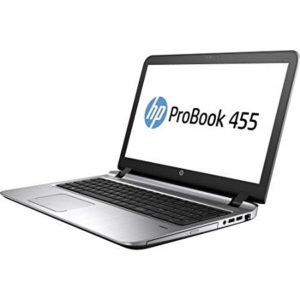 The device runs on an AMD A10 6th Gen A10-8700P with 16 GB RAM. Performance levels are decent and most applications run on the laptop without a hitch. Lags are rare and though the device is not exactly customized for gaming, you can try running light games on it. There are also some neat features like spill-proof keyboard along with backlighting facility. It integrates a 720 P HD webcam as well for a delightful video calling experience.
The biggest disappointment is perhaps the display. For a laptop that is so focused on providing a premium experience, it sure does not provide a good display. The viewing angles are average and the display contrast is quite low. Therefore, when working outdoors you won't be able to see the screen even with high brightness.
Pros
Decent build quality
Stylish design
Good battery life
Final Verdict
The HP 455 G3 provides a lot of advantages over many conventional laptop at the same price band of $500. It seeks to offer a premium experience and the battery life, which is the soul of any laptop, gets the job done. Granted that the laptop has some flaws, but considering the build quality and the performance of the device, this is a stellar product to invest in. Apart from the top-notch hardware and build, HP offers a few ingenious software to help make surfing easier. If that isn't a good deal, I don't know what is.
Conclusion about The Best Laptops under $500
Out of all the products that have made the cut in the best laptops under $500, I would have to pronounce the HP Pavilion15.6″ HD SVA Brightview WLED-backlit Laptop as the most versatile laptop under $500. It is packed with almost all the important elements of a premium laptop to deliver a great all-round performance. On the other hand, if you are aiming for a highly portable laptop that provides an unmatched net surfing experience along with a long battery backup, the Acer Swift 3 could be your best bet. Make it a point to compare and contrast the features of multiple laptops side by side before jumping to a conclusion to buy best laptop under $500 2018.