Cameras have now become way smaller and faster than they were ever. Various types of cameras too have come into existence. One of these is gimbal. Gimbal is a small handheld camera pivoted on an axis where it can rotate 360° to capture picture. They can click pictures at angles that aren't possible by hand and produce stunning images. There are a lot of gimbals already available for buying and new ones keep coming out. One of these is the new Vmate.
Created by Snoppa Technology, Vmate is a palm sized gimbal with an ability to record at 4K resolution. It can record 4K video at 60 fps. Vmate has a 12 MP camera that is responsible for that. But that's not all it can do. Vmate can also record a super slow motion video at 1080p × 240 fps which is 8x slower than normal. Vmate has a 1/2.3 inch image sensor. The lens has an aperture of F2.0. The lens can be rotated at 90° to switch through portrait mode and landscape mode. Vmate also has a wide angle lend with an 81° field of view. It also has a fast and sharp auto-focus. A smart tracking feature is available as well.
Vmate has a POV mode where the gimbal records all the footage from a first person view. With Vmate you can also capture panorama shots. You also get to use various lapse shots like time lapse, motion lapse and hyper-lapse. For night shots, you can take long exposure shots.
One major selling point of Vmate is its stabilization. Vmate has a micro 3-axis stabilizing system that provides a very strong image stabilization. Vmate has three separate motors that are responsible for this ; pan motor, tilt motor and roll motor.
Vmate has a built-in WiFi module with which you can connect it to your smartphone over WiFi. It allows you to take benefit of the Snoppa app. From the app you can preview and edit whatever footage you are recording through Vmate. App also has option to select video modes like panorama and lapses. Over the WiFi connection you can also transfer photos and videos from Vmate to smartphone with fast speeds. The transfer can also be done through a USB Type C cable. A Type C cable can also charge Vmate through its Type C port.
Vmate has a 1.22″ touchscreen of its own which has a brightness level of up to 850 nits. Through this screen you can frame your shot or configure settings with a touch of the finger.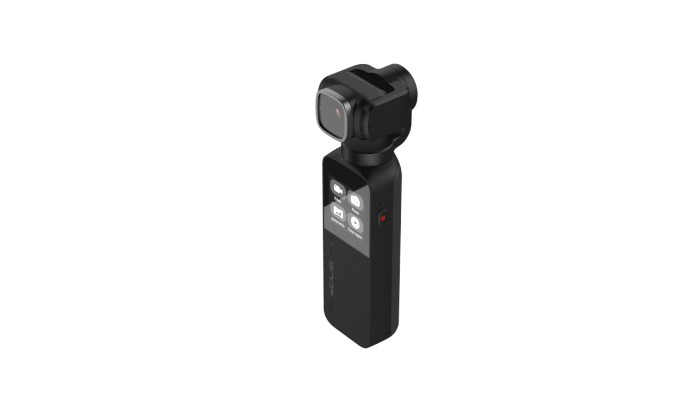 Vmate's case can also act as a phone holder. After fitting in your phone in the case you can record your activities on Vmate and your reaction on your mobile simultaneously. Vmate also has a built-in microphone of its own which has two modes ; noise reduction and stereo. You can also connect an external wireless mic over Bluetooth. This whole setup is Vmate's Broadcaster mode.
Vmate has a very small size of dimensions 122 x 37.3 x 32.6 mm. It weighs just 118 grams which is really lightweight. It is easy to carry along in a handbag, pocket or even in hand as it weighs just 118 grams. This portability combined with the versatility of Vmate makes it one of the better gimbals out there. The 3 axis stabilization is something to look forward to for sure.
Source – Indiegogo