We live in a world where we have to travel big distances more or less often. There are more modes of transport than ever and vehicles have become available for more households than ever too. It has made people's day to day lives convenient. While it surely has made our lives easier it has also taken a toll on the environment. As every household has one or even more than one vehicles now, it has increased the level of pollution more than ever. Smoke coming out of the vehicles and the horn sounds are two big causes of air pollution and noise pollution. It is also depleting limited stocks of fossil fuels at faster pace. There are many alternative eco-friendly modes of transport that are trying to solve pollution problem. Many e-scooter have been in existence now. One of them is the latest Ninebot MAX developed by Segway Ninebot.
Ninebot MAX is an electric scooter and it promises to provide the longest range of any e-scooter in the market. Once charged, it can go through 40.4 miles without any stopping. It is easy to charge it up too. There is an in-built ac adapter and it even supports fast charging. It will take you upto 6 hours for a full charge. As it has a built-in charger you don't need to keep carrying around a brick. You only need a charging cable. It can go up to highest speed of 25 to 30 km/h.
Scooter comes with double brake system with one drum brake in the front and one electric brake in the rear.
Ninebot MAX also has an integrated bell that is loud and easily audible to anyone in your way and prevents any accidents. Ninebot MAX supports an upgraded folding mechanism that takes away the headache of wasting time on setting it up.
The e-scooter comes with 10 inch thick pneumatic tires. The tires have shockers and make it for a shock-free ride on any surface. You get an easy ride in different terrains. It also provides a better angle for uphill surfaces and a great comfortable ride on any surface with upto a 15% grade.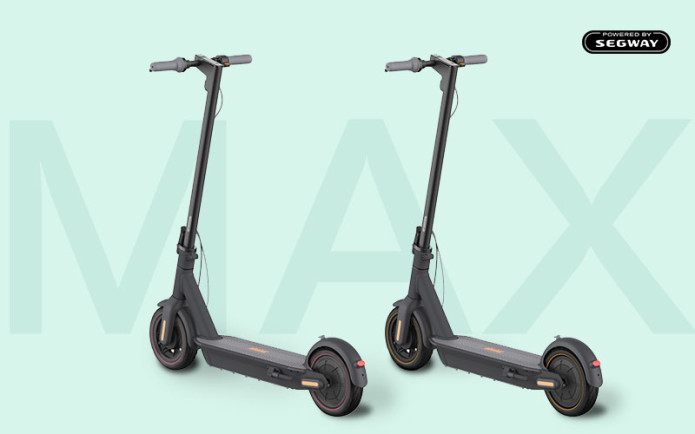 In the middle of the handles there is an LED dashboard. You can download Ninebot app on your smartphone and connect to your  scooter. The app allows you to check battery, track miles, change riding modes and turn on other features such as cruise control.
As it has a bigger battery, it makes the scooter slightly heavier. It makes it harder for you to carry on your shoulder but provides for more balance and stability while riding.
It can withstand a weight of 100 kg maximum.
With all being said, Ninebot MAX really is the electric scooter with the longest range. It charges fastest and it lasts longest. If you have to frequently travel distances like 30 to 40 kms, Ninebot MAX might be the best choice in the market. More convenience, less pollution.
Source – https://www.indiegogo.com/projects/ninebot-max-ultimate-electric-scooter-by-segway#/