Technology has provided more means of entertainment than ever. With time, multimedia has become easily accessible right when you want. All type of content is available right in the palm of your hand on your smartphone. Virtual Reality and Augmented Reality is getting more and more mainstream. VR connects you to an artificial world while AR adds those features into the real world environment. There are various VR headsets and AR glasses that make it possible. One of these is DreamGlass Air.
DreamGlass is a lightweight AR headset that you can connect to any multimedia device which includes smartphones, gaming consoles and PC. Hence you can use DreamGlass Air like a personal cinema. You do it thanks to the multiple 100″ screens you can project through DreamGlass. The resolution of the screen is a good 2.5k with 660 ppi that really enhances the viewing experience. DreamGlass also provides a 90° field of view. All of it combined results in a big, high quality screen to watch your content on.
As you can divide the 100 inches (2.54 meters) into multiple screens it improves multitasking. You can blast music on one, read news on another while cleaning the house. Speaking of music, DreamGlass also produces a clear stereo sound.
The content you project is completely private and can not be seen by someone else from any angle. However devices like this often raise a concern about safety during use in public. As you can not see anything you put yourself at a risk of getting hurt. That's not the case with DreamGlass thankfully. You don't get isolated from your surroundings while using it. You can see and use your phone's touchscreen to control, and have awareness of the surroundings. If you get a call while using DreamGlass you will see it without a risk of missing an important call.
One of the issue with smart glasses is that you can not use your prescription glasses. Therefore, you can not see the picture clearly. DreamGlass, however, is eye glass friendly and using it doesn't result in any such discomfort.
DreamGlass is compatible with a huge variety of devices. You can use it through a smartphone or tablet having either Android or iOS. You can connect any gaming console like PS4 or XBox One or a desktop or laptop. It can also play locally saved media on usb drive. It is also compatible in advance with 5G.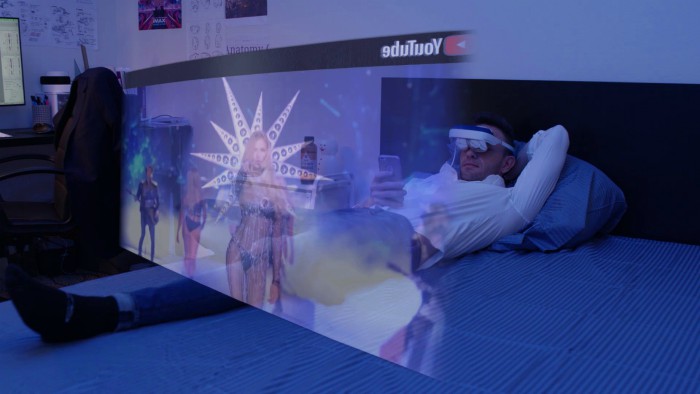 You do need a battery for being able to do this obviously, that to a battery that lets you actually use it for a good while. DreamGlass has a built-in battery that lasts up to 5 hours of continuous use. You can watch 2-3 movies on a single charge which is enough considering the small size and weight of DreamGlass. You can also charge your smartphone using DreamGlass which can come handy in emergencies. It weighs just 150 grams which would not feel heavy on the head at all.
Augmented Reality is an amazing concept and DreamGlass is one of the few devices which make it accessible to more people. It is light, it is small and produces a great picture that also lets you multitask. For anyone looking for an AR device, DreamGlass is worth a try.
Source – Kickstarter