Gaming has always been a big part of technology. Be it on consoles or on personal computers, gaming platforms and accessories have always been a part of technological development. From processors to controllers, something new keeps coming out. Gaming has slowly been turning into a profession courtesy of online live-streaming websites like Youtube & Twitch and multiple gaming events that take place on a huge scale. So, gaming has evolved from being just a hobby to a professional level. For working like a pro, you do need a setup like a pro. From a beast GPU to a big gaming desk. Everything needs to be up to mark. One important part of a setup is the gaming desk. It plays a big role in your performance as it controls how comfortable you are.
Taking that into consideration, unEvn Sports has released unEvn One : World's First-Ever Fully Portable Gaming Desk! The idea itself solves a major problem of having to carry your setup from one place to another. You can easily move your keyboards and controllers but it is one tough job carrying a whole desk without any help. But now you can just fold your gaming desk in a minute, put it in a bag and set it up again in a minute wherever you want. This will come handy when you want to visit your friends that live far away from you and want to play games with them. Just fold, pack and unfold.
It will serve for aesthetic purposes as well because the all black color with white boundaries gives it a premium look. The aluminum body makes it strong enough to stay intact under heavy weight or even rage quit attacks. It's rectangular in shape and curved in the middle front where it folds in half. There are two mechanical legs below which also provide electric height adjustment. You can change the height of the desk according to your comfort easily and smoothly.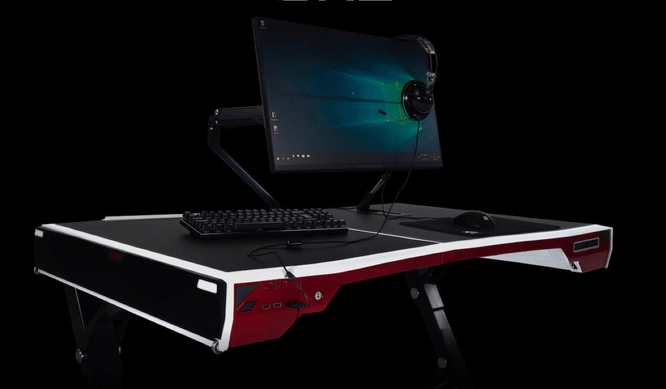 The desk has an integrated monitor mount where you can easily install your gaming monitor. The monitor mount arm is flexible and you can adjust it according to your comfort.
There is a drawer as well where you can put your accessories like gaming keyboard or gaming mouse. There is an integrated mouse bungee present as well to hold your mouse cable in a place. It keeps your mouse cable from getting tangled and makes the mouse movement easy. A digital display is integrated that has a memory function of its own.
In front there are input and output panels along with a USB port and an AUX cable port. The power cord powers everything that you need too.
All of these features make unEvn ONE a true all-in-one portable gaming desk.
unEvn ONE is the perfect traveling gadget when you are going to play games with your friends or going to larger scale LAN gaming parties. The gaming desk folds into half and turns into a suitcase which is pretty easy to carry.
So for a pro gamer or eSports enthusiasts, it is the perfect all-in-on option for a gaming desktop.
unEvn ONE vs Benq Zone vs Evodesk vs DXRacer Gaming Desk
Source – https://www.kickstarter.com/projects/1417266046/unevn-one-the-ultimate-gaming-desk-for-competitive