With the boom in technology, action cameras are getting smarter, smaller and more affordable. As far as image quality and tech-part are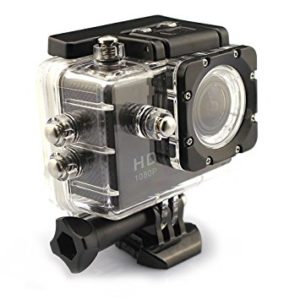 concerned, they're a worthy alternative to regular camcorders.
The top rated action cameras can capture the tiniest bit of details no matter where and how you use it. They can survive the most gruesome conditions (even under water) and capture larger than life moments without any shakiness or noise.
You know what it does but you don't know how to choose a action camera that does it the best, do you?
Well, after relentlessly researching, reviewing and testing for days, I have managed to narrow down the list of best action cameras to 4 products.
Best Action Cameras 2018
GoPro – HERO5 Black 4K Ultra HD Waterproof Camera
GoPro is perhaps the most talked-about and sought-after action cameras of the current decade. It is an upgraded version of the HERO4 series which suffered from the lack of a touchscreen. The HERO5 not only corrects it with a 2″ touchscreen but also packs a whole bunch of new and exciting features in it. This mini-marvel is more than just a camera. According to the manufacturer, HERO5 is the most powerful camera they have made so far. It shoots video at 4K resolution. Moreover, it also lets you perform the basic editing and share videos with your folks instantly.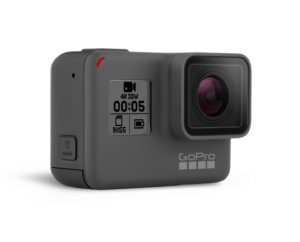 Upon taking the product in my hand, the first thing that caught my attention is the poly-carbonate housing along with the streamlined interface. The casing is waterproof up to 33 ft. Being an adventure sports enthusiast myself, I know the value of such a heavy-duty construction. I was delighted to find out the voice-control operation it offers. Hands-free operation is a big advantage while performing stunts or doing something stupendous like bungee jumping.
Coming to the main highlight of this small action camera, the video and image quality are stunning for an action camera. It lets you capture videos up to 4K resolution at 30 fps and also 1080p at 120 fps. Thanks to the image stabilization, I don't have to worry about my jiggly arms anymore. In addition to that, the audio quality is also commendable for a tiny camera like this. I've tried multi-directional recording, and the result came out really well.
It also allows capturing photos in RAW format which comes handy during the post-processing of the images. They have also added a linear-view setting that corrects the distortion in wide-angle images. To start shooting, all you need to do is to press the shooting button on the side which also works as the power button.
Pros
Amazing video, audio and steel image quality with added stabilization.
Voice-control facilitating hands-free operation.
Portable and easily mountable on helmets, surfboats, etc.
Waterproof up to 33 ft.
Built-in touchscreen.
Cons
Poor battery life.
During low-light shooting, there are grains in the image.
Final Verdict
GoPro HERO5 Black is one of the most hi-tech action cameras made so far without a doubt. It has the convenience of use, excellent image quality and features. All these feature let you film extreme moments with great details. I love the image stabilization feature as I am not very good with handheld shooting. Yes, it is not a pocket-friendly option per se. But if you're okay with spending generously for a top-notch action camera, you can give this one a try.
Garmin VIRB Ultra 30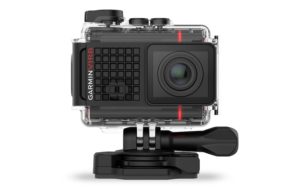 For the tech-savvy, adventure-thrilling souls out there, the Garmin VIRB is a perfect combination of superior technology and easy handling. The appearance of the action camera kind of reminded me of GoPro Hero4. Like all Garmin cameras, it also boasts of the G-metrix features. It comes in a waterproof casing and can survive up to a depth of 40 meters. It also has a double-locking mechanism for an added layer of security. The kitchen-sink style camera can be removed from the casing if required.
But the major highlight of this action camera has to be its mic port. This unique pass-through port makes for an absolutely brilliant audio quality. At least good enough for an action camera with a waterproof casing. Moreover, it features a touchscreen at the back also which allows you to use the touchscreen even with the case on.
Another principle advantage is the hands-free operation. Simple commands like "OK Garmin", "start recording", "stop recording" will help you devote your entire focus to your activity. Of course, the feature doesn't work as smoothly as it sounds but yes, it comes handy especially when you're riding a bike or sports car. You don't have to take your hands off the handlebars or steering wheel.
Another reason why it is one of the most feature-loaded sports action cameras of the decade is the inclusion of a gyroscope, a barometer, and an accelerometer. True that these features won't be used by everyone. However, if you're really serious about what you're doing, it's nice to have the accurate data jump height, distance, rotations in the air displayed on the touchscreen. Apart from these in-built sensors, VIRB Ultra 30 also offers Wi-Fi, Bluetooth, and ANT+ connectivity. This means you can instantly connect external sensors like heart rate monitor, OBD2 port to your camera.
Cut to the video and picture quality and specifications, it has a 12-megapixel camera with lets you shoot 30 frames/second. Moreover, there are higher speed shooting options as well at the cost lesser resolutions. The image color and sharpness are quite at par with GoPro. It offers an "Expansive mode" which basically lets you compress 4:3 images into 16:9 for wide angle shots.
I would give double thumbs-up to the shooting modes like snowboarding, surfing, mountain biking modes. These help you get great images without much toiling. If you add the G-metrix overlay while capturing videos at 4k resolution, the data rate will be compressed to 35 mb/sec from 60 mb/sec. This one thing is a minor disappointment to me. The 3-axis electronic image stabilization system is an obvious perk, but unfortunately, it doesn't work while filming at 4k.
Pros
Commendable audio quality even with the waterproof casing on.
A wide range of shooting modes and high-speed shooting options.
Solid casing.
Multiple connectivity options.
Cons
The camera itself isn't waterproof.
Lack of image stabilization at 4k resolution.
Final Verdict
The Garmin VIRB Ultra 30 is a pure delight to shoot with. For professional surfers, mountain bikers or any other extreme sports lovers who love to monitor their every step, this one could be a great sports camera for the money. It has its share of flaws, but the truckload of useful features more than makes up for them. Ultra 30 is more than just a camera, and that's what its main USP is.
Aokon Underwater Camera, SJ7000 Waterproof Sports Action Camera
Aoko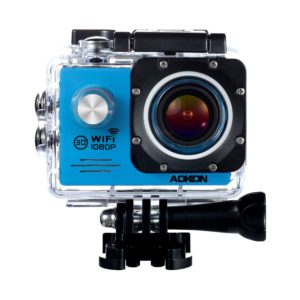 n SJ700 is a camera kit which includes 19 accessories, and the camera itself is packed with state-of-the-art features. It includes seven multifunctional mounts, a charger, a USB cable and lots more. It is the go-to action camera for the commoners as it is not as expensive as the previous two. Nevertheless, Aokon doesn't lag behind its pricier counterparts in terms of design and performance.
The plastic waterproof chassis is terrific at this price. I took it up to the depth of 30m while scuba diving without any issue. Not a single drop of water sneaked inside the casing. However, I did notice a slight distortion of colors while capturing images underwater. But that's really nothing serious.
It is a great sports camera as well that lets you shoot videos at 1080P. More than the still images, I loved video quality of this camera. Maybe this is because of the use of a top-notch video sensor. It also allows you take videos at the 4K resolution like any other high-end action camera. The image sharpness at this resolution, however, isn't that astounding.
The kit includes two batteries. Each battery will positively last for 40-60 minutes, depending on the intensity of usage. If you're going for scuba diving, I would advise you to carry an additional battery with you. One of the features that left me most impressed is the stability of the Wi-Fi connection. You just have to download an app on your smartphone or tablet to enable the remote operation.
Camera comes with 2.0 HD screen providing a stunning display. It also has a 170 degree wide angle lens to give you picture-perfect shots of the landscapes you're exploring. There are some important features like car mode, anti-shake, time-lapse mode, battery saving mode etc. All these utilities allow your camera to be your perfect companion during your adrenaline-driven journeys to the obscure.
As I have already stated in the beginning, it is a complete set. The package includes a lot of essential items like USB cable, charger, two batteries and several mounting accessories. At this price range, it is quite a surprise to have so many accessories.
Pros
A professional-grade action camera at an affordable price.
Decent image and great video quality.
Comes with a kit full of useful accessories.
Cons
Don't expect it to work like a GoPro. It is suitable only for occasional use.
Final Verdict
The Aokn SJ700 would be a perfect choice for those who go on surfing or skateboarding once in a while. Its pocket-friendly price tag is appealing to many. But this camera is more than just a cheap alternative to tech-rich action cameras. It offers a bunch of utilities to make your attempts at extreme sports a smooth ride. The picture sharpness, resolution and colors cannot be compared to a top-end action cam. But you get what you pay for, right?
TomTom Bandit 4K Action Video Camera
Last but not the least, it's TomTom Bandit that has successfully made to my list of the best action cameras of the year. The attention to detail is pretty evident in the design. The external cam is small, sturdy and super easy to operate. It has a bright LCD screen on it that shows the data, images, and video with amazing clarity.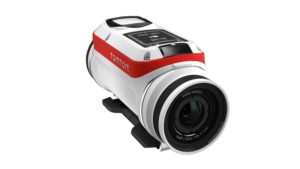 It also offers a four-way control panel.  At the base, there is a mount that allows you to hook the camera to your helmet or kit. It integrates a number of built-in sensors such as time lapse, motions, distance covered, heart rate, etc. These let you monitor and tag these information in the clips as well. I particularly love the shake-to-edit feature. It cuts down the hassle of editing to a great extent and share the images instantly with the world.
The unique mounting mechanism in this kit comprises of two slots and two spring-loaded chips. It also comes with separate mounts for surfing boards, bikes, and helmets. The way the mount hooks onto the camera is pretty unusual. You can rotate the mount through 180 degrees. This will allow you to position the camera as required without hampering the orientation of the camera.
One of the biggest perks of this sports action camera is undoubtedly its long battery life. It lets you record videos at 1080P at 30fps for 3 hours straight. The camera receives power through a cable-free Batt-stick. Thanks to this, you can transfer data to other devices without using any memory card reader or USB cable.
You should carry an additional Batt-stick with you. It is essential to have a spare one especially if you're traveling in areas suffering from electricity shortage. It also comes with a standard lens cover. But if you're up for deep sea diving, you can easily replace it with a separately purchased Dive lens cover. It will protect the lens up to 40m. Recently TomTom has released a GoPro mount adapter that is compatible with any standard GoPro mount. I have to say it is a really nice addition.
Pros
Cable-free charging and data transferring.
Easy video editing and sharing.
Ergonomic design.
Long battery life.
Cons
You have to buy a separate splash-proof lens cover for underwater shooting.
Final Verdict
TomTom Bandit gives even GoPro a solid competition as far as the ease of operation and videography are concerned. The built-in sensors and shake-to-edit features are definitely the biggest advantages of this camera. The lack of waterproofing of the lens is a slight glitch. Nonetheless, you can overcome this problem by purchasing a separate cover. Overall, I would seamlessly pass it off as a good bang for the buck.