Technology surrounds our lives in this modern age. With different forms and different uses, you will find it everywhere you look around yourself. With time, it has become more available for a common man. A major portion of the world now owns devices like a smartphone, a computer or a tablet. Many people own more than one devices of different types. It can be a mess charging all of them and you will have to buy different chargers for all the devices. Too many wires and cables are a mess and you can't charge multiple devices at the same time. UFour has created a device just to solve that problem.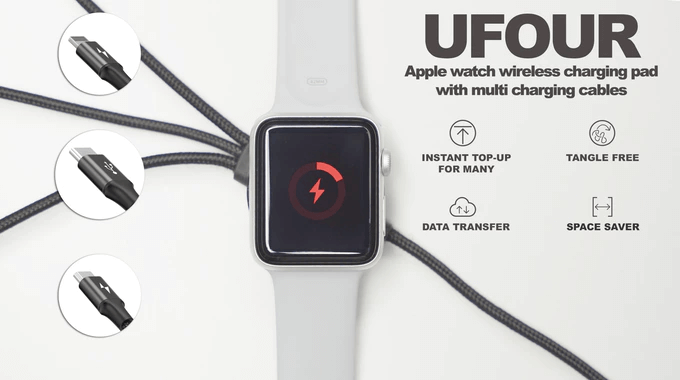 UFour consists of three different types of charging cables and one charging pad which enables you to charge 4 devices at the same time. With convenience and features combined, it might just be exactly what you need.
There are three in-built cables, shaped together to form a trident like shape. A strong nylon braid covers cables and they won't easily tear off due to stretching. The pad and cables are provided with heat protection so you don't have to worry about overheating. The cables are 4 feet long. If you like to plug your devices and roll around on your bed, you can do it with comfort.
There are both Micro-USB and a USB-C ports so that you can charge devices which have different kind of ports. The third cable is a Lightning type for you to charge your iPhone as well. So you can charge a device with a Micro-USB port, another device with Type C port and your iPhone all at the same time. But that's not all. The trident of the cables moves down and connects with a circular charging pad designed specifically for your Apple Smart Watch. So while you already have your mobile, your Nintendo Switch and your iPhone on charger, you can put down and charge your Apple watch as well with wireless charger.
Some chargers need your watch to be placed in a specific position and location for it to be charged. The watch pad comes with an in-built magnet which keeps the hold of your watch on the right place so you don't have to worry about it being misplaced. Considering how expensive these gadgets are, the magnet will keep your watch from falling off too.
There is a bonus positive here. You can take out the charging cables and use them for data transfer as well.
The 4-in-1 charger might be a solid travel option as well. The cables are long but tangle-free and you can easily put them in your pants or bag pockets. The solid Nylon won't break under any pressure either and the wires inside will stay intact.
The device, however, is not perfect. The very first con that comes up is that you can't charge multiple devices which have the same type of charging port together. There is only one cable for one type of port. So if you have two devices with Micro-USB port and if both of them are running out of battery, you can not charge both of them together. The third cable, too, is exclusive for iPhone. If you don't own an iPhone it's pretty much useless.
With that being said, the device offers diversity and if you own multiple devices of different types the UFour is way to cut out lot of cables.
Source – https://www.kickstarter.com/projects/1522365143/ufour-apple-watch-wireless-pad-w-multi-charging-ca