There are a lot of wireless and multi-charging chargers out there today. Then we have charging pads as well where you can just place multiple devices to charge them all at the same time. There are chargers with different type of charging cables combined. Among all of these chargers and pads, there comes now a charging stand. But that's not the only specialty about it.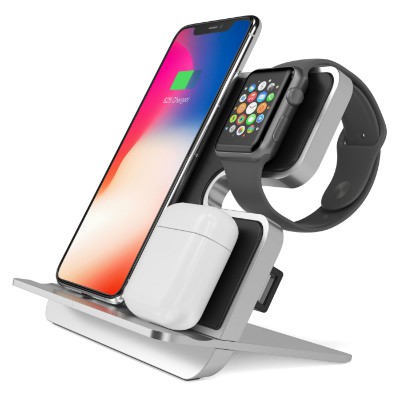 iComboStand is an all-in-one charging stand for your apple devices. And by devices I mean, not just your iPhone but your Airpods and your Apple Smart Watch as well. When you own multiple devices and you need them from time to time, keeping them all charged becomes troublesome. iComboStand completely solves that problem. Multiple devices mean multiple power cords. Every device come with its own cable for charging. Managing all these wires can be frustrating and can be a problem. iComboStand solves that problem as well. Because not only will it charge all kind of Apple devices, but it does it so without wires. Certified by Qi, this stand is completely wireless.
The design is pretty unique and very strategic. The aluminum body is lean so that you can place your iPhone straight against it. Instead of being a perfect square, one end of the stand is divided into two parts both of which make a D-like shape. The upper part is specifically for charging the Apple Smart Watch. You can wrap your watch around it to charge it. At the bottom part you can place your Airpods box straight. But that's not it. There is an extra USB port so that you can charge a fourth device as well. So you can charge four of your Apple devices of different kind at the same time wirelessly.
The iPhone charging area provides a 10W power supply while both the Airpods and Smart Watch are provided 5W power supplies each. The bonus USB port provides a 5W power supply as well.
Just like the name suggests, it works as a great stand for your iPhone as well. You can place it in portrait and landscape mode. So if you are bored but running low on charge, you can just start Youtube or Netflix or anything else and place it on the iComboStand. Enjoy your videos and movies while your iPhone keeps charging without any interruption.
It provides protection against overheating so your device is completely safe even when it's placed there for a long time. There is overcharging protection provided as well. So it will stop charging when device is fully charged. There is protection against foreign objects as well so it won't be damaged by things like your keys or anything.
To charge the iComboStand there is a Type-C port with an input of 30W.
There is a bonus feature that allows you to set up your iPhone as an alarm clock. This is a feature that is a first and is unique to this charger.
With that being said, iComboStand stands out (no pun intended ) from the other chargers and charging pads. If you own multiple Apple devices and want to save yourself from the trouble of messy cables, this is a solid recommendation.
iComboStand vs Belkin BOOST:UP vs Apple AirPower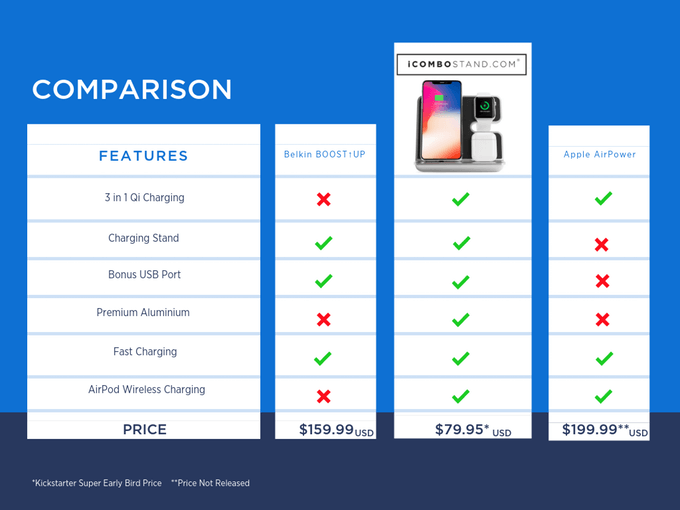 More Info – https://www.kickstarter.com/projects/solutionstoinspire/icombostand-the-ultimate-qi-wireless-charging-stan