Wi-Fi is deemed to be one of the universal necessities of the modern world. While we can certainly do without it, many careers and businesses today would be nothing without a constant supply of the internet.
Other uses of Wi-Fi technology include gaming, streaming, and several forms of entertainment. If there is a problem with the connection itself, many people, especially millennials, would find themselves at a loss.
Unfortunately, technology has still not allowed us to enjoy free and uninterrupted Wi-Fi all over the world. Some of us would definitely like this, but for now, we have to make do with our good old routers. However, routers have their own problems which their users must contend with.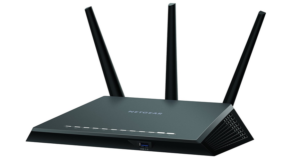 Some of these include lagging, weak signals, a short working radius, and inexplicably slow connections. Routers also need to be compatible with the latest technology, such as Amazon Echo and Alexa. If the routers are too far outdated, they simply cannot give you the full Wi-Fi experience.
Luckily, there is a way to get around these problems, which is to purchase a router that can handle it all! Just one of these is the NETGEAR Nighthawk AC2300 Smart Wi-Fi Router. This ranks among the most powerful gadgets of its kind. It also boasts several attractive features which would make it indispensable in any modern household.
Enhanced Internet Connection and Speed
The main priority of the Nighthawk AC2300 is to bring you the best of streaming, gaming, and surfing. This means no lags and no delays, both of which are annoying and potentially loss-inducing.
This router has a great reputation when it comes to speeding up the internet connection and reception. There are no sudden breakages in the connection, and speed remains constant throughout the space it is supposed to cater to. The best part is probably that this router has no need of the constant rebooting all too familiar with traditional router users.
It is equipped with technology that enables a 50% increase in its range when you compare it to its predecessor, the Nighthawk AC1900.
The combination of the 1 GHz speed of the dual-core processor and the Dynamic QoS means an enviable speed that is not easily rivaled. This speed and quality connectivity are even more impressive when you consider how many devices this router can easily support. Mobile devices are especially compatible with this Nighthawk router.
Convenient Setup and Management
For those of you who are not at the top of their tech game, setting up a router can be intimidating in theory. However, with the Nighthawk AC2300, these worries are now a thing of the past.
With the NETGEAR setup, setting up and managing your network is a breeze. There are no bells and whistles, and the initial setup is as easy as the management that comes after it.
With NETGEAR R7000P router, one also finds it easy to be in control using Alexa or Amazon Echo. With voice controls at your disposal, you can deal with several tasks simply by giving directions out loud, making it incredibly convenient, especially for people who are not particularly tech-savvy.
The parental controls on this router further help parents be in charge of what their child can view on the internet. Since the Wi-Fi is uninterrupted, there is always a risk that children might view something objectionable on their devices. With reliable Disney Smart controls in place, parents don't have to worry about violent, sexual, or otherwise unsuitable content for young kids anymore.
Product Specifications
It offers a speed of around 1625+600 Mbps.
It is compatible with the Amazon Echo and Alexa technologies.
Circle with Disney Parental Controls are available to provide safe online browsing for minors.
This product weighs around 3.29 lbs.
The dimensions of this router are 13.7 x 10.1 x 3.1 inches.
It boasts a dual-core processor with a speed of 1 GHz.
It possesses special updated features which allow gaming without lagging.
This device has three external antennas which extend the signal range to a large area.
This device offers MU-MIMO technology for a steady connection to multiple devices.
Beamforcing technology enables signals locked on both 2.5 and 5 GHz devices.
USB 3.0 is available for quicker access to your media.
Customer Reviews and Conclusion
There are several thousand reviews about the NETGEAR Nighthawk AC2300 (R7000P) Smart Wi-Fi Router, which proves just how popular a gadget it is. Satisfied users have commented on how they are able to get reception even when they venture some way out of their living space. This is quite heartening to know since reception in a wide range is the main goal of installing a router.
Other customer reviews talk about how the enhanced speed provided by this router does away with irritating buffering. Buffering can take up a lot of your precious time and is no fun to watch, so you would love to do away with it. There are also several glowing reports of no lagging, choppy screen movements, or dropping signals.
However, there is a problem for those who have the latest firmware installed. The Nighthawk AC2300 doesn't seem to work with this updated version and may present certain challenges with it. The solution that seems to work for most such users is to switch to the older firmware. From there on, the router's performance was excellent.
Most of the positive reviews for the NETGEAR Nighthawk AC2300 (R7000P) are recent. This means that it is a useful purchase and worth the cost. While the price of this router could be quite steep, its performance seems to be worth every penny.