We live in an age where almost all of our traditional devices are turning smarter and smarter. The old is making way for a smarter and better new. A lot of gadgets like TVs, watches and even doorbells of all things are turning smart. They do it better what they are supposed to and do more than just that. One of such gadgets are smart toothbrushes. Electronic brushes and mechanical toothbrushes have been in existence for a while now. Many new ones keep coming with some new features as well. One of them is Oclean X Pro.
Xiaomi's Youpin has launched Oclean X Pro which it claims is smartest toothbrush to ever exist. There are a lot of features that support to prove that statement. One such feature is the intuitive touchscreen present on the brush. Thanks to which now you can get stats of your brushing even. From the screen you can track your brushing progress. Oclean X Pro even gives you brushing score on the screen. Brushing score gives you points with which you can get free brush heads for replacement. However, this offer is only valid in US.
Oclean X Pro operates at a sonic speed and performs 42,000 strokes per minute. Such speed should confirm a total cleanup of the teeth better than hand brushing. This speed also might be uncomfortable for some people. But you can adjust brush intensity too according to what feels comfortable. Oclean X Pro has 32 different intensity levels.
Oclean X Pro has 4 modes which can be selected from the touch screen ; Whiten, Sensitive, Clean and Gum Massage. There Oclean Pro app to control smart brush. With the app you can also manage your brushing score progress. You can fully configure and manage all Oclean X Pro brushes from within the app.
Oclean X Pro has a built-in 6-axis gyroscope that generates reports and stats based on brush movement. It also has AI frequency reduction technology which detects over-brushing and automatically reduces brushing frequency. Over-brushing can damage enamel layers and cause harms instead of benefits. Thus, this is a very helpful feature as a lot of people end up over-brushing. Oclean X Pro also has blind zone detection so that you don't miss a spot while brushing. You will get a reminder on the LCD screen of what area was left without getting brushed.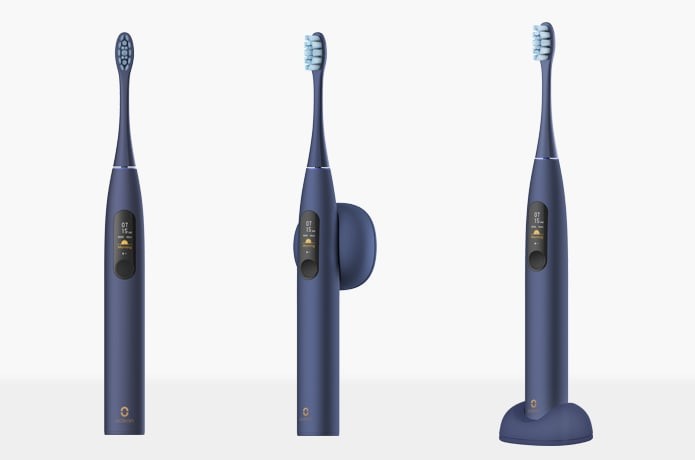 Oclean X Pro has a built-in rechargeable 800 mAh battery on which it works. It takes 2 hours to charge up battery. Once fully charged, it can last you for 30 days straight.
Oclean's brush head is anchor free and antibacterial which makes the brush safe to use. It is FDA approved for safety of usage anyway. It makes Oclean not only effective but safe as well. While there are other smart brushes but none can boast having all the features that Oclean has. People often neglect dental health which affects overall health. Gadgets like Oclean can prove helpful in these cases. All we need to do is just keep our teeth clean and keep smiling.
Source – Indiegogo