Smartphones and computers are common devices among today generation. And with continuous uses of these devices, comes need for continuous power. Batteries provide that power and chargers recharge the battery. The charger has undergone several changes across years. The capacity and the charging speeds have been increasing along with some other advancements. But more power means bigger size. If you need the power you will need a bulky, bigger charger and carrying it can be a problem. SlimQ looks like the solution to the problem.
Created by Homing Systems, SlimQ claims to be world's smallest charger with a capacity of 65 Watts. SlimQ is just 2.5 inches (6.35 cm) tall and 1.3 inches (3.3 cm) wide. That's as small as a candy pack. This is huge considering a device that provides 65W power. It weighs only 91 grams which is way lesser than any charger with similar power output. So it really is the world's smallest 65W charger. Due to its compact size, it leaves space for other chargers on a dock.
SlimQ does not look like it's all about just the size and weight however. Its construction has used Gallium Nitride (GaN) material which is the reason for its small size. GaN is capable of conducting far higher voltages than the traditionally used Silicone. Hence, it does not need to be big in size. It also charges faster than a standard charger. GaN minimizes energy loss and increases efficiency. It also protects device battery from overcharging and overheating.
SlimQ can charge any device that supports a USB Type C cable. There is optional converter cable to use other USB cables. SlimQ also comes with a country-specific converter. There is a second USB Type A port as well. Thus, it can charge up to two devices at same time at a fast speed. You can charge a laptop and smartphone at same time. The charging speed won't slow down due to the GaN technology and the big 65W power delivery. The USB C alone will be allocated all of the 65 Watts. When both the ports are in use, the Type C gets 45 Watts and the Type A port gets 18 Watts of power.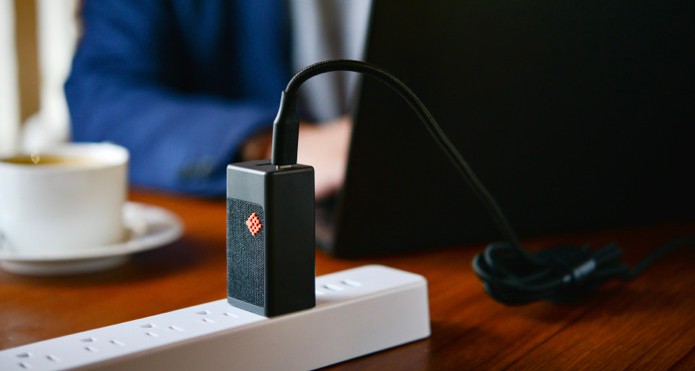 SlimQ has protection against all kind of possible damages. It includes overload, short circuit, electric surge, leakage and electrostatic discharge. All of these can be harmful to not only the charger but any person in contact with it.
SlimQ is powerful and easy to carry. It is easy to carry and portability and power makes it a great companion when you are traveling. Even when you are not traveling, it is better to have a charger that's twice strong and half the size of your regular charger. The GaN chip is a cherry on the top as it is not just long-lasting but also better for environment. When all is said and done, SlimQ has what it takes to be your next permanent charger.
Source – Indiegogo