NYAA Torrents was one of best resources for anime content and east Asian media. It had great collection from Japanese, Korean and Chinese shows, dramas, music, movies and more. It was go to source for millions of Anime lovers from all over the world. Anyone could find the latest Anime shows and download it on pc, laptop or smartphone to watch it later. At its peak, it was the largest index of Anime torrents.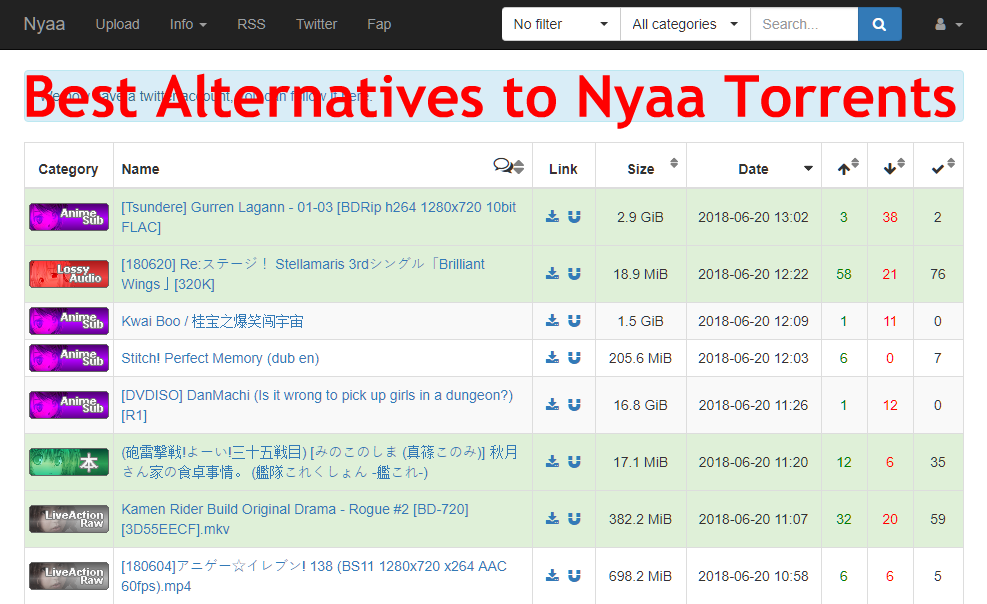 But an Anime movie distributor sued NYAA Torrents and its user for piracy.
As a result NYAA Torrents owner shutdown this service, leaving anime lovers in shock. Owner deactivated the main domain nyaa.se, along with other domains nyaa.eu, and nyaa.org.
This sudden event left millions of anime lovers looking for best alternatives to Nyaa torrents. Though these alternatives are no where in comparison to original Nyaa Torrents, but they still are great source for Anime content.
Lets discuss the best NYAA alternatives that are working and you can use them now.
Best Alternatives to NYAA Torrents Anime Website
1. Nyaa.si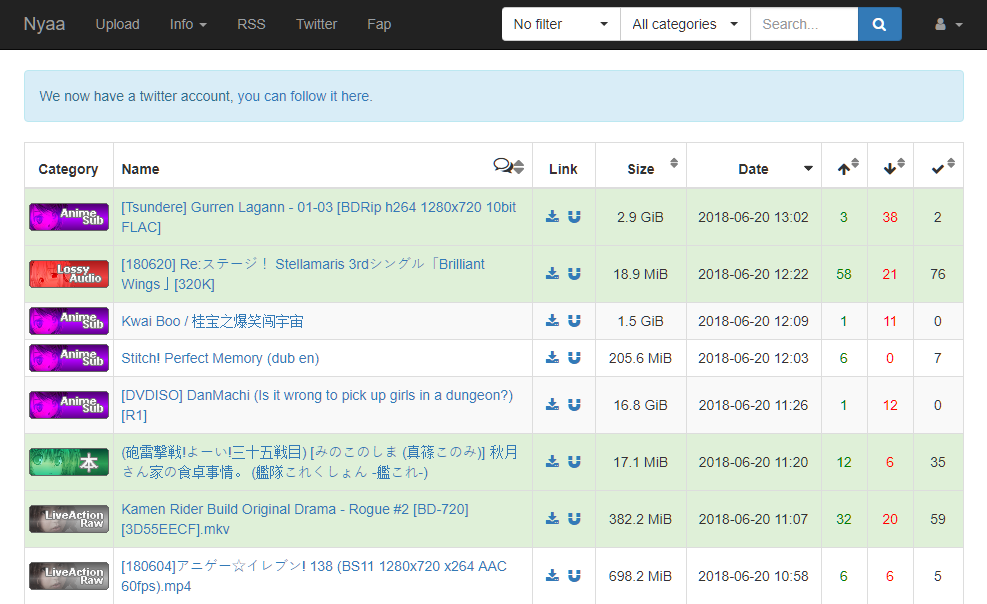 Nyaa.si is the best alternative or replacement for the discontinued NyaaTorrents. It is mainly focused on East Asian media content like anime, manga, music, and more. Its look and feel is same as original Nyaa Torrents.
There are separate sections for work-safe and non-work-safe content so users who want to access website in office can access it without any isssues. There are strict rules to keep spammers and trollers away. There is large collection of Anime content lots of users uploading latest media content daily. This site comes close to best alternative for Nyaa Torrents.
This service is advertisement free right now.
2. Nyaa Pantsu
Nyaa Pantsu website (https://nyaa.pantsu.cat) was started as replacement to NyaaTorrents. It used database of torrents from original Nyaa Torrents (as of May 1st, 2017) as base to launch.
It is mainly focused on Anime, Audio, Images content. Website is quite active with lots of trusted users. All torrents uploaded by trusted users are marked in green colors.  Website has strict policy for spam and does not tolerate any kind of spam to keep database clean and user friendly.
3. AniRena.com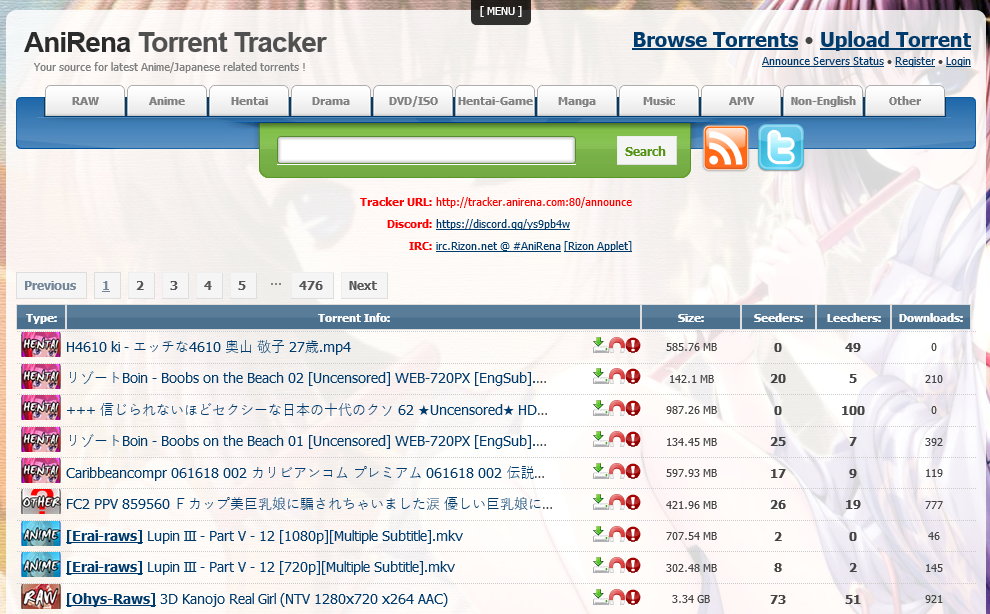 AniRena.com is the go to place for Anime/Japanese media material.
It has large collection of anime, drama, music and movie content. Website is really easy to navigate with horizontal tabs of different categories at the top.
There is a discord channel and IRC channel for users to talk with each other or to interact with moderators.
4. Tokyo Toshokan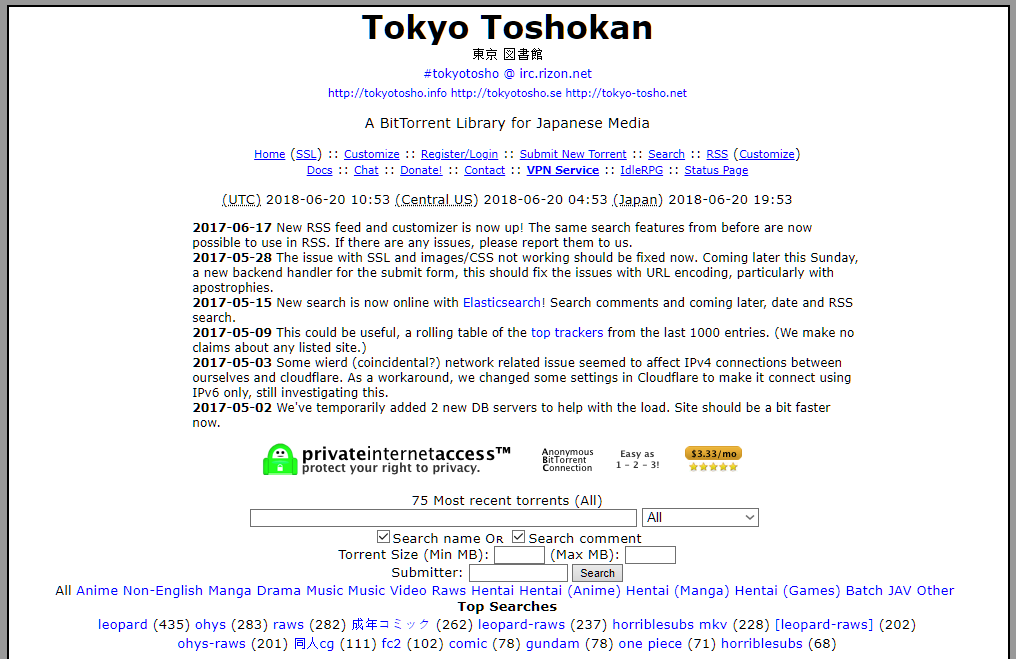 Tokyo Toshokon is biggest anime torrent website for Japanese media. It is a simple website with no fancy feel and design. Site owner prefer usability and utility of website over complex design and functions. It has all sorts of Japanese media content like Manga, Drama, Music, Videos, Games etc.
There is an option to customize website look and feel for registered users. You can use fake email to register on website if you are concerned about privacy. There is also advanced search option to find content by size or by submitter.
Simplicity of this website makes it a good alternative for Nyaa torrent website.
5. Shana Project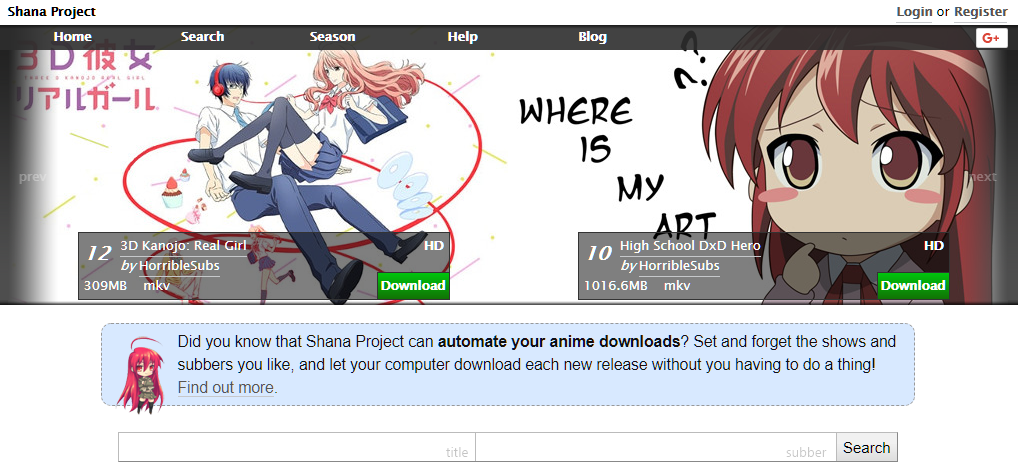 Shana Project (shanaproject.com) is new website catering to demands of anime lovers.
Instead of hosting torrents, it lists torrents from Tokyo Toshokan and Fansub DB.
A very good feature of Shana Project is that users can automate anime downloads. So if you like any show or subber, just set it for auto-download, Shana Project will download it to your computer every there is new release of show. You do not have to do anything to download it. This is one cool feature that saves time and manual effort.
6. AcgnX Torrent
AcgnX Torrent (acgnx.se) is one of the popolar Nyaa alternative.
AcgnX stands for Anime Comics Games Novel X-Project. It has huge database of torrents from every category that one can think of. Its main focus is on getting as many torrents as possible on its website. One can find anime, manga, comics,movies, live action shows,  games, fansubs, and other Japanese-centric content media content.
Though it has huge listing of torrents, easy navigation and advanced search makes it easier for users to find torrents in relatively quick time.
There are sections for currently popular torrents along with current season recommendation and last season recommendation.
Users can also see torrents uploaded today or yesterday or last week.
7. AniDex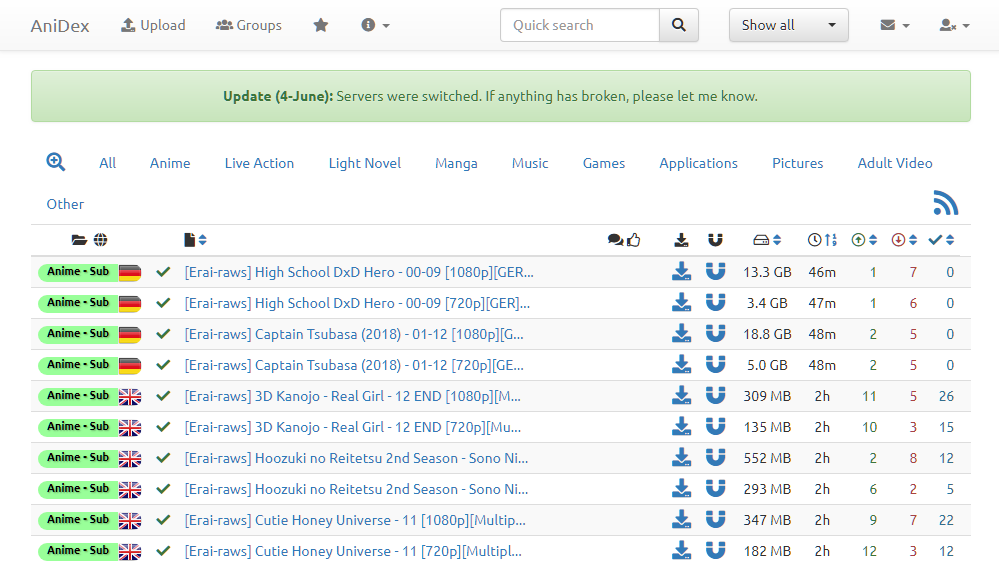 Anidex (anidex.info) has huge collection of anime and other torrents. It has listing of more than 64,000 anime torrents. Top level links on the website provide easy navigation to various categories like anime, manga, music, movies etc. Users can also search for language specific torrents.
7. Anime Tosho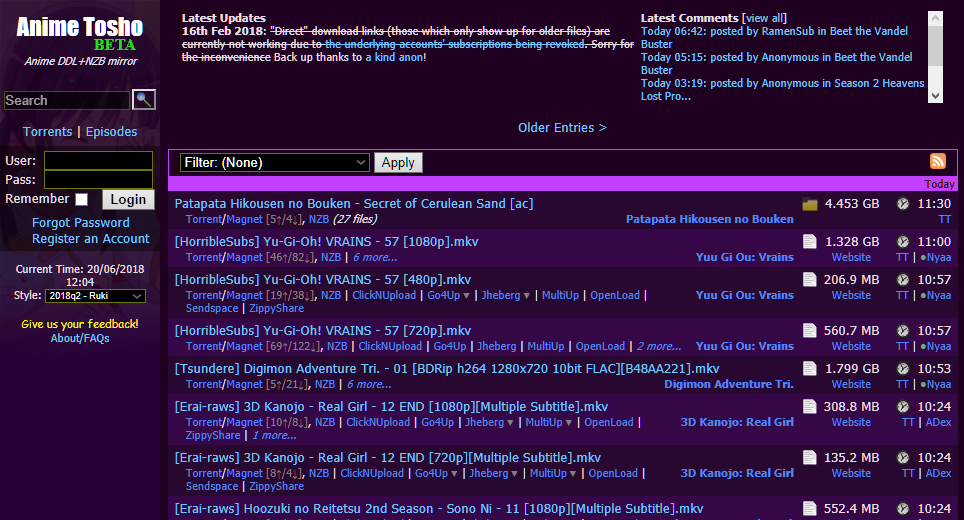 Anime Tosho (animetosho.org) is kind of meta search engine for anime torrents. It aggregates torrent listing from TokyoTosho's anime category, Nyaa.si's English translated anime category, AniDex's anime category (filtered) and all HorribleSubs releases and mirrors it on other file hosting services.
It is a kind of mirror website does not provide uploading options.
Files are mirrored from sources within few minutes. So it's database is always upto date.
Search option also support operators and wild characters.
This is great place to find animes from all four source website instead of going to individual website and searching there.
Share Your Favorite Nyaa Alternative?
Nyaa Torrent was go to resource for anime lovers. It been shut down leaving anime lovers in shock. We have listed all the working Nyaa alternative. Do you know of any source for anime other than above resources. Let us know in comment. We will share it with community.