No one wants cords. With time, a lot of our gadgets are getting rid of wires for good. Nobody wants messy and tangling wires ruining half the experience of anything they try to do. There are wireless earphones, wireless keyboards, wireless mouses etc. Now you can add vacuum cleaner to this list as well.
ROIDMI NEX Storm, created by John Wang, is a smart cordless vacuum cleaner. And it is the world's first vacuum cleaner of this kind.
Cordless means it does not need to be kept plugged into a socket for it to work. Which, in turn, means you need to charge it to use it. Instead of any complicated measures, ROIDMI uses a magnetic charger. The charger doesn't need any nails for fitting. Just mount the charging dock on your wall and stick the cleaner to it and it will start charging. This also makes it easier to store.
ROIDMI NEX Storm consists of eight 2500 mAh Samsung 18650 lithium battery cells. Tesla also uses these same batteries with the BMS-X Battery Management System. The battery needs 2.5 hrs to be fully charged. Once charged, the battery gives ROIDMI a long-lasting cleaning time of up to 60 minutes. Statistically, 1 hour is enough for cleaning a whole house of around 380 square meters at once. And it will be way more than enough for cleaning a standard sized house. Hence, ROIDMI gets rid of wire and doesn't let you miss having to keep the cleaner plugged in. They even provide a 2-year Battery warranty. If anything goes wrong with the battery before 2 years, you can easily get the battery replacement.
When it comes to cleaning, ROIDMI combines two steps of cleaning into one ; a vacuum cleaner and a mop.
For vacuuming it uses Engine-X brushless motors that can spin up to 110,000 rpm to generate strong suction of up to 140AW and 23.5Kpa, which increasee suction power by 30% for extra deep cleaning.
ROIDMI comes with an attachable water-proof roller brush that can be used for moping. It has a Mop Box that can store 180 ml of water. These two combined can get rid of all the stains after vacuuming. The Mop mode uses ROIDMI's own Intelligent Slow Drip technology that lets you control the speed of water dropping. There is a replacable microfiber pad on its head to absorb the dirt, dust and liquids effectively.
Other than the mop, it has various other attachable accessories too. ROIDMI NEX Storm comes with plenty of nozzles and brushes including Electric mites cleaner brush, soft roller floor brush, carbon fiber roller brush, stretch hose, crevice tool, dusting brush, and a cleaning brush. Using these you can also clean your sofa, bed, vent, keyboard, shelf, cupboard and lots of other things.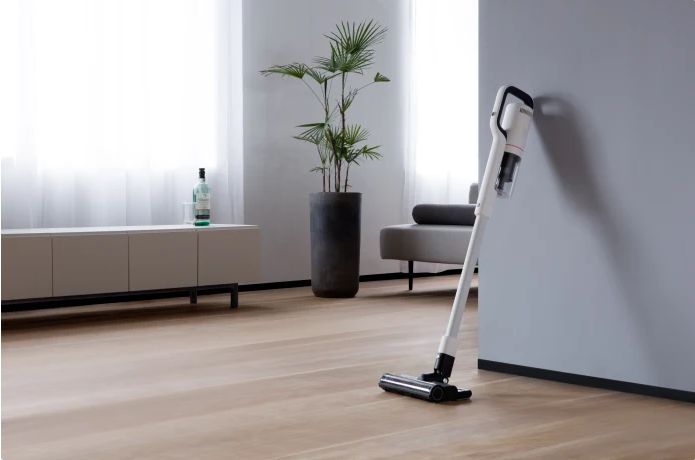 You can connect ROIDMI NEX Storm to ROIDMI Intelligent Life App on smartphone via Bluetooth. Through the app, you can check battery life, battery usage, cleaning time, filter capacity, current gear endurance and receive alerts to empty the vacuum.
Apart from all of this, it weighs only 1.5 kg. You can use it to clean walls and higher surfaces even with just one hand thus making your work even easier.
ROIDMI NEX Storm has a lot of advantages over a standard vacuum cleaner including 2-in-1 modes and lack of wires or nails for fitting. And if you can get it, you should get it.
Source – Indiegogo