E-vehicles are the future and there is no doubt about it. They not only save the non-renewable fuels but also help our environment. As technology keeps getting better and better, we keep seeing the face of newer and better e-vehicles every now and then. One such product is the new Mantour X.
Creates by FlowDot, Mantour X is a foldable lightweight e-scooter. Mantour X's major selling point is that it is the world's first ever self-balancing e-scooter. It has built-in self-balancing algorithms that makes it possible for the scooter to always stay up straight by itself.
Mantour X works on a 240 Watt strong built-in motor. The motor is powerful enough to give this scooter a maximum speed of 12.4 miles per hour (19.96 km/h). That might not be very fast but still enough for covering medium distances. The scooter can climb an incline of up to 12° too.
The scooter works on a built-in rechargeable battery of 173 Wh capacity. The battery charges fully in 4 hours. One full charge of the battery gives the scooter a decent range of 12.4 miles (19.96 kilometers).
Mantour X has a minimal design with no exposed parts. It takes only 5 seconds to fold or unfold the scooter. When it is folded Mantour X measures just 31.6 x 5.4 x 7.1″. It is space efficient and does not need a lot of area for storage. It's body is made of a combination of carbon fiber and aluminum alloy. This combination keeps Mantour X weighing at just 16 lbs which is considerably light as compared to other e-vehicles. 16 lbs of weight is rather easier to carry which makes Mantour X a conveniently portable vehicle. It's light but that does not mean it is weak. Mantour X can carry a payload of up to 100 kg without any problem.
To make it even better, Mantour X has a Follow Mode. After you fold the scooter down and turn the Follow Mode on, it will automatically follow you wherever you go. Even though it is ultra-light, you still don't need to carry it by your hands everywhere.
This mode can be turned on easily with a button present on the scooter handle. Holding the button for 5 seconds toggles between Follow Mode or Sport Mode. The handle also has a Throttle switch on the left side, sliding which would result in acceleration. On the right side, the handle has an electric brake. The scooter also has a physical brake placed over the back wheel of the scooter stepping on which would put it to a stop. The handle of the scooter needs to be charged however which might be a negative for some. However, it lasts for 2 to 3 months over one charge.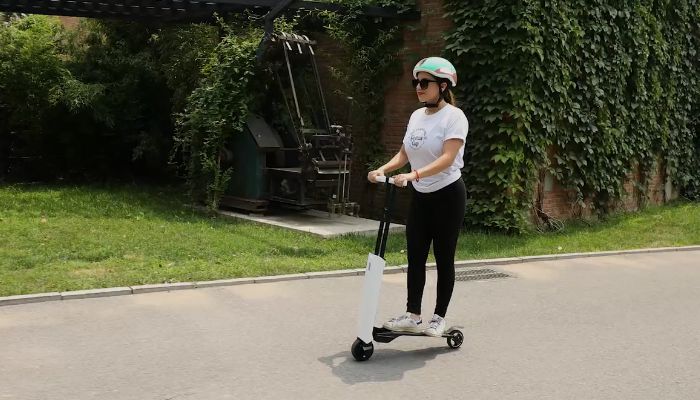 The scooter also has a small LED screen in the middle of the handle. It monitors the mode the scooter is in, speed level and battery level. The LED is bright enough and is visible in the light of the day.
Like a cherry on the top, the body of the scooter is IP54 waterproof. It means that the scooter is usable even under rain.
Mantour X might not be the most powerful e-vehicle but it surely is an efficient and convenient one. Its Follow Mode and Self-Balancing algorithm especially make this scooter an excellent choice for buyers.
Source – Kickstarter