We are surrounded by cutting edge technology gizmos and gadgets. Every now and then, something new comes out that has never been done before. New smartphones, new cameras, new processors, new chargers. Earphones haven't been untouched to this either. Earphones became wireless, chargeable and are still changing and developing. Quality and convenience are the factors that affect changes and developments. This has led to new names and new products burst out into the scene.
Latest wireless earbuds to up the game is Kharbon. It is world's first ever ultra ergonomic earbuds and also the world's longest lasting earbuds. When we talk about earbuds, the things that matter the most are battery life, fitting comfort and sound quality. Kharbon takes care of all these three features.
First of all the battery. The developers are claiming that Kharbon earbuds will give you a run time of nearly a whole month. Nothing else comes close to this. Standard earbuds provide 2 to 3 hours of runtime on one full charge. So how does it work? The earbuds alone last 8 hours only on a charge. It still is way more than the average earbuds as it can go an for an entire workday with ease. The extra run time lies inside the carrying case. The carrying case holds an additional 142 hours of charging capacity (the average number of working hours in a month is only about 112). And finally, one 15-minute charge is enough to power the headphones for 3 hours.
However battery is not the only attraction. When it comes to audio quality there are no compromises. Kharbon earbuds have high quality built-in custom nano speakers. The earbuds have a special Graphene driver too. Graphene is a particle that is stronger than steel yet way lighter than paper. The engineers have brought down the power of this ultra-sensitive material in each speaker. This result in highly refined and high quality Hi-Fi premium sound.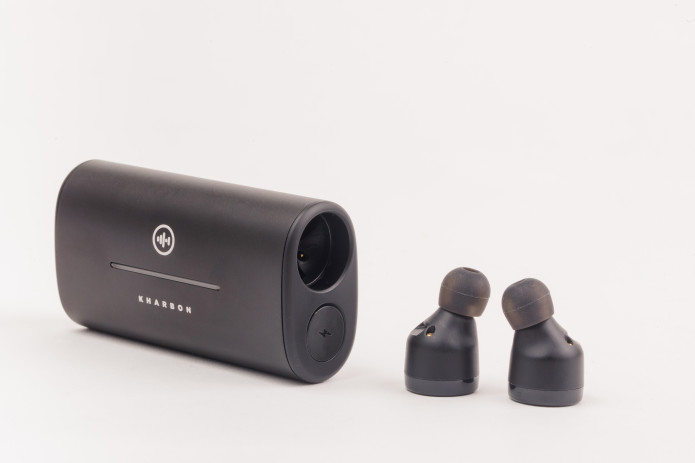 Ergonomic specialists designed Kharbon earbuds for maximum comfort and ease. The curves, the weight, the grip everything has been designed mindfully to give to the most comfortable experience. The ultra ergonomic tech also provides a great noise cancellation capability.
The Kharbon earbuds not only come with the inside quality but outside too. The earbuds are IPX7 certified waterproof. You can wear them in your shower or even while swimming. They wouldn't fall out either because of the genius ergonomic design. It is also sweat-proof and dustproof as well.
The earbuds use Bluetooth 5.0 to connect to your mobile. There is a smart-touch control system that allows you to adjust the volume, take calls, skip tracks and much more with an intuitive series of taps. Or, you can control all these functions using voice control, including accessing messages and surfing the web.
The earpod case doesn't charge only the earpods. It works as a power bank for your mobile too. It is powerful enough to keep the earpods charging for a month and can easily and quickly charge your mobile.
Kharbon earbuds are truly one of the best, if not the best earbuds out there. They give a battery life that is way out of the league of the competition and serve for other purposes like being a power-bank as well. Being this useful makes it a real good buy for every audiophile.
Source – https://www.indiegogo.com/projects/kharbon-the-longest-lasting-ipx7-wireless-earbuds#/