A laptop is a must have thing for today's professionals and freelancers. It is a good thing as it saves time and even paper among other things. You don't need to be present in the office all the time and you can work from any place you are in or want to. But laptops still have limitation as screen is always hinged. Switching through tabs and various programs decreases your work productivity. There are lot of accessories to fix that problem. One of these is the new BladeX.
BladeX is a lightweight and compact external monitor which provides an extra screen to work on, along with your laptop. It is only 4.5 mm in thickness and weighs just 1.89 pounds which equals to just 857g. It is compact and lightweight. Actually it is the slimmest monitor out there in the market. In other words, BladeX improves your productivity by 50%.
But it does not mean it compromises on other features and specs. The screen is 15.6″ big with a 16:9 screen ratio. It has two resolution options to choose from ; 1080p or 4K. The screen comes with touch-support which is an icing on the cake.
BladeX uses a base or stand for the support. You can fix the monitor on the stand in both portrait or landscape mode. There is also studio mode where you can lay the monitor down with a slight inclination to get better view. The studio mode works best when you are working on multimedia project while sitting. The base allows you to use the monitor in any position you want. But there is also limit to base, as the base can not be stretched more than a 90° angle.
Aside from the screen, all the features of the monitor are integrated in the base. The base has all the ports you need for the connection. There is a USB Type C port and an HDMI port with which you can connect absolutely any PC or Laptop to the BladeX. You can also connect your gaming consoles like PS4, XBOX or Nintendo Switch to BladeX. As a result, it provides better gaming experience as there are two big size screens to play on. You can even connect your smartphone and turn it into a huge screen to  work on mobile. Basically it turns your mobile into a laptop. It supports any smartphone that comes with USB Type C port.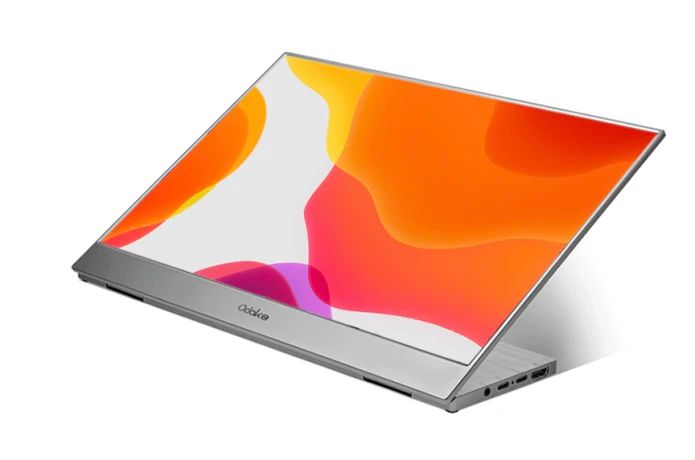 The base also houses, a builtin 3000mAh battery of its own. Over one charge it provides a total of over 3 hour run time. As it uses USB C for charging it charges faster as well. The base also is home for BladeX's two stereo speakers.
BladeX is the slimmest external monitor out there and one of the lightest as well. This might make it competitive against devices that provide 2 or even 3 extra screens.