They say the moments, once gone, are gone forever.
Thankfully, science and technology have been making many impossible things possible for centuries. Video cameras help you capture memories like nothing else. Still pictures are beautiful to look at but seeing the past events live on a screen is an indescribable emotion.
I have a knack for shooting short movies with handy cams. I have been doing this for years and come to believe that good video cameras don't always have to be highly expensive. The key to choosing the best video camcorder is to know how a video camera works. Learn about the features that actually determine the quality of the image.
Need a little guidance? Fret not because I have narrowed down the options for you to top 10 video cameras. To know why and how they made it to the top 10, keep on reading.
Top Video Cameras 2018 Reviews
1. Panasonic HC-WXF991K 4K Ultra HD Camcorder – Best Ultra HD Video Camera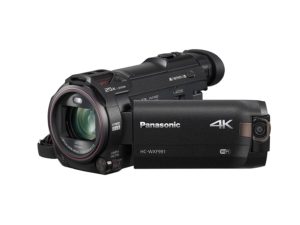 I or any other videography enthusiast will tell you about the importance of relying on a reputed brand while buying a video camera. Panasonic is a household name in several countries around the globe. The Panasonic HC-WXF991K is a 4K ultra HD camcorder. It produces videos of the same resolution as most local theaters. This is pretty huge for a mere camcorder.
4K displays are fairly new in the market and getting more popular with every passing day. The HC-WXF991K manages to provide nearly professional-quality images, that too without affecting the portability of the device. Another factor I liked a lot is that even after converting the 4K videos to HD, the video quality remains completely intact. This video recorder is equipped with a fast Leica F 1.8- F 3.6 lens. It captures sharp and vivid images even under poorly lit conditions. That's not it. For facilitating night shoots, it also has a Night Vision feature.
It shoots ultra HD videos at a bit rate of 72mbps which is quite satisfactory. It's 20x zoom, an electronic viewfinder and lightweight make it a perfect choice for hiking trips, sports shooting, wildlife shooting and more. There are plenty other features in the camcorder to help you achieve professional-looking images. Some of them are Dolly Zoom which lets you create vertigo effect, basics like "slow/quick Motions" and so on.
Pros
Easy to carry and shoots 4K videos.
Includes features like Night Vision, Dolly Zoom.
Great image quality.
Suitable for a variety of shooting.
Has in-camera editing features
Final Verdict
HC-WXF991K is an upgraded version of the HC-WX970 series. If I compare these two products side by side, the former one clearly has an edge. The fact that the image resolution remains the same after being converted to HD is commendable. The stunning AV quality and multiple options to play with video editing, all goes in the favor of HC-WXF991K. If you are serious about your work and don't have a robust budget, this might be your go-to option.
2. Canon XA30 Professional Camcorder – Best Professional Camcorder
No one really talks about cameras without mentioning Canon products. This iconic brand has been crafting DSLRs, PnS cams and a wide range of video cameras for ages. Canon XA30 is strictly a professional video camera. The price is a bit on the higher side of the spectrum for the same reason. Let's see if this video cam from Canon lives up to the expectations.
This wireless video camera shoots at 1080P. Nope, not at 4K. But resolution is never the ultimate parameter of judging a camera's capability. Most 4K video cameras these days perform poorly under low lighting circumstances. This is where XA30 beats them hands down. The 1/2.84-inch, HD CMOS Pro sensor in this model has an enhanced sensitivity. It helps you shoot bright and clear images. You can capture every detail during dawn, dusk and night.
Now, let's focus on the other factors that add "pro" to this "professional camcorder". It offers Wide DR and Highlight Priority Gamma modes along with standard gamma recording mode. These modes do much of the post-processing themselves by suppressing overexposed parts, creating smooth highlights and shadows. The Wide DR mode lets you achieve a dynamic range of 600%. I would also like to highlight the View Assist mode which kind of gives you a preview of the final images. You can do external record uncompressed video signals as well if required.
Pros
Excellent for low-light shooting.
The Wide DR mode.
Interval recording along with the basic Fast and Slow motion recording.
Wi-Fi connectivity.
Cons
Doesn't come with a storage case or spare batteries.
Final Verdict
This HD camcorder is mainly for documentary-film making, wedding shoots, and journalists. It lets you record super-sharp images while you are on the move. That's basically the main aim of a professional videographer. The design is nothing spectacular though. But that's not the point here. For somebody using a professional video cam for the first time, the easy controls and settings would be a great advantage.
3. Sony HDRCX405 Handycam Camcorder – Best Overall
This Sony Handycam has been a favorite of amateur documentary and short film makers. My friend has this hi def camcorder and I haven't heard any complaints from him so far. It offers 4 shooting options. The 1080p shooting mode is decent and captures okay-ish images under dimly-light circumstances.
You can't expect more at this price, can you? The MP4 shooting mode is one of its big USPs as it lets you shoot internet-ready videos. What's really the point of shooting great videos if you can't post it on Instagram or Facebook, after all?
Apart from that, you can also take high-quality still pictures with its 9.2 MP camera. It has a built-in USB connection. You can directly plug the camera to your PC using the data cable so there's no need to buy a card reader. The Carl Zeiss wide-angle lens with 30x optical zoom makes it one of the most bankable budget handheld video cameras in the market. On top of that, the Optical SteadyShot Image Stabilization produces proper images irrespective of lots of hand jerking movements.
Pros
Captures HD videos and 9.2 MP still images.
Has an in-built 2.0 USB cable.
MP4 shooting mode.
Image stabilization and decent low-light shooting performance
Cons
Not good for indoor shooting.
Final Verdict
The recording quality, controls, and overall design – everything is right it at its place in this camcorder. Of course, the final results are nowhere near those of a top-end camera. But that's something you are already aware of. You would really appreciate the quality of the still pictures it takes, even though it is essentially a video camera.
4. Canon VIXIA HF R72 Camcorder – Best Value for Money
Canon has numerous options in this segment and it is really hard for anyone to pick only a handful. High zooming power is one of the most sought after features in any camera, be it still or video cam. The higher the zooming range, the more you're capable of capturing the details from a greater distance from the subject.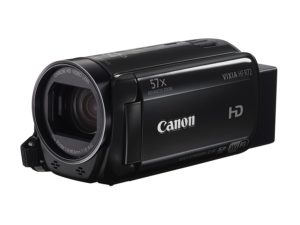 Now, many of you must have noticed that the images start getting blurry at the highest zoom setting. This is where Canon VIXIA takes the brownie point. It provides 57x advanced optical zoom with image stabilization to give you a wonderful shooting experience. You can shoot amazing videos without a tripod even on the move. The 3.28 Megapixel Full HD CMOS Image Sensor helps keep the images rightly exposed under low-light conditions.
This tech-rich yet surprisingly low-budget camcorder has a dual flash memory along with 32 GB internal memory. To top it off, it has a memory card slot as well. The aim of allowing a massive storage option is to allow the enthusiasts to shoot as many 1080P videos as they want. Another nice addition is the 3-inch touch display. I found it quite easy to use under direct sunlight. As I said before, zooming power is the biggest selling-point of this video cam. It comes with an innovative feature called Zoom Framing Assist. It saves the fuss of manually zooming in and out by allowing a one-touch zoom in and out option.
Pros
32x optical zoom with 57x advanced zoom.
Zoom Framing Assist.
Huge storage space.
Moderately priced.
Cons
The overall video quality is not something professionals would be satisfied with.
Final Verdict
If I compare VIXIA HF series camcorders to HF R700, you won't find a stark difference in the overall look and feel. However, the addition of a bunch of new features has a clear impact on the video quality and the ease of shooting. You can shoot hand held videos from a great distance without worrying about shakiness. The icing on the cake has to be its price. An advanced video cam filled with features at this price range from a brand like Canon is a deal worth grabbing.
5. Panasonic HC-V770 HD Camcorder – Best Tech-advanced Video Camera
HC-V770 series HD camcorders are specifically targeted at the smartphone generation. The most attractive feature of this video camera is the wireless twin camera feature. In layman's terms, using your smartphone's Wi-Fi, you can connect the video cam to your phone's video camera. It gives you the liberty to shoot with two cameras, from any angle you want. This way, you can produce Picture-in-Picture effects.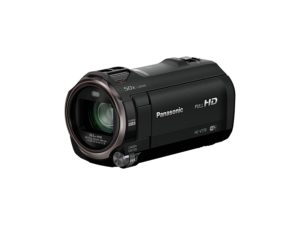 It also has a built-in BSI or Back Slide Illumination Sensor with 6.03M effective pixels. It basically helps to reduce the noise during indoor or nighttime shooting. The large effective area draws enough light to keep the details as intact as possible. In addition, the 5-Axis HYBRID Optical Image Stabilization maintains optimum footage clarity irrespective of constant hand movement.
HC-V770 is not much different from its predecessor HC-V750 as far as the design is concerned. However, the latter lacks some useful features like the multi manual dial. This little dial lets you adjust specific manual parameters focus, sharpness, saturation and more. At this price, I wasn't really expecting a shoe adapter but Panasonic managed to presently surprise me.
Pros
Twin camera feature.
20x zoom and image stabilization. The Intelligent Zoom option lets you go up to 50x.
Multi manual control.
Cons
At the max zoom setting, the image begins to get a little blurry.
Final Verdict
Panasonic HC-V770 is embedded with some really cool features and top-of-the-line hardware. The wireless twin camera features lets you get the best of both your smartphone and video camera. Even though this model is an upgraded version of HC-V750, Panasonic hasn't hiked the price much. Should you buy it? Unless you're looking for a full HD camcorder, you can definitely give it a shot.
6. Panasonic HC-W580K Full HD Camcorder – Best Zoom
Panasonic HC-W580K beats Canon VIXIA in the competition of the best zooming video camera with panache. With its 50x optical zoom and 90x intelligent zoom, you can take this camcorder out for sports scene shooting, capturing rare wildlife footage that are otherwise impossible to shoot with a standard handy cam.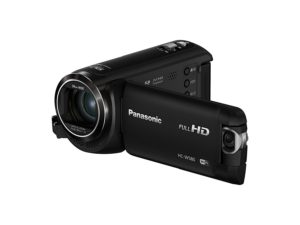 To bring smooth highlights and shadows in the final footage, it also incorporates an HDR mode. Panasonic loyals would particularly appreciate the inclusion of a secondary camera which its ancestors lacked. This camera is located at the side of the screen. You can use it as a front-facing camera which is great for shooting your own reaction. Or, you can also use it for creating the artistic picture-in-picture effect in the footages.
That's not all. Upon researching a bit more, I found it to have two picture-in-picture windows. It means you can connect three smartphones or tablets and let your freak flag fly. The Ustream feature allows you to stream the video over the internet to broadcast real-time footage.
Pros
HDR function along with an HDR button.
Dual picture-in-picture windows.
Ustream.
Secondary camera.
Cons
Cannot be connected to external microphones.
Final Verdict
Although the Twin camera feature isn't inclusive to this model, Panasonic HC-W580K manages to add an extra twist by including another picture-in-picture window. Paired with a dedicated HDR button and a couple of more cool functions, this video camera could be a great choice for creative videography. You can get camcorders with almost the similar features at a lesser price. But those won't allow as much room for the experiment as this one could.
7. Sony HDRCX675/B Full HD 32GB Camcorder – Best Optics
Sony handycams have been a rage back in the day when I used to be a teenager. My father had one, my best friend had one, so I too wanted to have one. Anyway, cut to the review, the model under scanner this time is Sony HDRCX675/B. It is a full HD camcorder with a new and improved back-illuminated Exmor R CMOS sensor aiding a better low-light sensitivity.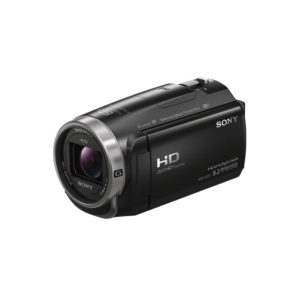 This mid-range Sony camcorder makes heartiest effort to combine the best of a high-end smartphone and a low-budget video camera. It implements a fine lens to attract buyers with an eye for the detail. The exclusive Sony G lens with BIONZ X image processor produces jaw-dropping vivid images at RAW mode.
To keep the footage steady, it devises Balanced Optical SteayShot Image Stabilization. What really makes the difference here is that the lens housing moves when you move the camera. Journalists and wildlife documentary movie makers are likely the ones to be the most benefited by this feature.
Pros
Excellent image stabilization, at par with that of a professional-grade camera.
Sony G lens.
Fast auto-focus.
Dual video recording.
Cons
Not feature-packed per se considering the price tag.
Final Verdict
If you're looking for a full HD camcorder that can take both excellent videos and still pictures while you're running, this video cam could give you a great bang for the buck. It does lack add-on features like slow/fast motion shooting options but it makes up for it with its shooting efficiency. For those who prioritize footage quality over everything else, Sony HDRCX675/B offers great prospects.
8. KINGEAR D009 Digital Camera – Best Video Camera under $100
Night vision camcorders are a must-have in any outdoor life enthusiast's backpack. In my opinion, this could be a great entry-level camcorder. It has super-easy shooting options, the zoom range of up to 24x and fuss-free pre-loaded editing options. All these make it an amazing mini dv camcorder for family get-togethers, picnics, night-outs and camping trips.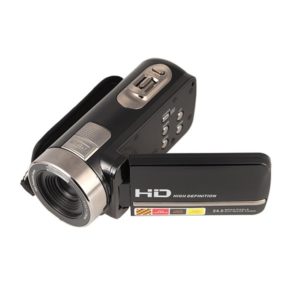 In terms of look and feel, it is nothing significantly different from a point-and-shoot camera. It's exceptionally lightweight and takes still images too. The 2.7″ 16:9 LCD touchscreen is extremely responsive and it displays the recorded footage without tarnishing the quality.
The battery back-up of 3 hours is pretty commendable considering the price you pay. By turning on the IR illumination, you can record decent videos at dimly-lit environments. However, turning on the illumination could be a wee-bit tricky for some people. To top it all, it also has an easy mount feature. With its help, you can attach your camcorder to a mini tripod and give a rest to your arms when required.
Pros
Lightweight and easily fits in your hand.
Great for budget customers.
Nice zooming and night vision features.
Face recognition feature.
Cons
The instruction manual is kind of confusing instead of being helpful.
Final Verdict
This one could easily make its way at the top as the best video camera under $100. It has got everything a general user would look for in a video camera. The final footages look quite bright and colorful on the computer screen. The LCD display, to my utmost delight, is highly responsive. Of course, you know the certain limitations of a budget video cam. This one is no exception but it certainly outperforms its direct competitors with its advanced features.
9. Contour +2 HD GPS Wearable Waterproof Video Camera – Best Waterproof Video Camera
If you are a scuba-diving or water-sports enthusiast, you must have a fantastic waterproof camera to witness those moments of pure adrenaline rush. Contour +2 HD integrates an instant On-record switch. Just press it and the camera will start recording automatically.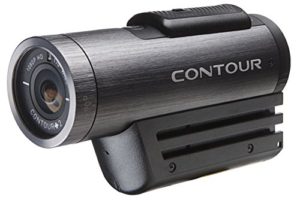 The key features of a good waterproof camera are its no-frills design and easy operation. Contour +2 combines both. Moreover, it can be connected to iOS and android devices via Bluetooth. Using this feature, you can adjust the camera angle and preview your shots instantly.
The Laser Level ensures the camera angle remains perfect in every frame.
Another big strength of this video camera is its Contour mobile app. Download it on your smartphone or tablet and adjust exposure, brightness, contrast, sharpness and even exposure metering with this app. It also comes with external microphone jacks to enhance the audio quality. This is something you won't find in standard waterproof camcorders.
Pros
On-record switch.
Laser Level feature maintains the perfect camera angle.
Easy adjustments with Contour mobile app.
Cons
Many people have complained about the Contour customer service
The video quality isn't astonishing per se.
Final Verdict
This model has the potential to be a value for money deal if you don't want to spend a fortune on a waterproof video camera. Granted, it doesn't film like a Canon or Panasonic upscale camera. But you have to remember the primary goal of this camcorder is to immortalize your underwater adventures. The footage won't look nearly as sharp as what you see on Discover or National Geographic. Now, it's up to you to decide whether it'd matter much or not.
10. Hausbell 302S FHD Camcorder – Best Night Vision Video Camera
This infrared night vision video camera has been in the limelight for quite some time now. Let me get started with the remote control feature. You don't have to ask people to hold the camera for you to get yourself in the frame. With this remote control, you can also pause the filming in the middle and resume right from there. Its infrared night vision option helps you film footage when the natural light is unavailable. This is feature works better than I expected at the first look.
The market is saturated with full HD camcorders. However, very few of them actually provide that awe-inspiring resolution. This one is certainly one of them. If you own a full HD TV, good for you because you can connect the camera to the TV through the HDMI Port and enjoy high-quality playback.
The low-profile design works in its favor as it fits nicely in your hand. Shooting videos at any angle you want is even easier with the rotating LCD screen. The 16x optical zoom for videos isn't brilliant but will suffice for general recording needs.
Pros
Compact design and simple control options.
Remote control operation.
Unquestionable video resolution.
Cons
No image stabilization feature.
Final Verdict
The reason why I feel it is the best budget night vision camera is undoubtedly its fantastic image quality. When you play it on a big screen, the difference is clearly visible. Thanks to the remote control feature, you won't have to worry about the camera setting and positioning if you have kids to look after. And the best part is the manufacturer hasn't jacked up the price much in all these years.
Conclusion
The competition between Panasonic HC-WXF991K and Sony HDRCX675/B is neck-to-neck. The former is a luxurious device with state-of-the-art features. Sony gets a clear edge over it with its higher zooming range and excellent picture quality at almost half the price. But, it still cannot get on par with the professional-level shooting options and 4K ultra HD resolution of Panasonic. Which one would be the best video camera for you would solely depend on your shooting goals and budget.