Working from home has become a bigger thing than it ever was. Most of the people on move work on laptops because it is efficient and faster. People now work from home and many other locations other than offices. But a laptop screen has limited size. This can severely slow down productivity, if you have to keep switching between various programs complete your work. It can really waste a lot of your time. There is only so much that a single screen can do. Many solutions have been put forward to this problem. We recently came across a device that provides you two screens to work on your laptop. Now get ready to make it three.
TRIO is a successor to Mobile Pixels' own previous device Duo. While Duo gave you one extra screen to collaborate with your laptop, TRIO gives you two extra screens.
TRIO too uses the Plug n' Display technology. Again, you need to use magnetic adhesives for one screen to connect to your laptop. Apply adhesives, stick the TRIO and slide the screen out in whatever angle you want. But for using both screens, you need to use the secure magnetic clips provided with TRIO. A case is clipped onto the laptop and both the screens can be slid out of it. It also needs a USB plugged in to both the screens which are provided with the TRIO. Having 3 screens, it boasts of increasing your productivity up to 30%.
It is highly versatile and you can use it however you want. You can slide both the screens to your right or left or slide one in each direction. TRIO's both screens can be turned up to an angle of 270°. The presentation mode is even more helpful here than DUO thanks to an extra screen.
You can fold the screens out and make a triangle of the three screens when there are more than 1 people who you want to display your work. You can also choose to fold only one of the screens, however you want.
Both the screens are of 1080p HD resolution. So by having three big and HD screens, aside of work, you can also use it for enhanced entertainment purposes. Watching movies or playing games on an extra wide screen really is more fun.
Another upgrade on TRIO is that it supports a Portrait Mode. You can take out one TRIO screen and tilt it at 90° while another one stays on your laptop.
TRIO is a true upgrade from its predecessor DUO. It adds an extra screen and yet stays lighter than DUO. Even more, it uses 40% less power than DUO. You can also adjust the brightness of the screens that can save even more power.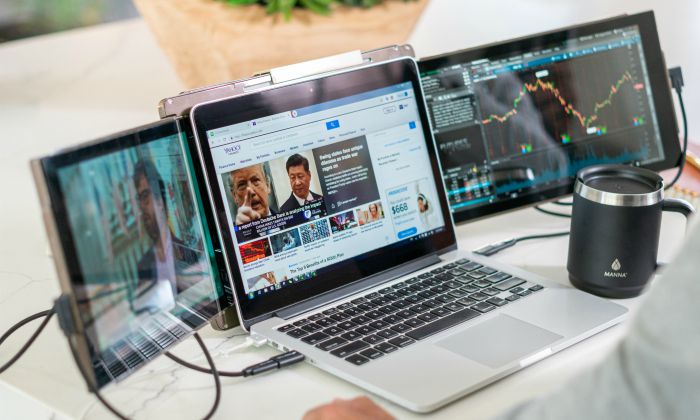 Both the screens are of size 12.5″ and it weighs only 1.5lbs. It is lighter than DUO and highly portable. So even when, both the screens are attached it doesn't make your laptop heavy.
TRIO is more compact, more lightweight and more efficient. It is a true upgrade and a device that can be really helpful for people who work from home. If you want to save your time and earn more, TRIO is your go-to.
Source – Kickstarter