We always want to spread the right message while talking, writing or instructing someone. No matter whether it's a casual talk or a professional one, miss-communication is hard to avoid.
One can read news online, get recent updates on any sector. One create a blog or forum for discussions or for sharing information as well as personal thoughts with others. They can do anything online. But, to make a proper impact and to attract more people to read those writings, one needs to write flawlessly. It means writing without any grammatical or spelling mistakes.
There are people who are well-versed with English and can easily provide error free content but not everyone is as lucky as they are. So for those folks, like me, who need some help in identifying their silly mistakes or to make their content flawless, the best way is to use an online free grammar checker.
List of Best Grammar Checker Tools Available Online 2018
Grammarly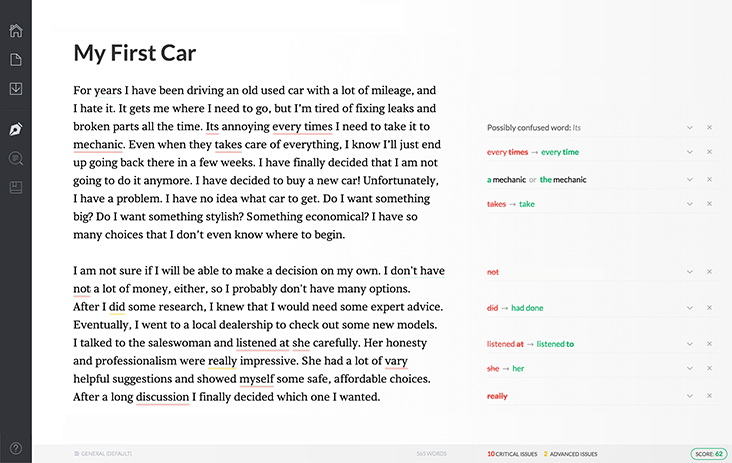 Grammarly is one of the top-notch Grammar Checker Tool, which is available online at free of cost. Writers can use it to find out the spelling mistakes and other grammatical mistakes in their contents. It will take few seconds only. Millions of people are using this tool worldwide to check grammar, punctuation and spelling errors before publishing work.
You can use it online or can also add its Firefox extension to use it all the time. Even you can install Grammarly on Windows desktop and launch it directly from your desktop.
All you need to do is visit their official site, register or create your account with them and add their Chrome extension to improve your writing. It also works well with other sites including Gmail, FaceBook, WordPress, Twitter, etc and helps you in submitting flawless posts, write-ups, etc.
Polish My Writing or After the Deadline
It is one of the robust online grammar editor tool to check English grammar which even checks the minor mistakes and silly punctuation errors. Thousands of people are using this grammar corrector tool to rectify the writing errors across the globe.
WordPress' parent company 'Automattic' maintains the tool. One can easily use it to check all sorts of spelling mistakes, syntax errors, style, and the punctuation errors in the content.
It's easy to use, all you need to do is to visit the site, enter the text which you want to check, and then just click on the 'check writing' button and you will get the results.
The best feature of this tool is that it provides contextual spell check along with intelligent grammar check, through which one can get smart suggestions and can enhance the writing skills in a faster pace.
Hemingway App – Best Alternative to Grammarly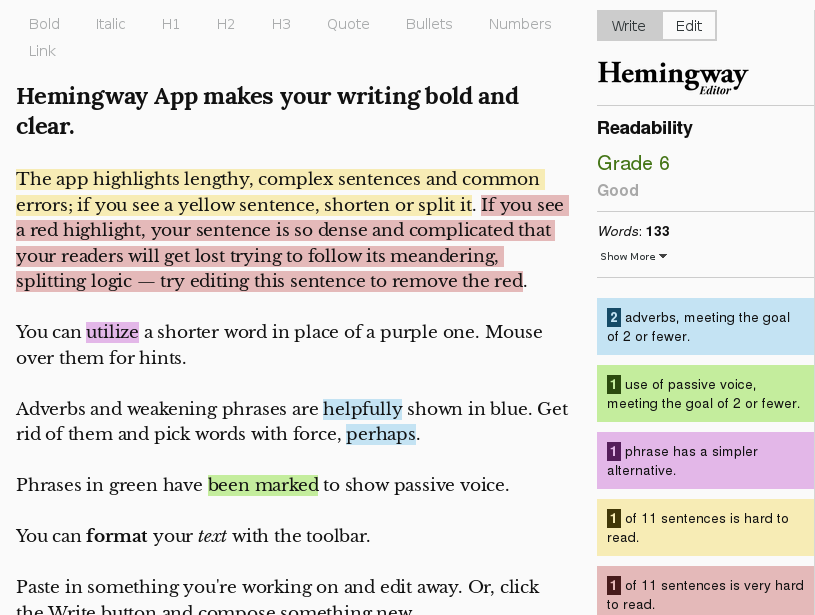 Hemingway app is an awesome and advanced tool for checking grammar errors.
Just like the other grammar checking tools, it is also used by many writers to find out grammatical errors.
It uses different color coding to highlight different errors.
App highlights the complex sentences in yellow, which means the writer needs to shorten the sentence.
If the text is highlighted in red, it means the sentence is highly dense and complicated and it is really difficult for online users to comprehend it.
It uses green color to highlight passive voice. The blue color is for adverbs and weak phrases. Purple one indicates that you can use a simpler alternative for highlighted word or phrase.
Writers use this tool to get polished and more accurate content.
Online Correction
As the name depicts, the tool is used to find grammar, spelling as well as stylistic mistakes which you might have made while writing the text or content.
Visit the site, enter text in simple grammar editor and it does its job to find out errors. It has a unique feature which very few tools have, that is the 'autocorrect' feature. If you use it while checking the content, all errors will automatically be corrected.
The result page will show all the corrected errors. The user can also select the language for which they want to check their content like UK English, US English or any other. So it's quite useful for those who are familiar with one language only and need to write in another one.
Slick Write
It is another awesome online grammar checker tool on the list, which is very simple to use. It has a unique dashboard where one can easily check the content for spelling, grammar and punctuation errors and fix them.
After visiting the site, click on the Edit button to enter the text to check for all possible grammatical mistakes. As soon as you enter the text, it will show all the mistakes in red color which needs to be corrected to make the content flawless.
This tool also shows the writing statistics so that writer can know their writing progress.
Virtual Writing Tutor
The main reason why people love this online grammar and punctuation checker tool is that they can use their microphone to convert the speech into text. Any mistake which they will make while speaking will be shown in it.
Along with that, one can also use the tool to check grammatical mistakes, punctuation errors and spelling mistakes in the documents or texts. It is one of the best tools which even beginners can use to improve their writing online.
Another amazing feature of this tool is that it gives suggestions for the entered text to help you write in a better way so that the readers will easily understand it and will love to read it.
Check out Virtual Writing Tutor
Grammark.org
It is one of the best punctuation and grammar checker that improves writing style as well as the grammar of the content and teaches the writer to self-edit it. Once you submit the text, it will analyze, highlight the errors and will provide suggestions for improvement.
It is a free grammar check tool and mostly used by students to check their essays or thesis. It doesn't improve the content and can't be used for creative writing but is best for basic usage. Beginners will get a lot of benefit by using it.
Reverso
What makes it different from other grammar and punctuation checking tools is its feature of translating the text into several other languages including Spanish, Russian, Japanese, French, Italian, Chinese, German, Arabic, Portuguese, and Hebrew. No other tool provides this feature.
It has the translation feature along with other features to check grammar and punctuation error. And it's simple as well as easy to use. Just visit their site, copy/paste the content to check for grammar and spelling mistakes or to translate it into another language.
There is a free app for Android and iOS users. Users can also utilize the feature of a dictionary to know the context meaning on the same page which helps in improving overall writing skills.
Language Tool
It is one of the best English grammar checker software which is widely used by individuals and businesses across the world. What makes it different from other online grammar corrector is its feature of checking the grammar of contents in various languages. It highlights mistakes in different colors and shows suggestion for their correction.
It can be used to detect spelling mistakes and grammatical mistakes in more than 20 languages. That is why this tool is quite popular across the world
It is a nice English checker tool and can also be used as an extension to Chrome, Firefox, and Google Docs. Users can also download the tool on the desktop. It is also available for LibreOffice and OpenOffice.
Ginger
It is another good sentence corrector tool, used for checking grammar, spellings mistakes. Ginger can be also used for proofreading purposes.
It is available as software which you need to download and install on your laptop or computer in order to use it. There is an online version, but it has limited features and can't be used for proofreading long articles.
Paper Rater

Talking about online spelling and grammar checker, Paper Rater is one of the best and is totally free of cost.
No need to download anything, simply use it online.
It's quite popular among students, bloggers as well as freelance writers as they use it for proofreading and correcting their grammatical mistakes. Even they use it to check for checking plagiarism.
Simply visit the website, enter the text and check it for duplicity. The tool compares the entered text with more than 10 billion documents out there on the server to make sure that the content is unique and no other writer has ever published something which matches with the content.
Jetpack
Jetpack works on the same proofreading technology that is being used by After the Deadline, to check grammar, spellings and style errors. Misused words along with spelling errors are highlighted in red color. All sorts of grammatical mistakes are highlighted in green. For style suggestions, blue color is used by the tool.
Simply write the text in the visual editor and check the content. When a user clicks on the highlighted content, a menu with suggestions will appear. Most of the errors will have an Explain option to provide a better understanding to the readers.
In case the user still wants to use the same word or phrase, he can click on ignore the suggestions to ignore it or can also click on the 'Ignore always' button to enable WordPress permanently ignore those words or phrases.
Users can also use its Automatic Proofread feature before updating or publishing a post.
Spell Check 24
Spell Check 24 is another handy free grammar check tool. It can be used to check the spelling, punctuation and grammar error along with the analysis to improve the content quality.
There are many things which one can do by using this tool like Readability test, spell check (for many languages), grammar check, word density analysis, filler word analysis.
Use its unique feature 'Analyze' to check the content for word density and readability issues.
Grammar Checker Tool by SmallSEOTools
It is another simple, free yet effective punctuation checker tool which one can use to check writing mistakes. Its working is a bit different than other tools. It highlights the spelling mistakes with red color and other mistakes such as syntax, punctuation, grammar with yellow color.
When you click on any of those highlighted words or sentences, you will see an entire explanation which will help you in quickly correcting  mistakes.
One can also use the same tool to find plagiarized content. Most of the people are using this tool to check the originality of the content before submitting it.
Simply visit the site, enter the text and get results for the same in few seconds.
Final Thoughts
These are some of the best and most popular grammar checker tools available online to find and correct errors in content. There are many more, but, not that reliable or accurate like these.
One can use any one of them as per their choice and create an error-free, plag free and flawless content. This will help you in providing your readers with a great experience, improves your search engine ranking and also will help you in building a better credibility.
All the best!